In the Cocktail Kitchen: Backstage at the James Beard Event at the Mauna Lani Hotel, Big Island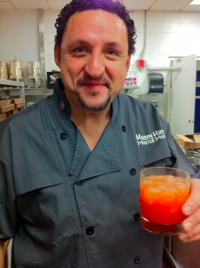 Joining star chefs Michael Symon and Jonathan Waxman for Big Island James Beard Celebrity Chef is mixologist Manny Hinojosa. Hinojosa, from Mexico City via the San Francisco Bay Area, has won a raft of cocktail competitions, including a $10,000 national competition for the best drink made with Campari. He's the cocktail consultant to Food Network's Guy Fieri.
Tonight Hinojosa's the star of the event. There's a cocktail reception for 150 people and Hinojosa intends for things to go like clockwork. "I don't want people standing in long lines," he says. "Never fun."
This afternoon he was feverishly prepping in a back kitchen at the Mauna Bay Hotel. "I like to use ingredients other people are afraid of," he says, showing off a cocktail he's making tonight, the Maximiliano. Talk about unusual ingredients. Mescal. Green Chartreuse. Red pepper puree. Pineapple juice. Grey Goose L'Citron. Doesn't sound like it would work, but it's a beautiful color, and all the ingredients seem to play together nicely, even the mescal and Green Chartreuse. It's refreshing, not too sweet, not even too bell peppery.
There's a huge amount of prepping to do for the four cocktails Hinojosa is serving tonight. Herb infusions, lime wheel garnishes, fresh squeezed lilikoi, fresh cucumber juice, cinnamon shards. Hinojosa runs off to make a vintage port and vanilla foam to garnish a cocktail made with vodka, passion fruit and champagne.
He leaves me to cut 150 nicely shaped spears from pineapple leaves in order to garnish the Maximiliano cocktail. "You do good work," he says when I get back. He may be kidding.
There are two other assistants—Brynn and Sommer—and Hinojosa has been running them ragged for hours. They find the edible flowers to garnish the champagne drink as Hinojosa charges up his foam concoction. He makes us a sample drink. It's balanced, full of surprising spices he's somehow infused into the port.
"Good?" he says. "It's going to be a great night."
Now, if you'll excuse me, I have a cocktail party to attend. I hope people admire my pineapple spear garnishes.
For more on the James Celebrity Chef Tour, including tomorrow's gala six-course dinner, stayed tuned to Biting Commentary. Or find us on Twitter, @johnheckathorn