In Our March Issue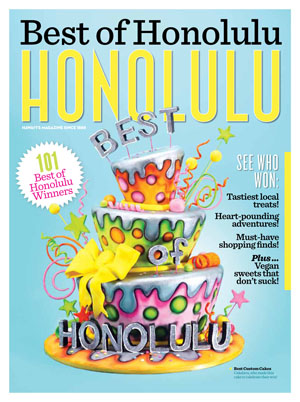 Dear Friends,
March always means "The Best of Honolulu" for us—this year, we have 101 winners. These are the products, people and services that add something unique, and uniquely good, to life in the Islands. Some of these winners were selected by a poll of our very savvy readers, the rest were diligently researched by the HONOLULU editorial team. For example, you'll find the:
• Best Taco Tuesday. Restaurant tacos for $1? We found 'em.
• Best Macarons. These pastel-colored pastries are all the rage.
• Retail heaven—the best stores in town for everything from eyewear to pets to furniture.
• And of course, the Best Custom Cake. The winner celebrated with a special cake just for our cover.
Last month, we provided in-depth coverage of the shutdown of the Honolulu Symphony. That isn't the only big change happening in Honolulu's art world. This month, contributing editor Lavonne Leong presents "Art to Art; Anatomy of a Merger," describing how things are likely to unfold as The Honolulu Academy of Arts and The Contemporary Museum become a single entity. They have very different collections, different audiences, and staff members with different backgrounds. How are they going to pull it all together?
Other questions we answer this month:
• Who fixed up the historic building at 63 Merchant Street, and what makes it so historic?
• What is the deal with all these fancy new lunch wagons around town? Are they any good?
• That voice on TheBus, calling out the stops—who is this man?
• Do you really need a horse to play polo?
Wishing you all The Best,
A. Kam Napier
Editor