In Our January Issue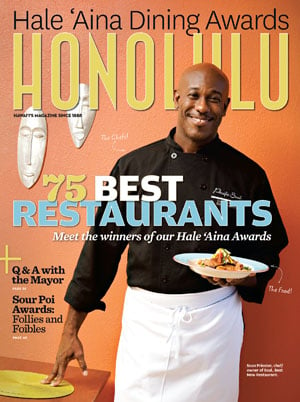 Dear Friends,
Happy New Year!
Always good to start the year with a celebration—we ring it in with our annual Hale Aina Awards, in which our discerning readers name the best restaurants in Hawaii. This year we have 75 winners in 28 categories, listed in a handy tear-out in this issue.
What makes these restaurants so good? Senior editor John Heckathorn visited some of the winners, going into the kitchens of Roy's Hawaii Kai, Soul, Mama's Fish House and more, to find out what goes on behind the scenes.
After Mufi Hannemann stepped down as Honolulu mayor to run for governor, former city prosecutor Peter Carlisle handily won the special election to finish his term. As we learn in our Q&A, Carlisle would like to serve longer than just that two-year stint. What does he plan to do as mayor? We cross-examine him about rail, sewers, the Natatorium, public sector unions and more.
2010 may be gone, but not forgotten. At least, not the goofy parts. Another annual tradition of ours is the Sour Poi Awards, in which we poke fun at Hawaii's wayward politicians, clueless criminals, bizarre animal stories and the occasional inappropriately naked person. Senior writer Michael Keany tracked the news faithfully all year to bring you this round-up.
Sometimes, it's our shortest articles that people clip and keep for later reference. A good example this month is contributing editor Sheila Sarhangi's environment column, detailing 11 different places where you can recycle everything from batteries and bicycles to building materials and books. Yes, we like to help add a lot to your life—sometimes that means helping you get rid of stuff!
Enlighteningly yours,
A. Kam Napier
Editor