In Our April Issue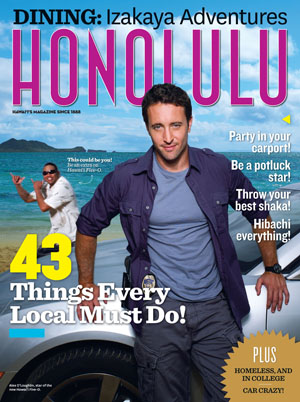 43 Things Every Local Must Do
Where else but Hawaii could invent both the shaka and surfing? We definitely have our own way of doings things in the Islands, of seeing the world. Our lives are a mixed plate of cultures, traditions, habits and languages, and are better for it. Local has as many definitions as there are people in Hawaii, but here are 43 things you gotta do if you're gonna call yourself local.
You thought life in the dorms was hard? Try attending college while being homeless. Check out the inspiring stories of three decidedly nontraditional students in "A Degree of Homelessness."
We sing the praises of the Mustang, muse over the Model T and wax poetic on Mini Coopers, in our love-song feature on all things automotive, "Car Crazy."
Plus: The best izakaya adventures to share with your friends, and, the details on a new bike sharing program that's being tested out in Kailua.
Pick up the issue at Borders and Barnes & Noble on Friday, April 1. Everywhere else on Monday. Digital editions may be purchased online April 1.