The Importance of Sleep
Sleep Requirements for Every Age, from 6 Months to Preteens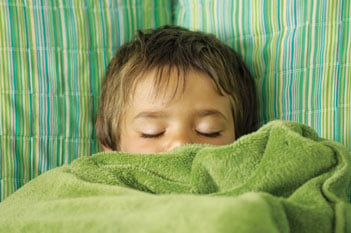 Sleep Requirements
Sleep is very important to a child's well-being. The link between a lack of sleep and a child's behavior isn't always obvious. Kids can become hyper, disagreeable and exhibit extremes in behavior.
Most kids' sleep requirements fall within a predictable range of hours based on their age, but each child is a unique individual with distinct sleep needs.
Here are some approximate numbers based on age.
6 to 12 Months
At six months, an infant may nap about three hours during the day and sleep about nine to 11 hours at night. At this age, you can begin to change your response to an infant who awakens and cries during the night.
Parents can give babies a little more time to settle down on their own and go back to sleep. If they don't, comfort them without picking them up, then leave—unless they appear to be sick. Sick babies need to be picked up and cared for. If your baby doesn't seem sick and continues to cry, you can wait a little longer, then repeat the short crib-side visit.
Between six and 12 months, separation anxiety, a normal developmental phase, comes into play. But the rules for nighttime awakenings are the same through a baby's first birthday: Try not to pick up your baby, turn on the lights, sing, talk, play or feed your child. All of these activities do not allow your baby to learn to fall asleep on his or her own and encourage repeat awakenings.
Toddlers
From ages 1 to 3, most toddlers sleep about 10 to 13 hours. Separation anxiety, or just the desire to be up with Mom and Dad, can motivate a child to stay awake. So can simple toddler-style contrariness.
Parents sometimes make the mistake of thinking that keeping a child up will make him or her sleepier for bedtime. In fact, though, kids can have a harder time sleeping if they're overtired. Set regular bedtimes, naptimes or quiet times if your child does not nap.
Preschoolers
Preschoolers sleep about 10 to 12 hours per night. A preschool child who gets adequate rest at night may no longer need a daytime nap. Instead, a quiet time may be substituted.
Most nursery schools and kindergartens have quiet periods when the kids lie on mats or just rest. As kids give up their naps, bedtimes may come earlier than during the toddler years.
School-Age Children and Preteens
School-age kids need 10 to 12 hours of sleep a night. Bedtime difficulties can arise at this age for a variety of reasons. Homework, sports and other after-school activities, TVs, computers and video games, as well as hectic family schedules might contribute to kids not getting enough sleep.
Lack of sleep can cause irritable or hyper types of behavior and may make it difficult for kids to pay attention in school. It is important to have a consistent bedtime, especially on school nights. Be sure to leave enough time before bed to allow your child to unwind.
Bedtime Routines
No matter what your child's age, establish a bedtime routine that encourages good sleep habits. These tips can help kids ease into a good night's sleep:
• Include a winding-down period in the routine.
• Stick to a bedtime, alerting your child both half an hour and 10 minutes beforehand.
• Encourage older kids and teens to set and maintain a bedtime that allows them to get the necessary amount of sleep needed at their age.