Ice Palace Hawaii
Come, visit us and create your own Ice Palace Hawaii memory.
Ice Palace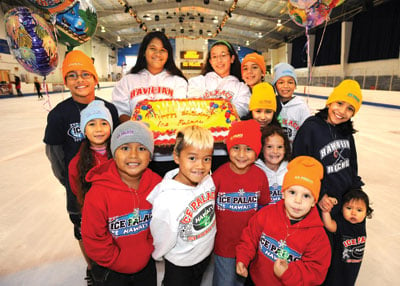 Ice Palace Hawaii
Skate on ice in paradise! You bring the guests. Ice Palace will do the rest! Tired of going to the same old places to celebrate your birthday?
Bring a group of your friends and have a different and exciting birthday.
"Chill out" at the Ice Palace. It has fun skating, awesome light show, jamming music, lots of games and a delicious snack bar. As a special thank you for having your birthday party at Ice Palace, look for your name scrolling on its sign board. The Birthday Party Package is $119 and includes everything you need. Ice Palace provides one reserved table that seats up to 10 guests for two hours, eight skating admissions with skate rentals, one 16-inch pizza (either cheese or pepperoni) and two pitchers of your choice of soft drinks. You can create a customized package by adding festive balloon bouquets to decorate your table, additional, onolicious goodies, or extra tables and rentals. It is one of the best values in town. Adults, teens and kids will have a blast, whether they are experienced skaters zooming around the ice or novices in the beginner zone. Book your party today!

Ice Palace Hawaii
"One of the best, all inclusive parties we have ever had!
Everyone had so much fun, especially when it went dark
and the disco lights came on. The kids were singing,
skating and dancing to the great music and everyone
joined in on the exciting games."
– Michele, Kaneohe
Ice Palace HawaiiStadium Mall4510 Salt Lake Blvd.Honolulu, Hawaii(808) 487-9921icepalacehawaii.com