Ice Cream That You Can Say "Yes" To
(Sponsored) Introducing Brio, the smartly-nutritious ice cream choice.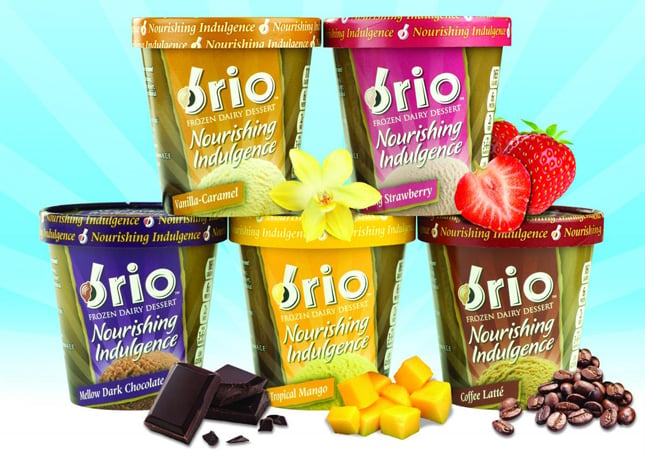 Spinach. Brussel sprouts. Cauliflower. Ice cream. Which of these can you get your child to eat without a dining room battle?
Of course, even the pickiest eaters will happily dig into a bowl of ice cream. But can ice cream actually be as nourishing as it is delicious? Now it is.
Brio Ice Cream, a high quality, healthy and smartly nutritious treat, is now making its debut in Hawaii's neighborhood grocery stores. Brio is the creation of two visionary organic food pioneers, Arnie and Ron Koss. These twin brothers were the cofounders of Earth's Best Baby Foods, the nation's first organic baby food company. Now, they are revolutionizing ice cream with Brio.
For more than a decade, the Koss twins worked with former flavor experts from Ben & Jerry's as well as leading nutritionists to perfect a nutrition-packed ice cream. The result is a delicious, smooth, rich, creamy anytime snack that tastes and feels like super-premium ice cream brands. In every eager bite, Brio offers not only more flavor and nutritional benefits, it delivers less fat, cholesterol and sugar.
"We are two brothers who wanted to make a difference," says Arnie Koss, a Maui resident and father of two. "Quality nutrition is so important to well-being. Our goal was to transform ice cream into a perfect snack that is absolutely delicious and truly good for you."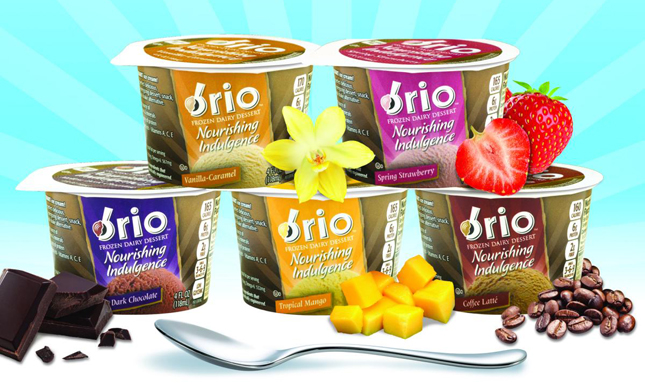 Kids (and parents!) will love Brio's exceptional flavors: Mellow Dark Chocolate, Tropical Mango, Spring Strawberry, Vanilla Caramel and Coffee Latte. All are created with quality, non-GMO ice cream ingredients. Brio starts with fresh, r-BST-free milk from Wisconsin dairy farms. The fantastic natural flavors come from real Alphonso mangoes, ripe strawberries, dark cocoa, Madagascar vanilla, salted caramel, and other premium, natural ingredients. Carefully selected and roasted coffee beans from around the world offer a smooth, well-rounded coffee flavor with hints of toffee and dark chocolate notes in the Coffee Latte flavor for those with more grown-up tastes.
Moms and dads are good at sneaking nutrition into their children's favorite foods. What's nice about Brio is that there's so much good nourishment already built into every bite – and if you don't tell the kids, they would never guess Brio is healthy.
Have a reluctant milk drinker in your gang? A single serving of Brio offers 30 percent of the daily value of calcium, plus 20 percent of the magnesium and 45 percent of the Vitamin D. Brio also features 6 grams of protein, all of the B vitamins, essential minerals, antioxidants and healthy Omega 3-6-9 fats. It's truly a nutrition powerhouse. In addition, Brio is certified gluten free and kosher.
You can buy Brio in 4-ounce single serve cups. There are just 160 to 170 calories per cup, making Brio an excellent after school snack. These single serve cups offer built-in portion control. No more battles about "just another scoop p-l-e-a-s-e!"
You'll also like that Brio has half the total fat, saturated fat and cholesterol of comparable flavors of premium ice creams. Arnie and Ron Koss took special care to make sure that Brio has less sugar than most other ice creams and that it's low glycemic, to prevent sugar spikes and crashes. All this without artificial flavors, colors or sweeteners, or questionable sweeteners like erythritol or stevia.
"Once you look at ice cream as a healthy snack, you'll see that there are lots of ways to enjoy Brio," says Arnie Koss. "Brio is an excellent post-workout food for young athletes, a great after-school snack and of course, an ideal dessert."
Think of Brio as a "boost" to your favorite smoothie.
"Blend it with a banana, some milk or almond milk, and you've got a creamy, refreshing treat for morning or afternoon," says Koss. "Pack it in the cooler on ice for post-soccer game or swim practice and your kids will love it."
When shopping for Brio for your family, don't forget your college-aged kids who are notorious for missing meals or not having time to cook. Brio is way more fun than a nutrition bar! Remember to buy some for yourself, too. (Yes, you can replace that caloric afternoon coffee drink with something that's only 160 calories and better for you!) Stocking up Tutu's freezer with Brio will provide reassurance that she has access to a convenient and nourishing snack.
You can find Brio in all Foodland locations; Don Quijote stores on Oahu; KTA Superstores on the Big Island; and Pukalani Superette, Island Grocery Depot and Haiku Grocery Store on Maui. You can also order online at icecreamsource.com.
Try it yourself at a discounted price! For a limited time, Brio is offering dollar-off coupons for both its pint- and single-serving-size products. Click here to start saving.
Follow Brio on social media for special offers and news, on Facebook, Twitter, Instagram and Pinterest at /brioicecream.
Win a FREE Brio ice cream party for your workplace this summer. Visit facebook.com/Brioicecream.