How to Prepare for Bad Vog Days
Is air pollution from the Kīlauea eruption causing headaches, itchy eyes and sneezing?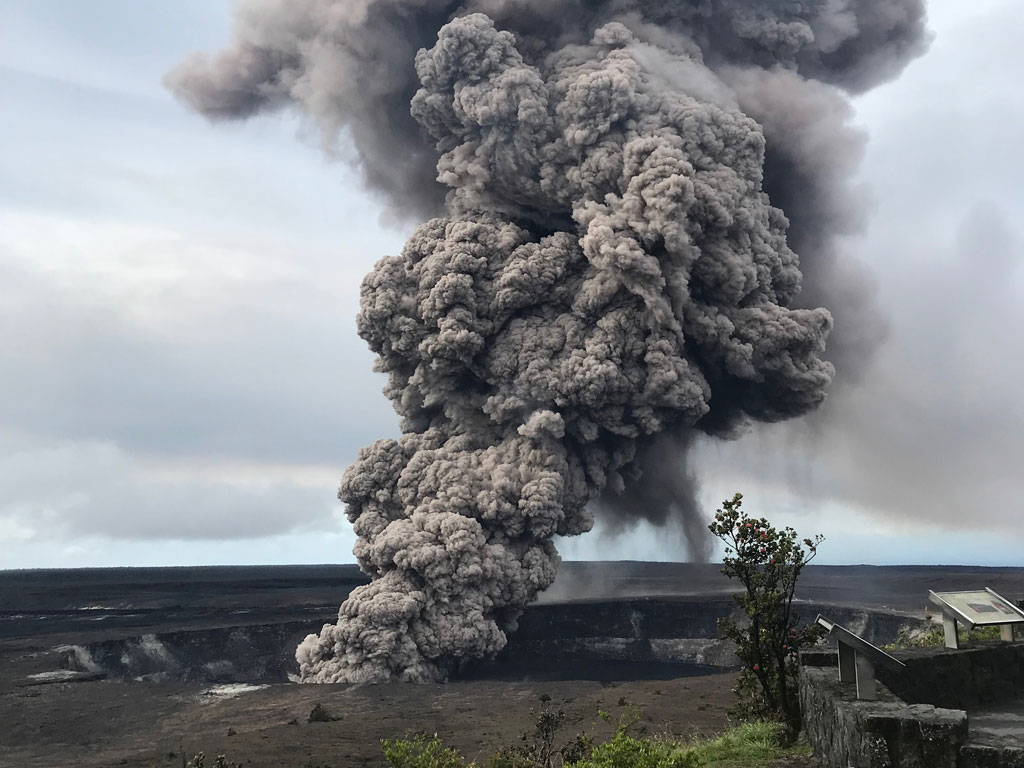 Photo: Courtesy of U.S. Geological Survey
An explosion May 9, 2018, at the Overlook crater at the summit of Kīlauea was probably triggered by a rockfall.
Whenever my family starts sneezing and feeling run-down, my instant reaction is to peek outside our condo windows to check for visible signs of vog. Sure enough, over the past few days the Kīlauea eruption on the Big Island has casted a hazy filter over urban Honolulu.
Heavy vog may be headed our way–as tradewinds stall and sulfur dioxide from the Kīlauea eruption moves toward O'ahu. The HEPA filters are running on high in our family's living room, and children's Claritin is on standby.
To help families who are sensitive to vog, writer Don Wallace from our sister publication, HONOLULU Magazine, has researched and put together tips from air-quality experts and doctors (thanks, Don!). The tips are from the forthcoming August cover story of HONOLULU and include the latest information from the Hawaiʻi State Department of Health; we're publishing them now in response to the exceptional circumstances. -Cathy Cruz-George
Vog, a trending topic in the past couple of years as the Big Island eruptions have increased, has moved to the front burner after the opening of a third vent in April. With the tradewinds on pause for the first time since the eruption, we're about to see just how much sulfur dioxide will be drifting across the ocean, picking up water vapor and becoming an aerosol, thus increasing in particle size before settling over O'ahu. Because of a lack of monitoring, there's no way to know; but it could be a lot more than usual.
To prepare, and, if necessary, ride out the event until the tradewinds return, it's important to understand that vog itself is not visible. In other words, the haze we associate with vog is a side effect of air stalling over Honolulu and parts of O'ahu. The haze will certainly hold vog, but vog itself can be present without haze.
The symptoms of vog sensitivity include difficulty breathing, burning eyes, headache (sometimes severe), a metallic taste in the mouth, elevated heart rate and heightened anxiety due to the combination of reactions. For young children, asthmatics, kūpuna and sufferers of respiratory issues, including chronic lung and heart disease, COPD (chronic obstructive pulmonary disease), emphysema, bronchitis or cardiac issues, symptoms may move quickly from irritation to considerable discomfort. Medications should be used promptly. Some cases may require medical treatment; patients and caregivers shouldn't hesitate to contact a doctor. So how can we prepare? Here are a few tips.
Monitor the wind direction and SO2 (sulfur dioxide) emissions
To keep an eye on these two, bookmark the health departmentʻs upgraded Vog Dashboard: vog.ivhhn.org/what-vog. Under "Vog and Wind Forecasts" you'll find the University of Hawai'i at Manoa VMAP, the National Weather Service's wind forecast and a satellite-driven site simply called "earth"—earth.nullschool.net—a recent addition and in some respects the most useful. Here's how to use that site.
Find Hawai'i and click on it to bring the islands into focus. You can also zoom in on the screen to make the state bigger.
Then click on the word "earth" in the lower left corner of the screen. That will pop-up a bigger menu.
Look at the line that says "Projection" and select , . Then go lower to "Mode" and select CHEM (for chemicals) and then SO2sm.
Click on "earth" again to close the pop-up menu. Suddenly you'll be watching the vog riding wind currents in and around the Islands. It's often possible to estimate when the vog will arrive and depart your side of the island; it's also quite addictive to watch.
Limit exposure
For children and those who are already sensitive to vog, limiting exposure is key. Here are some proactive tips from Dr. Elizabeth Tam, professor and chair of medicine at John A. Burns School of Medicine, and the health department to help you and your children deal with the symptoms as well as the anxiety and stress that can accompany respiratory and other issues:
As soon as the winds start blowing the SO2 from Kīlauea toward O'ahu or your island, close your windows, including louvers.
Stop or limit any outdoor exposure, especially exercising.
Stop smoking and eliminate exposure to second-hand smoke.
Sleep with air conditioning if you can (on recirculate) and/or use an inexpensive HEPA air filter like this one from GermGuardian, currently $84 on Amazon:
Create a sanctuary room
Many Hawai'i houses are based on open-air floor plans and may lack an effective way to close off outside air. If that's the case and someone in your family (or you) are susceptible to vog, find an inner enclosed room that can be shut off and create a sanctuary space with air conditioning or air filter or both. Set up a futon or two and have the kids camp out (you can tell them you're practicing for the Mars Expedition in 2020).
Follow strategies that flush vog from your body
In addition to limiting exposure to vog, there are ways to feel better by managing and even eliminating it from your system.
You can exercise in a gym with air conditioning; the cardio with clean air will flush your system and you'll feel much better.
Go to the mall. You don't have to shop like it's 1999; just walk around and ask for gelato samples.
Go to the movies. A two-hour blast of heavy air conditioning can work wonders.
Before, during and after, drink lots of water; it flushes your system, including the respiratory system.
If your eyes are burning, use eyedrops.
Read more about Kīlauea and see video of the fissures in Leilani Estates or learn what it is like to live in a lava flow zone on honolulumagazine.com.