Money Matters: How Much Does The Tooth Fairy Pay?
Find out what those pearly whites are really worth.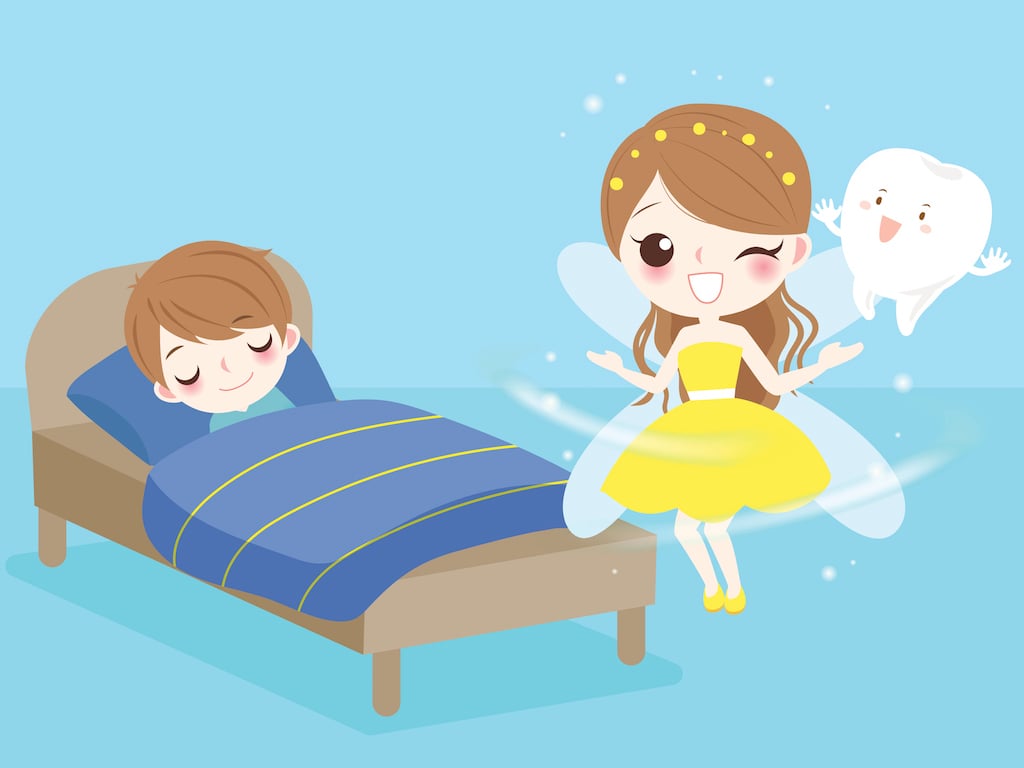 Photo: ThinkStock
When your child lost his or her first tooth, did you wonder what the Tooth Fairy would pay? Did you Google it or later worry that the fairy had given too much or too little?
Our oldest son lost his first tooth when he was just 3 years old. Another child pushed him off a high platform at a playground and he landed on his face. We rushed him to hospital where doctors removed his top, front tooth. The Tooth Fairy must have been traumatized as she left enough money for him to buy a toy medical kit with a doctor's jacket the following day.
Of course, when he lost his first natural tooth, we had to explain to him that the Tooth Fairy probably wouldn't be so generous. Luckily, he was still happy.
But, what if other children receive more money?
"The tooth fairy hates me," a friend's daughter told her after moving to a Hawai'i school. "The other kids get $100 per tooth," she said. Shockingly, the mom confirmed that at least a few children would apparently receive $2,000 for their full set of 20 primary teeth.
At that rate, I may just pull my own teeth out!
Of course, there are other kids that receive a quarter per tooth, or some glitter and a card instead of a monetary gift, or nothing at all. But, while there's no right or wrong answer, many of us wonder what others find under their pillows.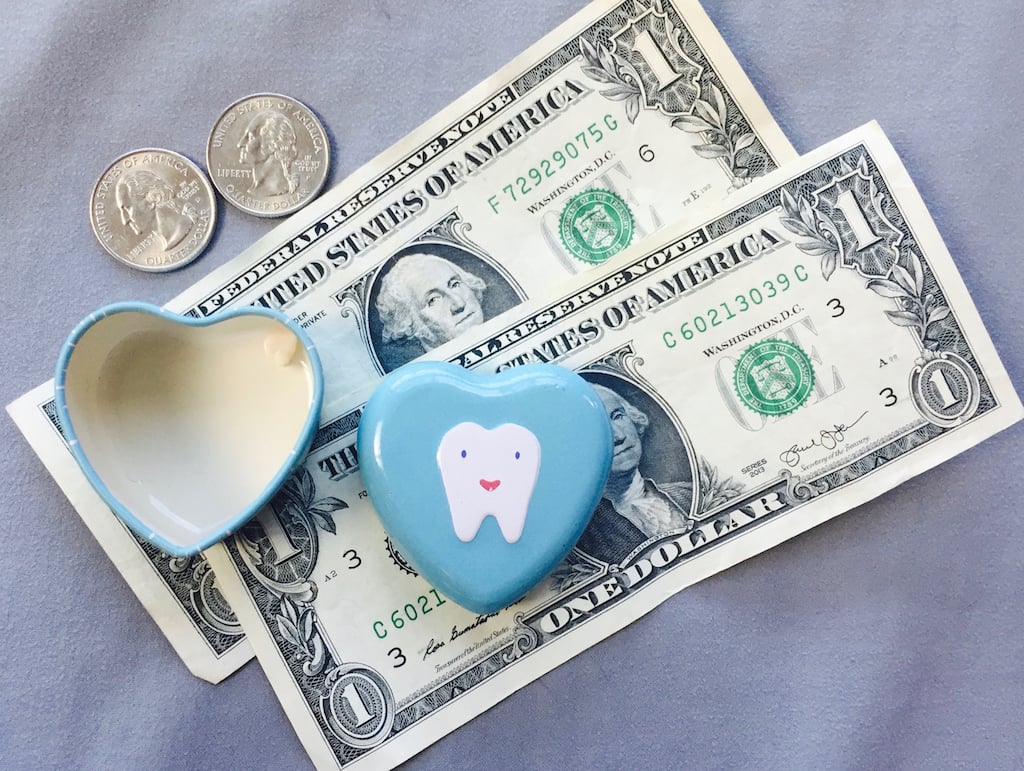 Photo: Jennifer Carlile Dalgamouni
My 6-year-old son's tooth box.
The National Average
According to Delta Dental's 13th Annual Tooth Fairy Survey, American kids received an all-time high average of $4.66 in 2016. This was a 75-cent increase from 2015. Interestingly, the Tooth Fairy Index mirrors the stock market's highs and lows.
The Tooth Fairy usually pays more for the first tooth, $5.72 on average, and she pays more in the West: $5.96 ($6.89 for the first tooth). But, if the Tooth Fairy is a little forgetful, don't worry, 56 percent of parents say she neglects to pick up the tooth on the first night.
And, if you should be abroad when your keiki loses his or her tooth, it seems the tiny fairy gives roughly the same amount in other countries too, averaging the equivalent of $4.79 in Japan, $4.61 in Canada and $4.78 in England. See Delta Dental's full report and graphs here.
What the Tooth Fairy Pays in Hawai'i
We couldn't find a survey specific to Hawai'i. So, we decided to carry out an informal poll of a dozen employees with children at HONOLULU Family and its sister magazines: HONOLULU, HAWAI'I, Hawai'i Business and Hawai'i Home + Remodeling.
We found a big swing in results.
Several receive $1 per tooth.
"That's what we got, so that's what they get," Hawai'i Home + Remodeling editor Tom Kunz said of the fairy's consistent payouts to his two boys.
But, for most the answer wasn't as clear cut.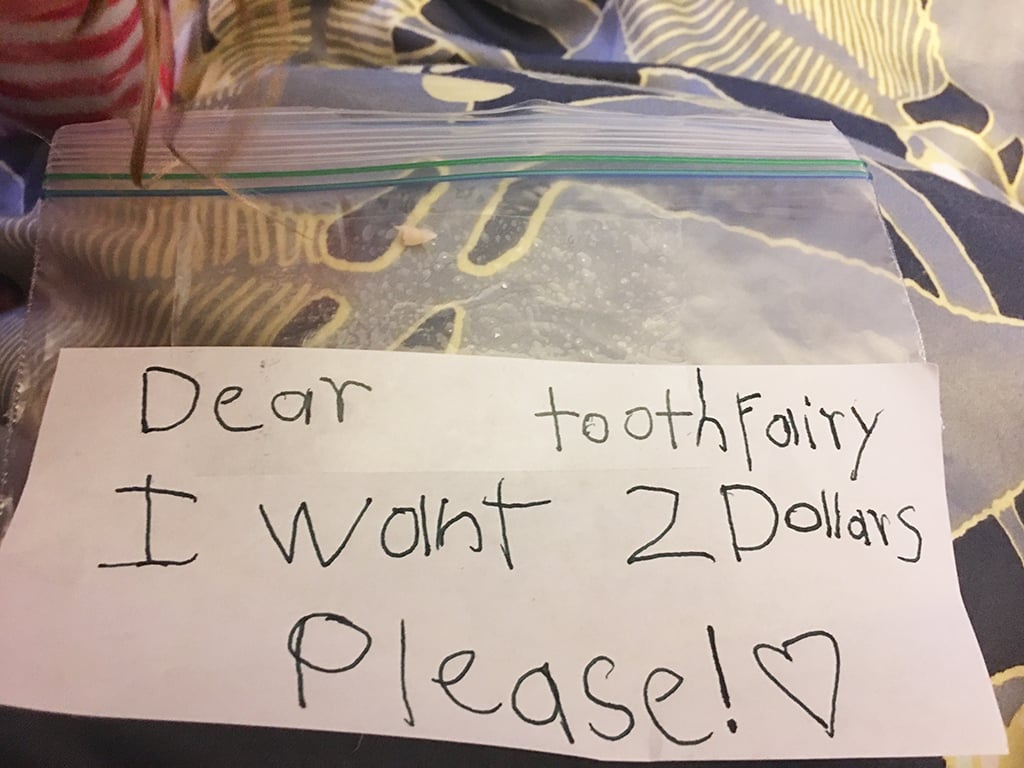 Photo: Alyson Helwagen
HONOLULU Magazine publisher Alyson Helwagen's daughter asked the Tooth Fairy to double her previous payments.
Price Fluctuations
While HONOLULU Family editor in chief Christi Young's 7-year-old daughter receives $1 from the Tooth Fairy, her Grandpa also gives all of his grandchildren an additional $5 per tooth out of his pocket.
The Tooth Fairy appears to be more generous when grandparents are visiting. At one home, the usual payout more than triples to $25 when Grandma is spending the night.
Some parents reported price differences of $1 to $3 depending on the size of the tooth and how much pain it inflicted. Another parent said her three kids get $5 a tooth or $2 and a toy.
Meanwhile, the publisher of HONOLULU and HONOLULU Family, Alyson Helwagen, said her 6-year-old daughter received more money after writing to the Tooth Fairy asking for an increase.
At some houses, the Tooth Fairy seems to grab whatever bill is in her magical wallet at the time. One editor says her son has received anywhere from $5 to $20 that way.
Busy, Forgetful Fairy
The fairy also appears to get a little busy sometimes. She used to write to HONOLULU Family's advertising executive Donnie Ford's oldest son, but hasn't bothered to correspond with her second son and is unlikely to start up again for the third.
Often it appears that Hawai'i's remote location might be a problem. When the Tooth Fairy forgot to visit their homes, some of the parents we spoke to said they had elaborate explanations of the Pacific Ocean and world time zones.
Our Conclusion
So, what was our result? The average from our office poll came to $5.21 per tooth – higher than the national average but lower than the U.S. West Coast average, according to Delta Dental's survey.
At $3 a tooth, it turns out that my son is receiving less than the office average and the country average.
If he wants more, I'm willing to bet the Tooth Fairy would pay more for cleaner, whiter teeth.
I'll make sure to let him know that.