Housing shortage contributes to seller's market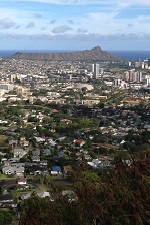 Good interest rates and low inventory make this an opportune time for potential sellers to enter the housing market.
Oahu's home inventory is at its lowest point since Spring, 2005, notes Honolulu Board of Realtors president-elect Julie Meier. Last month, there were 1,448 condos and 1,074 single-family homes on for sale. That's a slight upswing from the beginning of the year, but Meier points out that there's still only three months' of inventory left on the market.
"It's such a great time for sellers to come on," Meier says. "A lot of sales are closing at percentages even higher than list price."
She knows that some sellers, particularly those looking to upscale, might be hesitant to enter the market because they're worried they won't be able to afford a new home. However, she points out that they can also take advantage of low interest rates. She also warns that if they wait too long, interest rates may increase, and the number of sellers will decrease.
"If they're waiting to sell because you want the market to go higher, they'll also buy up at a higher price with higher interest rates," she adds.
Another advantage is that the heightened demand is prompting many buyers to get pre-qualified by lenders before they start house hunting, often arriving at open houses prepared to make an offer. "You have to be ready, pre-qualified, pre-approved to the point where you've already submitted tax documents and financial records," she says.
At a recent open house for a condo, Meier says two buyers came in with offers and another three offers followed. Three of the five were over asking price, she adds. "That kind of tells you where the market is," she says. "You have to be in there right after they come on market."
There's demand across the island, Meier says, noting that first-time homebuyers seem particularly interested in single-family homes in West Oahu. She adds, "Condos in Hawaii are very popular. It's an entry point for first-time homebuyers. They're the ones taking advantage of the interest rates going down."
Summer is the peak season for realtors, so Meier says May's increase might be the beginning of an upward trend. "We're hoping that things are going to pick up," she says.