Hot-Weather Beauty in Hawaii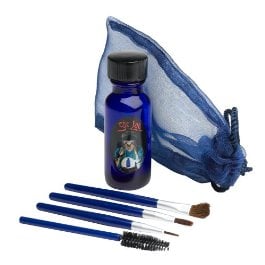 Summer in Honolulu translates to warmer weather—though luckily, we don't get heat waves like the one that recently baked New York City with 103-degree temperatures. But we still have to deal with "I'm meeeellllting…" moments, when your eyeliner smears and your mascara goes on the run. Here are a few tips on how to conquer Hawaii's beauty challenges, so you can stay lovely no matter how high the mercury climbs.
Smear Campaign
I've seen primers for the eyelid, which keep eyeshadows from creasing or rubbing off, but Benefit Cosmetics has a new twist on the idea. The Stay Don't Stray primer ($24) is designed to keep your under-eye concealer securely in place. You can use it on lids, too, for eyeshadow.
You can go another step further and lock in your makeup with a topcoat, like She-Laq Magical Makeup Sealer ($30), also by Benefit. Apply it over eyeshadow, mascara, lipstick and lipliner, then let it dry for a few minutes and you're good to go.
You can find Benefit locally at Sephora and Macy's or online here.
Instead of layering on a whole face-full of heavy foundation, just touch up any imperfections. I tested out La Prairie's Anti-Aging Concealer, which has a really light texture and a nice SPF 20, too. The silicone formula is designed to stay on ($70).
La Prairie, which you can find at Neiman Marcus at Ala Moana, also has a new Cellular Energizing Body Spray. It's a citrus-scented body spray that doubles as skin care; it's formulated to exfoliate and hydrate ($115). Perfect for a post-beach, pre-party freshen up.
Cap that Oil Slick
Rather than putting powder on your face to reduce shine, dab with a blotting paper. I like the Tatcha line, which is made in Japan out of abaca leaf. The papers don't contain fragrance, oil or powder, and they're even biodegradable. You can find them at Super Citizen; $12 for a pack of 30 papers.
Sticky and Icky
Keep your shoes nice and dry, instead of sweaty and slimy, with a shoe-insert. Foot Petals makes some that you can use with open-toed shoes. They'll help keep your feet cool and dry, and as a bonus, they also pad your foot, making high heels more comfortable.
Find them at shoe shores such as Deuces Hawai'i, or, for more stockists, check http://www.footpetals.com/storelocator.html. The line runs from $6.50 to $34.95.
It's Too Hot to Wear Pants
Rock the casbah look with a short caftan. Splash Hawaii has some on sale right now that are super soft and made from the same material as swimsuits. You can even wear one in the water. It's $26, marked down from $49.