Honolulu Star-Bulletin to Acquire The Honolulu Advertiser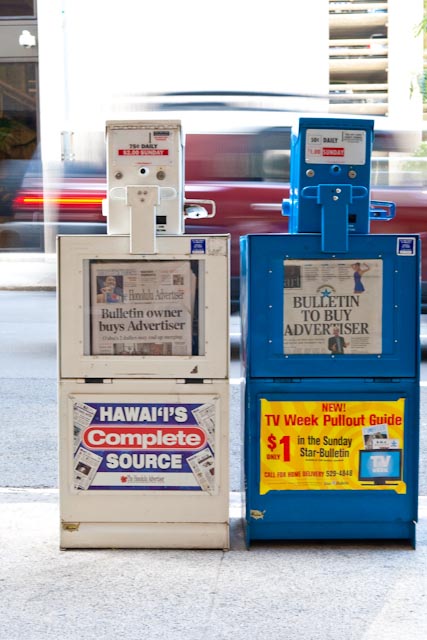 As you might have already heard, it was announced this afternoon that Oahu Publications—owned by David Black—the parent company of the Honolulu Star-Bulletin, made a move to acquire The Honolulu Advertiser. Reporters from the Bulletin broke the news on Twitter, during the announcement meeting in their newsroom, before it was officially made public on the Bulletin's and Advertiser's home pages.
Our office was blown away. We were wrapping up the day when we found out about it. I think one of the questions on everyone's mind is, is Honolulu going to become a one-paper town? Also, how many more Hawaii journalists will lose their jobs? Will the Bulletin and Advertiser merge into one newsroom, its reporters—and sales teams—working under one roof?
You might remember when this was the case. The Bulletin and the Advertiser shared the same building on Kapiolani Blvd. until Black purchased the Bulletin from Gannett in March 2001. His purchase saved the Bulletin, but more importantly, gave Honolulu residents more than one daily print news source. Has Black forgotten about this? His actions today seem to demonstrate that he has. Yes, maybe from a business standpoint this is a decent acquisition, but what about what a daily news publication represents? Providing citizens with information they need, serving as watchdogs? Is it possible to serve the public with a news monopoly?
If the Bulletin and Advertiser merge, I'll see it as a sad day in Honolulu journalism.