The Story Behind Honolulu City Lights' Giant Christmas Tree
Why a school faculty worker planted the tree which will now light up Honolulu Hale.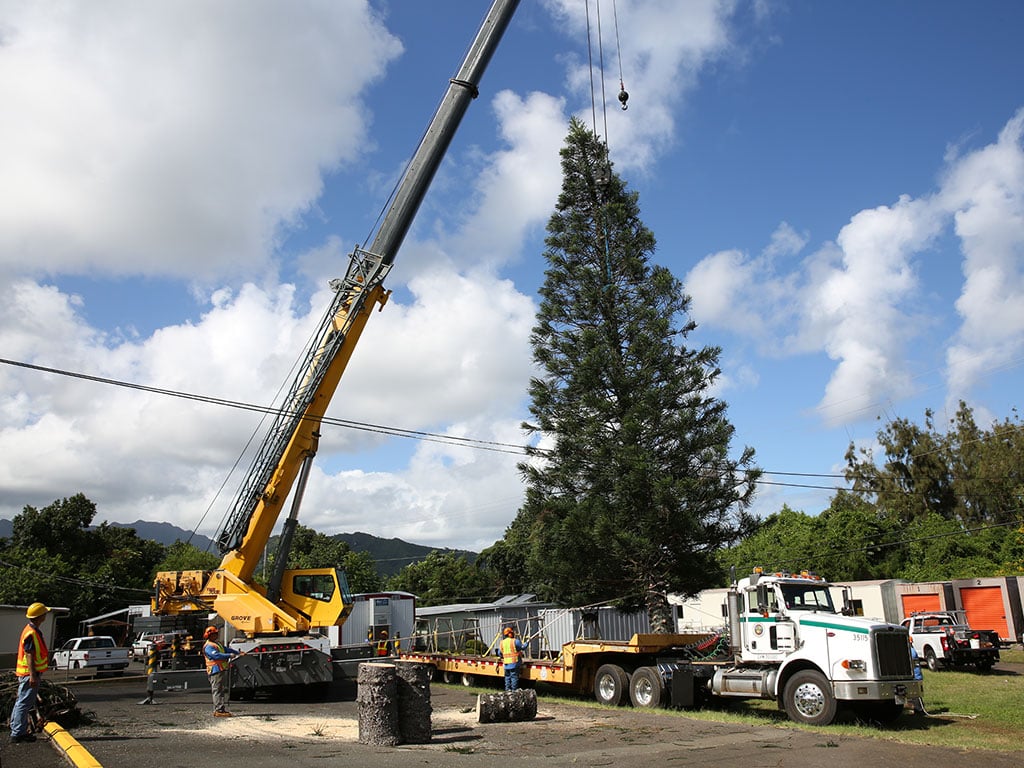 Photo: Nathalie Walker
When principal Stacey Oshio started at Olomana School seven years ago, she was a rookie compared to decades-old veteran with a big presence on campus. And when the school decided to donate the Norfolk pine tree to the city for Christmas, she had no idea what kind of excitement it would cause, on and off campus.
"It was a sad but happy moment," Oshio said. "The kids are really excited it's going to Honolulu Hale. They were very intrigued by the process.
"They all had their cell phones, iPads filming, our 3D cameras filming," she said, laughing. "They were asking all kinds of questions. How are they going to get it down? How to get it through the tunnel?"
News crews and curious students and staff watched for hours as city crews cut down, loaded up and hauled away the giant tree. For four decades, the pine had stood at the center of campus, providing shade for a picnic table where students would gather in the morning or to eat lunch. It was a signature part of the school. But, no one knew how it ended up there. So when news reporters started asking, they did some research.
Turns out the tree, and another which toppled about 10 years ago, were planted by one of Olomana School's long-time counselors in the 60s in memory of a cousin. A current faculty member recalled the counselorʻs name was Debbie Boltz, tracked down the now retired employee and learned her story. In fact, Boltz apparently planted several trees. This was the last of the two Norfolk pines.
"Being that it is 40 plus years old, it is aging," Oshio said. "We figured it wasn't going to last another 40 years, probably not another 10 years. We had it that long, we shared the beauty of it, we wanted to make sure someone could have that kind of joy because we knew it was going to come down at some point, whether by us or by nature."
The tree is scheduled to be installed at Honolulu Hale today. Crews will decorate it in time for the Honolulu City Lights celebration Dec. 1. Oshio says she usually just drives by the annual decorations, but this year, she and other faculty are talking about making Honolulu Hale a destination for a field trip.
Have a tree you would like to donate? Here is what you need to know. The City and County of Honolulu says trees must:
Measure at least 60 feet tall. Oshio says the school wasn't sure they would meet this requirement until the city crews arrived to measure it.
Be completely straight.
Have no bare spots.
Not have more than one head or peak.
Be in an area accessible for a truck bed and a crane for removal.
Be owned by the donor.
If you have a tree you think could be Honolulu's next Christmas tree, call (808) 768-4385.
---
Looking for more holiday events for your family? Our Holiday Corner launches next week.