Honolulu Rentals From Hell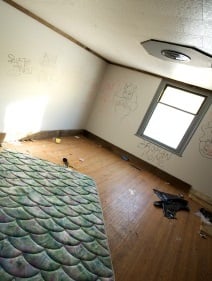 I hear a lot of rental horror stories, and I'm always amazed at the lengths that homeowners and renters will go to in order to get by, whether that means renting out a walk-in closet, as a homeowner in Kailua reportedly has (I'm pretty sure it's an urban myth but would love confirmation if anyone has it), or subdividing a basement into 10 "one-bedroom" rentals, as a couple in Kaimuki has allegedly done.
In any city, you'll find less-than-desirable rentals, and Honolulu is no exception. Any time you've got supply, demand and a housing code riddled with easily manipulated loopholes, you have the potential for deplorable rentals. Whether it's the ugliest apartment you've ever called home, a rat-infested dump or the size of a closet, if you have a rental-from-hell story, we'd love to hear it. You can remain anonymous, and any associated names and addresses will be omitted. Please submit your stories (and pictures, if you've got 'em) to realestate@honolulumagazine.com.
And just to be fair, if you're a respectable landlord with an affordable, well-maintained, sanitary and safe rental that you're looking to fill, we'd love to hear from you, too.