Honolulu ranks sixth for 20-somethings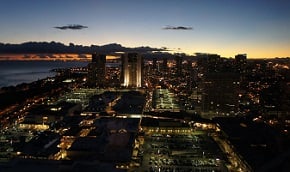 We're always hearing about the "brain drain" that forces many of Hawaii's best and brightest to seek better opportunities on the Mainland.
That's why it's a bit surprising to see Honolulu ranked sixth on a list of "20 Best Places for 20-Somethings" on personal finance website NerdWallet.com. Blogger Annie Wang put together the piece, which highlighted cities "with a good social and economic environment."

The rankings are based on five criteria: economic opportunity for 20-somethings just launching their careers; how many 20-somethings live in the area; availability of housing; culture and the arts and affordability.*
Honolulu made the list in part because of its low unemployment rate, "which means it's a great place for 20-somethings looking to start their careers as well as enjoy the benefits of living in Hawaii." For culture, Wang pointed to the downtown art galleries and restaurants, along with the up-and-coming Kakaako neighborhood. She also recommends that young professionals join the Honolulu Professionals Foundation to network and find job opportunities.
I got through my 20s on Oahu just fine, but many of my friends relocated to the Mainland before they turned 30 – and most have only come back to visit. This list makes me wonder if there's more opportunity in Honolulu than there has been in the past.
Do you think Honolulu is better for 20-somethings now? Please comment or email me with your thoughts.
*On the subject of affordability, NerdWallet's top six metropolitan areas – Washington, D.C.; San Francisco; New York City; San Jose; Boston and Honolulu – also ranked on Klipinger's "10 Most Expensive Cities to Live In." That list ranked Honolulu second, noting "The state's remoteness means residents pay a premium for just about everything."