Honolulu Ordered to Stay at Home for Two Weeks to Stop Spread of COVID-19
Remember March? We're about to go back to it. But this time, the shutdown comes with 60,000 free COVID-19 tests.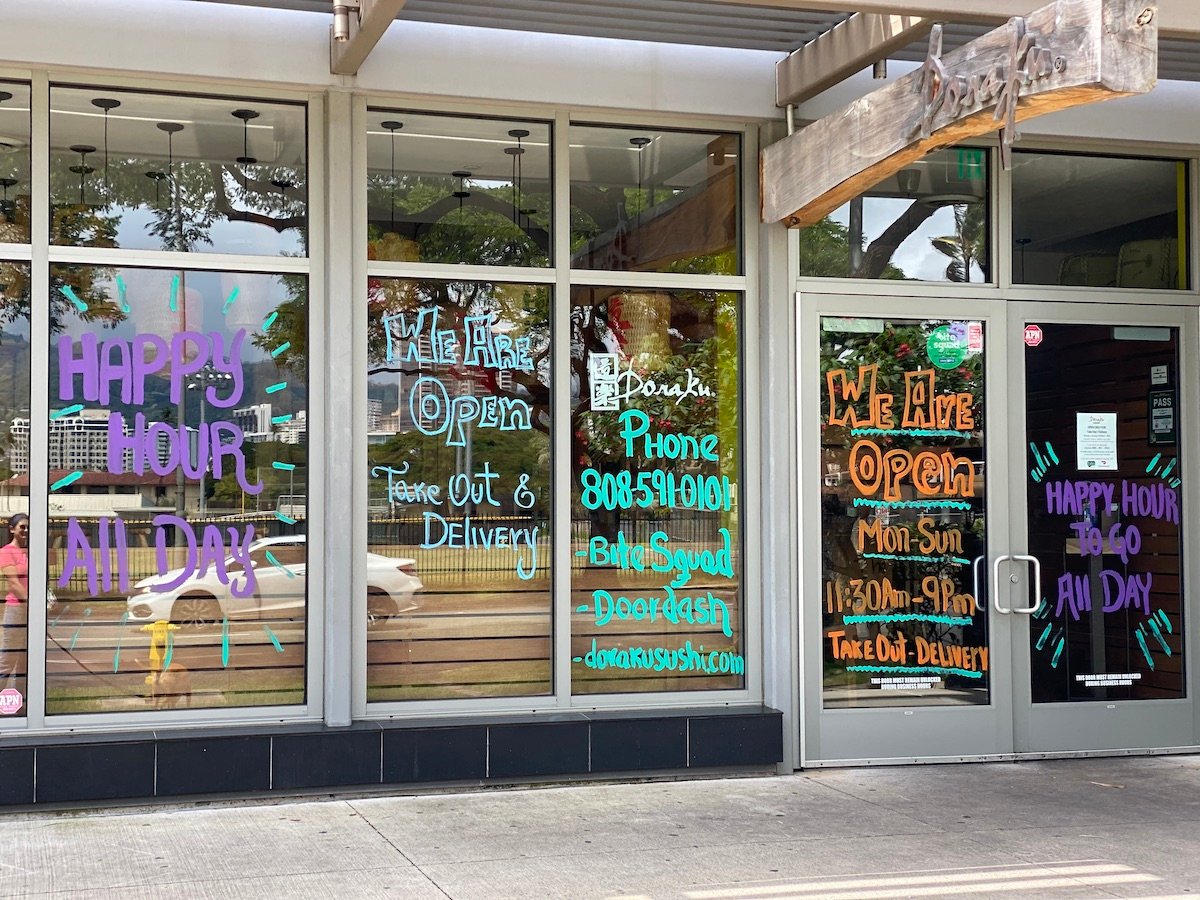 Photo: Katie Kenny
As Oʻahu headed into its fourth week of triple-digit daily counts of new COVID-19 cases, Honolulu Mayor Kirk Caldwell ordered the county to shut down again. Rumors have been circulating for weeks, so it wasn't a surprise to those who have been watching the press conferences, especially once the full roster of seven speakers was announced: including Gov. David Ige, Lt. Gov. Josh Green and U.S. Surgeon General Jerome Adams, who is in the state for the next two weeks to monitor testing.
What exactly does the renewed two-week Stay at Home, Work from Home order for Honolulu mean? From 12:01 a.m. Thursday, Aug. 27, through Wednesday, Sept. 9, Caldwell says: "Childcare facilities will remain open; they're essential. DOE schools, UH will remain open at the governor's request. Private schools will be closed to in-school learning; online learning can continue. It's going to be pretty much like the order in March with one exception. Religious services, we decided, will go on with a lot of mandates and requirements—no singing, face coverings at all times—but that will continue. Essential businesses will remain open: health care systems, different types of businesses in Downtown Honolulu, construction will continue because of how it's done, just like back in March."
---
SEE ALSO: What It's Like Being a First Responder During the Pandemic
---
We are still waiting for the details in the official act. But here is the list from the city. Essential businesses that are allowed to stay open:
Grocery stores

Gas stations

Banks and financial institutions

Hardware stores

Restaurants for carry-out and delivery

Childcare facilities

Health care operations

In-person spiritual services with modifications
Dining rooms in restaurants will be closed. Gyms, golf courses, retail stores, car dealerships and personal care places including hair salons must shut down. If the number of cases does not drop, Caldwell says the restrictions may continue. And when the stay-at-home order expires, he says Oʻahu will reopen with different guidelines. What those will be, we'll just have to wait (at home) and see.
---
SEE ALSO: Meal Kits to Grocery Delivery: How to Eat the Best Local Food at Home
---
One big difference, noted by the presence of federal Surgeon General Adams here, is a massive expansion of testing. The federal government is providing 70,000 tests to be administered statewide, 60,000 on Oʻahu, starting Wednesday, Aug. 26, and over the next 14 days. The nasal swab, as Lt. Gov. Josh Green demonstrated, is far less invasive than the almost-brain-touching experience of some current tests and will be offered to people 5 years and older at testing sites in ʻEwa Beach, Haleʻiwa, Honolulu, Kāne'ohe, Pearl City, Waiʻanae, Waiamānalo and Waipahu on Oʻahu; Pāhoa on the Big Island; and Hanapēpē on Kauaʻi. Adams says anyone can register for the free tests on doineedacovid19test.com and wants Hawaiʻi to hit the goal of 5,000 tests given each day, which is more than double the current testing capacity. The move may open testing to many who have been denied tests because their symptoms have abated or have not been deemed high-enough risk by local providers. We tried registering and were allowed to get an appointment despite not having symptoms or any known exposure to a person who contracted COVID-19. If you do test positive, the city has reserved more than 100 hotel rooms so people can quarantine away from their families.
As for the other embattled debate over contact tracers, the city plans to hire 250 to 500 contact tracers to work with the group now being supervised by the state Department of Health and the Department of Emergency Management's Major General Kenneth Hara.
For everyone frustrated by the closed, reopened and closed again measures and restrictions (and who isn't?), many at the presser offered their best morale-boosting sentences, including Caldwell and Green.
---
SEE ALSO: A COVID-19 Timeline: How Honolulu Got To This Point
---
"We can get through this. We can do this. We did it once, we can do it again," says Caldwell.
"We know it's going to hurt, we know it's going to hurt to be home for a short time but it's also going to save lives and save economic activity going forward. Let's crush this virus in the next two weeks and be safe on the other side," says Green.