Honolulu Bar Survey Sez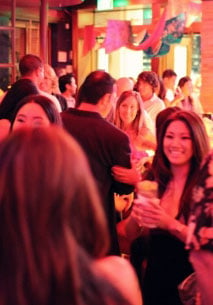 We asked 100 people about Hawaii's nightlife and dating scene. We found out where they go and why, and they let us know the best bar for pau hana, being single and if meeting someone at a bar leads to a real relationship. Here are the results:
1. Why do you go out?
A. To meet someone
 (10%)
B. To celebrate
 (41%)
C. To get my groove on (42%)

D. My friends force me (7%)

2. How often do you go out?
A. Every night (5%)

B. Once a week 
(59%)
C. Once a month
 (34%)
D. I don't; I drink at home (2%)

3. How many drinks do you have?
A. 1-2 drinks
 (29%)
B. 3-4 drinks
 (49%)
C. 5-6 drinks
 (10%)
D. Who's counting? (12%)

4. Where do you drink?
A. Chinatown
 (32%)
B. Waikiki
 (33%)
C. Close to home (30%)

D. At the beach (5%)

5. What's your favorite pau hana spot?
After 100 responses, Mai Tai Bar was the clear winner with eight votes, followed by Bar 35 with seven votes and Tiki's Bar and Grill with six.

6. It's 4 a.m., now what?
A. Go home
 (50%)
B. Go eat
 (40%)
C. Go to a hostess bar
 (1%)
D. Get it on 
(9%)

For all the single ladies… and guys.
7. What's your most memorable pick up line?
40 responses later, and these are our fave five:
"Do you have a lighter, cause you're hot like fire."
"Do you know how much a polar bear weighs? I don't either, but I think it just broke the ice."
"Are you from Vegas? Because you're the sin to my city."
"Have you gotten a parking ticket? Because you have fiiine written all over you."
"You've got more back than Quasimodo."

8. What's the best bar for singles?
Now that you're armed with a few pick-up lines, head to Bar 35, because they are the hands-down voted winner for Best Bar for Singles.

9. Has meeting someone at a bar resulted in a real relationship?
No – 85%
Yes – 15%
"I met my husband at a bar… We've been married 7 years."
"Yes, I met my boyfriend at The Varsity at college."
"Never. Only once did it result in a brief relationship."

10. What's your stance on bar/club PDA?
Please, dont. – 56%
It's okay. – 44%
"More than 30 seconds is too much. Leave, and get a room!"
"Leave it for the after party."
"It ain't cool, unless I'm doing it."
For more 2010 Best Bars coverage, pick up our December issue in stores, or subscribe now.