Homework Doesn't Have to Be a Battle of Wills
The 5 Essential Elements to Helping Your Child With Homework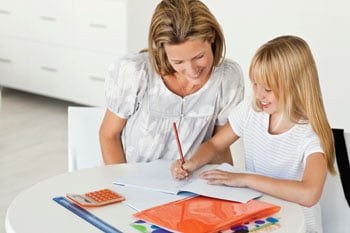 Homework Basics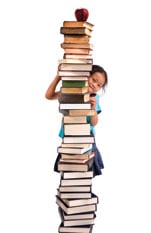 Book Tower
Homework. It doesn't have to be a daily battle of wills between child and parent. There are several strategies and elements that a parent can use to maximize an opportunity to support a child's education and to massage the parent/child bond. For the parent, it is a way to understand what is going on at school and an opportunity for communication. Simply put, a parent has the ability to guide a child to positive feelings about education and to the rewards of good efforts.
Teachers need to have parents on their side, not for the teacher's benefit, but for the child's. When a parent gets involved and stays involved on a routine basis, this catapults the child to another level. A parent who reads to a child, models life-long learning, participates in school events and monitors homework time is doing his or her job of setting up the child for success.
The five essential elements of helping your child with homework are: 1) knowing the homework basics and the whys; 2) knowing how to set up a proper environment; 3) knowing how to monitor a child's work; 4) knowing how to provide the appropriate guidance; and 5) knowing how to communicate with your child's teacher.
Essential Element No.1: Homework Basics
Getting to know the basics of homework, the ins and outs of the process, is critical. Think of it as a perfect platform for a parent to be involved, in a very meaningful way, in a child's education.
Think of it as one of the greatest challenges that a parent can ever face. Finally, think of it as an everyday routine that needs to be a primary function of family life.
Think about the reasons for homework to begin with. This is ammunition for a parent when responding to the typical child question, "Why do I have to do homework?" Homework does the following things: reviews previous learning; provides opportunities to practice; readies the child for the next lesson; expands reference skills using the library and Internet; supplements and extends learning; provides opportunities for exploring subjects in more depth; helps the child become an independent worker; and allows for exploring individual interests.
Keeping these lofty goals in mind will help a parent when the child starts to balk from time to time. Patience and perseverance is the mental state that parents must adopt. Staying in a positive mode, along what might prove to be a bumpy road, is the preferred approach.
Essential Element No. 2: A Proper Homework Environment
If a child believes that a parent cares and that there is a good reason to complete assignments, the child will value education and the routine of homework. A child needs to see that homework is as essential to education as training is to an athlete.
There are several considerations, which provide a great deal of flexibility, when setting up a good homework environment for a child. A parent should work with a child to make some of these decisions together. Research shows that the following areas need to be addressed: schedule a priority time, which may need to be flexible if there are dance lessons, sports teams, etc.; choose a specific place that is comfortable and works for the family; minimize distractions such as TV; organize school supplies and materials; be a good role model by reading, playing educational games and other appropriate activities; and show an interest in what the child is working on.
Essential Element No. 3: Monitoring the Homework Routine
How closely a parent should monitor the homework time will vary from child to child. Those who do not work well independently will, of course, need intensified monitoring.
Teachers may have varying views on the parent's monitoring role. It is imperative that a parent talk with the child's teacher to understand the best way to support the child at home. A "never, never rule" is that you should never do your child's homework.
Being available and in close proximity to the homework area is important. At the end of the homework time, a parent needs to thoroughly check to see that the assignments are complete.
Asking the child what they were supposed to do and having them explain the assignment is a very effective way to wrap up the summary portion of the homework routine. This can also be a good way to start the session if the child tends to procrastinate about getting down to the assigned tasks. A parent should always be alert to teacher comments that may be on homework and other school papers. These can be red flags for the parents.
Essential Element No. 4: Providing the Appropriate Guidance
Supporting homework routines includes the appropriate guidance in scheduling other activities. Left to their own devices, most children will choose TV or video games over homework. There is a place for television watching and game playing, but a parent and child need to formulate a limited time for these activities. Homework has to be the priority.
Some of the specific techniques in guidance can include the following: Encourage independence in completing homework; assist the child with organization skills, such as using folders; reinforce good study skills; help with practice and drills, for example, using multiplication flash cards; help the child learn about budgeting time to complete all tasks; talk about the assignments with the child; and provide praise throughout.
Essential Element No. 5: How to Communicate with the Teacher
A parent should contact the child's teacher if the following issues arise: directions for homework are not clear; the parent can't provide the necessary materials and supplies; the child is overly disorganized; the assignments are too easy or difficult on a consistent basis; and the child has missed several days of school and is behind on a massive amount of work.
As early as possible, contact the child's teacher when there is a problem. A parent should take some notes to the meeting in order to be specific about what problem needs to be addressed. Work together to find a solution. It is important that, whatever action is agreed upon, the parent and teacher monitor the results. If there is no change after three to four weeks, the parent should follow up with another meeting request. Don't let things go wrong for too long.
The homework environment does not have to be a battleground. However, it can easily turn into one if the parent does not see the big picture and take control of the situation. A parent needs to seize this daily routine as an opportunity to be involved with the child and to be the child's No. 1 supporter for school success. It's a chance for a parent to give a meaningful gift to a child—a positive attitude toward responsibility, independence and educational accomplishments.