Home, Sweet Home
Affordable Living Solutions from Castle & Cooke Homes Hawaii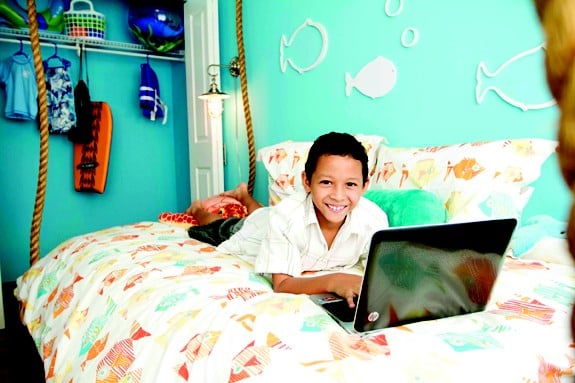 Julian in his new room
Home, sweet home, a safe haven where your kids can play and frolic, a tight-knit community of friends and neighbors, with nearby conveniences such as shopping, dining, entertainment and schools less than five minutes away. What if this picture-perfect home was brand new and available to you with no money down and less than $1,500 a month? If this sounds too good to be true, trust me, it's not. The new family-friendly affordable homes at Kealakai in Kapolei were designed with cost-conscious Hawaii families in mind.
While housing prices nationwide have dropped due to today's economic climate, Hawaii housing prices remain high and out of reach for many local families. Fortunately, Kealakai offers the dream of affordable home ownership with prices starting in the low $200,000 range.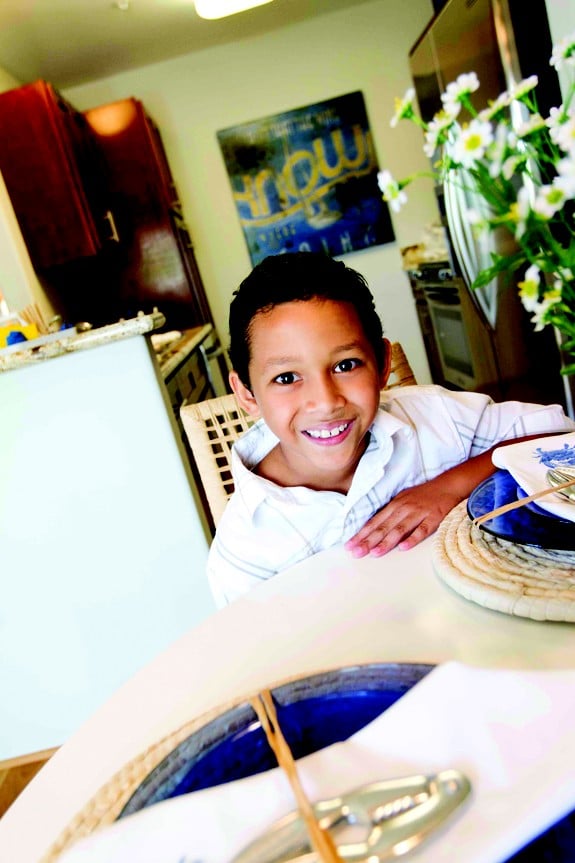 Castle & Cooke Homes Hawaii open kitchen design
Kealakai at Kapolei features 140 brand-new, fee-simple townhomes in 18 two-story buildings of sturdy, steel-frame construction. Each townhome is a corner unit and buyers can choose from one-, two- and three-bedroom floor plans offering up to 911 square feet of living space as well as two parking stalls. Each unit comes generously equipped with a wide range of amenities, including air conditioning, built-in kitchen appliances, cultured-marble bathroom countertops, floor and window coverings, solar water heaters and Low-E, dual-paned vinyl windows. A one-year Customer Care Program and a 10-year homebuilder's limited warranty provide peace of mind. To assist first-time purchasers, special financing programs are available with no points or closing costs.
The first homeowners moved into Kealakai last year and now enjoy all the conveniences of the Second City of Kapolei, including nearby Kapolei elementary, middle and high schools, the Kapolei Recreation Center and nearby dining and shopping. For those who need a new home today, a selection of townhomes is available for purchase and ready for occupancy.
The construction of this affordable community by Castle & Cooke Homes Hawaii was made possible in partnership with the Hawaii Housing Finance and Development Corp. (HHFDC). In order to purchase in Kealakai, applicants must meet HHFDC eligibility and household-income requirements, with units subject to buyback and SAE restrictions. All sales are subject to owner-occupant restrictions as required by the developer and the state of Hawaii.
Castle & Cooke Homes Hawaii was founded in 1851 and has delivered more than 20,000 homes to Oahu residents in the past 40 years. Castle & Cooke Homes Hawaii built the first homes in the Villages of Kapolei, Kumi Iki, 20 years ago, as well as developing the master-planned community of Mililani in Central Oahu.
Realtor-in-Charge, Darrel S. Tamaru, will be happy to answer any questions you have about Kealakai in Kapolei and will personally give you a tour through the beautiful model homes. For more information about Kealakai in Kapolei, please visit www.castle-cooke.com/Communities/Kapolei/Kealakai/.
Darrel S. Tamaru (R)Mobile: 223-3238Email: dtamaru@castlecooke.comWebsite: www.castle-cooke.com/Communities/Kapolei/Kealakai/