Home Staging for a Quick Sale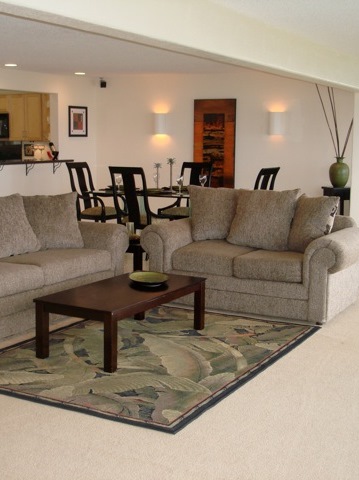 HGTV is my porn, and I'm particularly obsessed with Get It Sold, which follows staging expert Sabrina Soto as she goes about transforming lackluster/tacky/obnoxiously bright rooms into gorgeous, model-home-worthy spaces. The results are generally fantastic—good-bye vintage-'70s living room, hello sophisticated reading nook!—and, at the end, viewers are left to assume that the house sold soon thereafter and the owners hopped, skipped and high-fived their way to the bank.
OK, so a lot of other factors—home values, location, inventory, etc.—contribute to whether or not a home sells. But staging can, in many cases, lead to faster closing times and more money. RE/MAX Honolulu realtor Joan Esperas has sold three townhouses in Mililani Mauka in the past two months, all with multiple offers by or before the first open houses. One of the townhouses sold at full price while the other two had offers over asking—one was over by $8,000. "I have a system in order to do that," says Esperas. "It's all in the prep work. I go in, make sure everything is fixed, put things in storage, have the rooms painted, do a deep cleaning and then I stage it." Kathleen Clarke, a professional stager for the past seven years, estimates that 95 percent of her homes sell within the first three months. "The bottom line is that the smallest amount of money goes into staging and it gets you the biggest return," she says.
The basics of staging are de-clutter, clean and de-personalize, steps that any homeowner can take before putting their house up for sale. "If you can't spend the money [to stage], just de-clutter, de-personalize and get rid of furniture," says Prudential Advantage realtor Rachel Barnette. "You don't need 10 pieces of furniture in the living room." While Barnette recently hired Clarke to stage one of her listings, an empty house in Coconut Grove (it went into escrow within a week of the first open house), she often stages her own listings. "Staging definitely makes a difference," says Barnette. "When the market started to tank, we started staging and it sold homes quicker because people could imagine themselves in the house. You want to have a big bang in the beginning. It's your one shot to give a good impression."
Staging is often more elaborate than just de-cluttering. For Clarke, a typical project has her starting at the front door and working her way through the entire house, painting rooms, re-arranging furniture, adding decorative accessories, removing family photos—everything "from soup to nuts," as she puts it, right down to the table settings and bathroom towels. The most challenging part of the job, says Clarke, is often homeowners who are struggling to let go. "People need to remember that once they've put the house on the market, it's not theirs anymore," she says.
Staging isn't cheap—Clarke charges a flat fee of $2,200 and up per project, which is a pretty standard price in the Oahu market. But the initial cost almost always pays off in the end. "Your home is your number-one investment and you want a good return, so it should just shine," says Clarke.
Contact: To reach professional stager Kathleen Clarke, call 636-9404, kcstaging@gmail.com.
Below, before and after pictures of two of Kathleen Clarke's staging projects.
| | |
| --- | --- |
| Before | After |
| Before | After |