Holiday Shopping Made Easy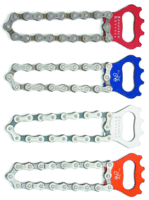 You gotta love holiday multitasking, so why not cross something off your to-do list, while grabbing lunch in downtown Honolulu? Check out Umeke Market, which this year is carrying some appealing, eco-friendly gifts, in addition to its usual offerings of healthy sandwiches, soups and salads.
You'll find terrific gift ideas, most under $20. There are bottle openers made from recycled bike chains, by Resource Revival. Vapur is line of flexible, roll-able flasks, touted as the "anti-bottle," for carrying water.
There's a growing awareness about mindful food and eating, says Umeke Market's Michelle Yamaguchi. "But this is a whole lifestyle. You can support small businesses and startups," she says. "People are conscious about what they are spending."
For stocking stuffers, try the To-Go Ware, which are little personal sets of reusable bamboo utensils. Or the strong, water-resistant Mighty Wallets, made of Tyvek. Kids will like the Crayon Rocks soy crayons. And foodies will enjoy the specialty hot fudge, or the Botanical Bakery line of fancy shortbreads, in flavors such as Cinnamon Basil and Fennel Pollen.
You can find eco-chic holiday gifts at both Umeke locations (1001 Bishop St. and in Kahala, at 4400 Kalanianaole Highway), says Yamaguchi, though the variety will be bigger in Kahala.
What's even better than multitasking and eating healthfully? A sale! Umeke is offering 20-percent off everything, Nov. 19, 20 and 21.