Hole in Wall, Mexican: Tacos Ricos Taqueria, Kapahulu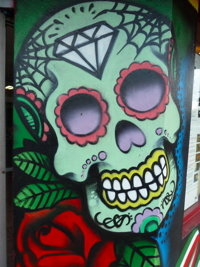 Tacos Ricos Taqueria
Sometimes you see a restaurant, and you just have to try it.
Cruising down Kapahulu Avenue, I noticed that the old Waiola Shave Ice location was painted with brightly colored Día de los Muertos skulls.
That looked like the right place to eat Mexican food—Tacos Ricos Taqueria.
It's really a hole-in-the-wall, two tables, a counter, dark and dingy with comically sinister Mexican wrestler masks for decor. (You can buy a mask for $75.)
Front and center was a grill, on which were warmed our San Marcos tortillas, little doubly thick ones for the tacos, larger for the quesadilla.
The attractions here are multiple. First, the meats, which are not just ground beef with Lowry's taco seasoning. There was pork, richly caramelized carnitas, and cochinita pipil, which was falling apart tender from citrus marinade and slow-roasting.
And beef: barbacoa, also packed with flavor from slow-cooking, though I am guessing not in the traditional manner, wrapped in banana leaves in an underground oven, sort of a Mexican version of an imu.
Second, the salsa bar. Salsa rojo and verde, of course. But also a mix of chopped red onion and cilantro for cochinita and pickled red onion jalapeno and carrots, not to mention guacamole, for the barbacoa.
To drink? No alcohol, although you could apparently bring your own beer. Instead, agua frescas like red hibiscus and a deft Mexican version of lemonade, not too sweet.
Not terribly cheap. It was $13 each for the three taco platter with beans and rice (seen in the photo), and the similarly accompanied, but massive quesadilla. I would have cooked the beans an hour less; they were soupy. Agua Fresca is $5, but it's a bottomless glass.
The young cook did suggest if we were hungry and on a budget, he'd make us a burrito for only $9, and there are, we were told, $1 tacos during happy hour.
I dragged a quite conventional lady to Tacos Ricos with me, despite her doubts. "The place, the people looked so punk rock," she said. "But they were really friendly … and professional. The food was pretty good."
Sums it up.
Tacos Ricos Taqueria, 525 Kapahulu Ave., 834-8222. Late night alert: Tacos Ricos says its hours are "weekdays from 11 a.m. to 2 a.m. and weekends from 11 a.m. to … whenever the fiesta is pau!"