History in a Glass
We taste-tested a high-end British gin.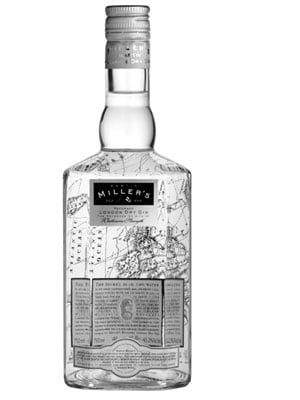 To me, gin is one of the key ingredients in a civilized society. I love thinking of England's Queen Mother, sipping her gin and Dubonnet cocktail every afternoon and living to 102 years old.
I've tasted many brands of gin—Beefeater, Tanqueray, Bombay Sapphire, Hendricks. I like how gin is clean, but layered; it's pure alcohol that has been flavored with juniper berries, and other additions—essential oils, angelica root, orris root, citrus peel—that are unique to each distiller's recipe and usually a closely guarded secret.
I recently got to sample Martin Miller's Gin. The British brand is an haute cuisine gin, made with Icelandic water, Tuscan juniper, Chinese cassia bark, French angelica and Florentine iris. It's even distilled in an usually cool way: inside a three-stories-high pot, made in 1904 and named "Angela."
"Gin is like history in a glass," writes Martin Miller in a book about his company. So true. Would tasting Miller's gin prove memorable? It did indeed. Our edit team gave it a test and found it to be a modern, classic take on gin, with a slight citrus bend to the flavor. It worked well in a martini, even better with tonic, and my favorite, just a wee serving on the rocks.
You can find Martin Miller's Gin locally at Sansei, the Edition, Il Lupino Trattoria Wine Bar, Thirtyninehotel and the Liquor Collection. If you're playing bar at home, Martin Miller's provided us with a few new twists you can try with a gin and tonic.
• Add a dash of raspberry syrup and float a couple of raspberries as a garnish.
• Try a squeeze of lemon juice with a dash of Angoustura bitters.
• Use a little freshly squeezed orange juice, a squirt of lemon juice and a dash of orange bitters. (Call it a "San Sebastian" and serve it with a late brunch.)
I bet the Queen Mum would have approved.