Historic George D. Oakley Residence Back on Market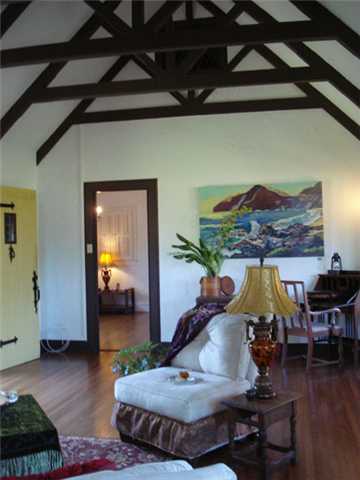 Architectural gems like this don't often come on the market. In fact, this is the first time since it was built in 1929 that the George D. Oakley house in lower Manoa has been listed for sale. The residence, which was designed by architect Miles H. Gray, an engineer with the U.S. Army Quartermaster Corps., is considered one of the state's best remaining examples of houses built in the English cottage style, and is listed on both the National and State Registers of Historic Places.
With the English cottage style, the charm is in the details, which, in this house, include a rustic roof made to resemble thatch, a king post truss ceiling in the living room, diamond-shaped casement windows and a lava-rock chimney with a monogram "O." The home also features built-in cupboards and shelves, also signatures of the cottage style, as well as decorative and functional wrought-iron detail work and acid-stained concrete basement flooring—a rare example of a technique that was pioneered in the 1920s.
The home was built for George Oakley, a Scotland native who came to Hawaii in the early 1900s. Oakley, who married Dean Spry in 1920, started out as a manager of a pineapple farm in Kaneohe that shut down in 1923. He then found work as a linotype operator and writer for local newspapers, eventually serving as the music editor for the Star-Bulletin in the 1930s. His Artists' Services of Honolulu, a concert-promotion business, brought such acts as Arthur Rubenstein and the Vienna Boys Choir to Honolulu between the 1930s and '60s. Oakley's daughter, Nancy Oakley Hedemann, lived in the house until earlier this year when she passed away.
According to listing agent Maxine Robson, Nancy's son put the house on the market at the end of July, and the home "sold almost immediately," with three initial offers. However, the buyer had a family emergency, and the house is now back on the market.
Money talk: The George D. Oakley residence is listed for $1,285,000.
Open: A brokers' open is scheduled for this Wed., Nov. 10 from 9:30 to 11:30 a.m. The public is welcome.
Contact: Maxine Robson, RE/MAX Honolulu. 377-0893, maxofremax@hawaii.rr.com.