Here's a Sneak Peek of Maui's Newest Condo Development
Open house pick of the week: Each unit in Keala o Wailea will have panoramic ocean views.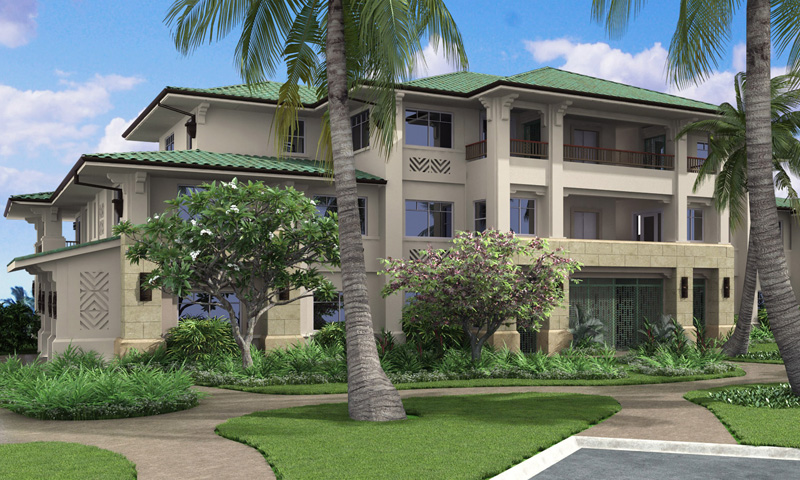 Photos: Courtesy of Keala o Wailea
On a recent trip to Maui, I got to walk onto the construction site of Keala o Wailea, the newest condo development on the Valley Isle.
Seven three-story buildings with 10 units each are planned for the entire development, and buyers have already started reserving units as each phase is rolled out into Maui's MLS. Prices range from about $750,000 to $1,800,000 for a fee-simple, single-level residence.
All seven buildings have 10 apartments in the same configuration. The first and second floors have four units each, with both two- and three-bedroom apartments ranging in size from about 1,240 to 1,380 square feet. Some units will have stairways, while others will have elevators. Each building's third floor will have two penthouses, each with three bedrooms, two-and-a-half bathrooms and more than 1,700 square feet of living area and 200-square-foot lānai. Every unit will have separate garages and carports, as well.
Every unit will have a panoramic ocean view due to the slope of the land. There is a new hotel going up in the resort area but it will not obstruct views, as it will be a low-rise.
All 70 units are scheduled to be complete by the end of 2017.
Buyers can choose from three design palettes, and upgrades are available for flooring, countertops, fixtures, cabinets, appliances and window treatments. Amenities include a community center, a pool and spa, a fitness center and a covered pavilion with a kitchen and barbecue facilities.
Keala o Wailea is also close to the Wailea Golf Club's three championship courses—in fact, as I was standing on the site, I watched some golfers play through—and is across the street from the popular Wailea Gateway Center. It's also close to Wailea's beaches and resorts.
For more information, click here or call (808) 879-1991 for an appointment.
Got a suggestion for our real estate blog? Know of a fabulous open house? Fascinating story? We want to know. Shoot us an email at realestate@honolulumagazine.com