Here, There, Learning Everywhere: At the Beach
One of the best things about living in Hawaii is that our keiki can play outdoors year-round! Naturally, the beach is a perfect place to learn for all ages.
An expedition to the beach with your keiki offers a wonderful opportunity to explore physics, zoology and math while playing together as a family.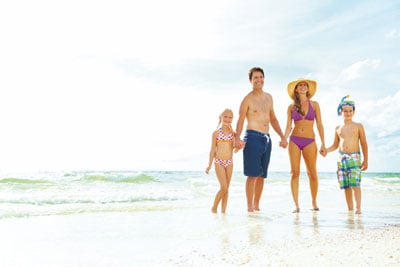 Beach Activity
Talk Story with Infants
Infants learn through their interactions with other people. Sit cross-legged with your child in your lap where the waves touch the sand. Have your infant's legs dangle over yours so the waves touch his or her toes. Talk to your child about what he or she is seeing, feeling and experiencing. As you gently hold and stroke your child's legs say, "Are your toes getting wet? The waves are touching your feet." Continue the conversation with your child—even if it seems one-sided. These moments provide your baby language that is rich and science-filled, in the safety of your arms.
Sorting Games for Toddler
Ask your child to collect seashells that he or she finds interesting, then ask him or her to sort them by color. Follow up the activity by counting how many are in each group. When talking with your keiki about the categories, use math-related words such as more or less, most or fewest, similar and different. Then ask your child to re-sort the shells by size, from largest to smallest, then by texture—smooth or rough. This shows your child that items can be categorized according to different characteristics.
Preschool Walkabout
Take a stroll on the beach with your child to look for sand crabs. As you observe the crabs, talk to your child about the colors and patterns on the animals. Explore the way crabs move and their behavior. If your child is interested in holding a sand crab, ask him or her to describe how it feels. Talk with your child about how sand crabs are similar to or different from other animals. Encourage creative play with a game of "crab soccer" with your child. Kick a ball between you while walking on your hands and feet, belly up. This game of animal soccer develops a child's sense of balance and leg-eye coordination through a fun activity. You will both work muscles you didn't know you had!
Sandcastle Architects
Building a sandcastle may seem like child's play, but a lot of thought and planning goes into creating it. First, ask your child where he or she plans to build the castle and why it's the perfect spot. Is it close to the water or where the sand is completely dry? How do you add doors, windows or tunnels without it collapsing? If it collapses, talk about what could be done differently next time. This activity gives young children a natural, non-threatening opportunity to use their creativity and problem-solving skills while exploring gravity and physics.
Celia Chang Takahashi is the Oahu coordinator for Good Beginnings Alliance (GBA). GBA is dedicated to initiating and organizing efforts toward the creation of a coordinated statewide system of support and services that ensures all children in Hawaii are safe, healthy and ready to succeed. Visit goodbeginnings.org for more information.