Here is What Will Reopen First in Honolulu on Thursday, September 24
A new city matrix allows small groups to hike, visit the beach, eat in restaurants and shop, with limits, but bars and nightclubs will have to wait.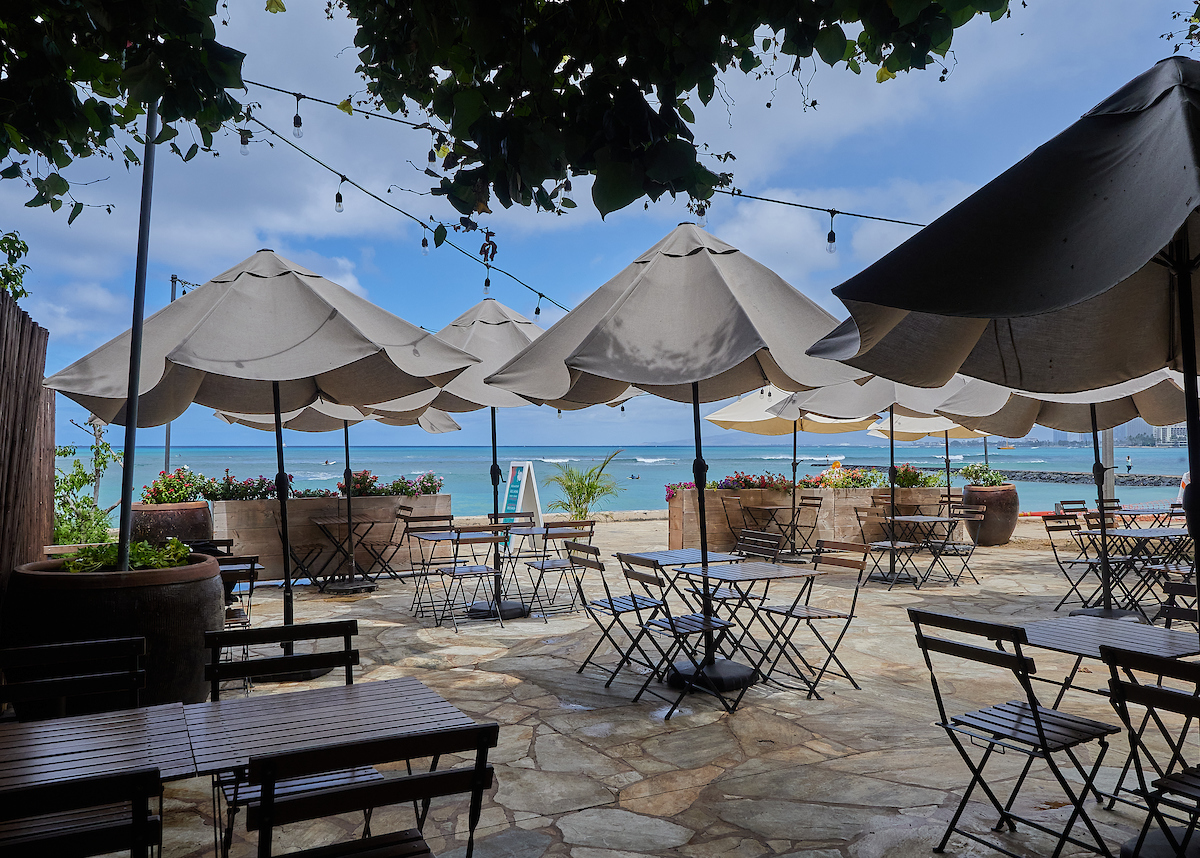 Barefoot Café in Waikīkī
Photos: David Croxford
Starting Thursday, Sept. 24, up to five people on O'ahu can go together to eat at restaurants, visit parks, sunbathe on the beaches, hike on trails, and get together anywhere. But the city warns under a new system, restrictions could return if COVID-19 cases start to rise again. Honolulu Mayor Kirk Caldwell announced the new matrix on Tuesday afternoon, Sept. 22, following the one-month stay-at-home order that began on Aug. 27.
This was the second stay-at-home/work-from-home order for Honolulu, the result of a spike in the number of COVID-19 cases and deaths in late August. The reopenings are the first tier of the new four-tiered system the city says it will use to decide when more places can be back in business.
"We didn't want to repeat what we did the first time in rushing to open everything," Caldwell says. This time, movement will be slow. Each tier has a set of community health metrics that must be met for four weeks before the city will consider moving on: the 7-day average of the number of daily cases reported, and percent of positive cases, known as the positivity rate.
---
SEE ALSO: A COVID-19 Timeline: How Honolulu Got To This Point
---
Ala Moana Beach Park in May, 2020
Here is what can reopen, with restrictions, under Tier 1:
Beaches, parks and trails for groups of up to five

Pools

Malls

Hair salons and barbershops

Nail salons

Gatherings are allowed in homes for up to five people
---
SEE ALSO: Rethinking Hawai'i: How the Visitor Industry Should Operate in the Future
---
Places that can operate at 50% capacity include:
Retail stores that weren't already deemed essential

Outdoor attractions including the Honolulu Zoo, museums and botanical gardens for groups of up to five

Movie theaters (with seats spaced apart and without food and drink)

Bowling alleys (without food and drink)

Outdoor exercise classes of up to five people with face coverings or distancing
Activities that will remain closed under Tier 1 include: bars, nightclubs, indoor gyms and fitness activities, arcades and legal short-term rentals. The new policy will keep some of those businesses—bars and nightclubs—shuttered for months because the reopening plan calls for the city to stay in each tier for four weeks and they are designated closed until Tier 4, when they could open with "special restrictions and requirements."
---
SEE ALSO: Lee Anne Wong: What it's Like to Close a Restaurant During the COVID-19 Pandemic
---
Caldwell acknowledged that the restrictions will create a financial hardship but says the community can't risk what happened last time the city reopened everything in three months, which resulted in the state going from low- to high-risk for COVID-19 in a matter of weeks. He noted the virus spread quickly once residents started letting their guard down, gathering at beach parks and parties and resuming pre-pandemic behavior. He says he won't take a chance this time where, "before you know it, it's Fourth of July all over again."
The city says some of the restrictions still in place reflect studies that point to places with higher risks of transmission. For example, Caldwell says sit-down restaurant dining is limited to up to five people from the same household, while five people from different households can gather socially at a home.
The head of the Chamber of Commerce Hawai'i praised the plan for including many of the concerns of businesses struggling to survive. President and CEO Sherry Menor-McNamara stressed the need to work together. "This is now," Menor-McNamara says. While we've all heard that the pandemic is a marathon, she says, "for many of our local businesses, it's a sprint" to stay open in the coming weeks. "The clock is ticking," she adds.
---
SEE ALSO: Here's What It's Like Grabbing a Beer at Waikīkī Brewing Co. in Kaka'ako During Quarantine
---
Read the entire order and the matrix of what's allowed when at oneoahu.org/reopening-strategy.
Caldwell says it's clear that until a vaccine is widely available and has been given to a majority of people that restrictions will need to remain in place to help protect the community. "We need to live with this virus," he said. Gov. David Ige verbally approved the new order but had not released a signed copy of the document by Tuesday afternoon.
In the letter outlining the new order, Caldwell said: "There is no doubt that COVID-19 has forced us to do things against our social norms and social nature, and that is hard. But, these sacrifices are based on science and necessary to protect our most vulnerable, while also starting to rebuild our economy. For this framework to succeed, we must support each other, hold each other accountable, and strictly follow the restrictions and mitigation measures imposed at each tier."