Hepatitis A: Information for Your Family

From kids' symptoms to vaccines in Hawaii, what parents should know about hepatitis A.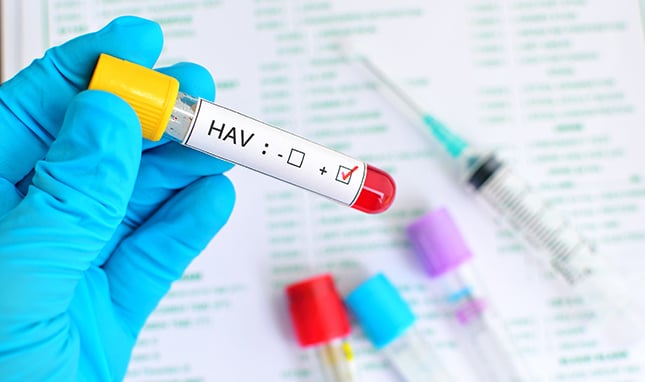 Photo: Thinkstock
As of Sept. 14, the Hawaii State Department of Health has confirmed a total of 271 cases of hepatitis A in an outbreak that began in June. All cases have been in adults over age 18.
This strain of hepatitis A has been linked to imported scallops served raw at Genki Sushi restaurants on Kauai and Oahu, according to laboratory tests by the U.S. Food and Drug Administration.
When it comes to hep A, kids' symptoms and vaccination information can be different from adults. As health officials continue tracking the outbreak, here is what families might want to know about the illness:
What is hepatitis A?
Hepatitis A is a liver disease caused by the hepatitis A virus. It is spread through "fecal-oral" contact – or simply put – from poo to mouth. Transmission happens when a person eats or drinks something that has been tainted with an infected person's feces. Hep A also can be transmitted through close personal contact/intercourse.
The virus typically is linked to poor sanitation and personal hygiene, and unsafe water or food, according to the World Health Organization.
Although outbreaks are rare in developed countries, they can happen. In 2013, at least eight people in Hawaii had hepatitis A symptoms in a multistate outbreak linked to frozen pomegranate seeds from Turkey.
What are the symptoms?
Symptoms might include: Fatigue, stomach pain, loss of appetite, vomiting, fever, body aches, tiredness, diarrhea, dark urine and jaundice (yellow skin and eyes). They appear between 15 and 50 days after exposure to the virus.
Infected people are most contagious one to two weeks before symptoms appear, and at least one week after the start of symptoms.
Most patients with hepatitis A feel sick for two months, and some are sick for up to six months, according to the Centers for Disease Control and Prevention Fact Sheet for Parents.
"Younger children (under age 6 years) may have only mild symptoms, while older children are more likely to be quite ill," says Ronald Balajadia, the health department's immunization branch chief, disease outbreak control division.
What is the hepatitis A vaccine?
The Hep A vaccine is given in two doses, at least six months apart.
The American Academy of Pediatrics recommends the first vaccine for children at 12 months old and the second dose at 18 months and older. Although it is not required, many pediatricians give the vaccine anyway.
"We normally do this before age 2, as most insurance companies stop covering it after that age," says Dr. Theresa Y. Wee, pediatrician at Wee Wellness Center in Waipahu.
The first dose offers an efficacy rate of 95 percent to 100 percent. For lifetime protection, children (and adults) should receive the second booster.
Since the hepatitis vaccine was licensed 20 years ago, the number of cases nationwide has dropped from 31,000 to less than 1,500 cases per year. "I haven't had a patient with hepatitis A while I was in residency or medical school," notes Dr. Derek A. Ching, a Honolulu pediatrician.
The Hep A shot is "inactivated," meaning it does not contain the live virus. "There is no way to become infected by the vaccine," according to The Vaccine Book by Dr. Robert Sears.
Dr. Theresa Wee, a pediatrician with Wee Wellness Center in Waipahu, says getting the Hep A vaccine is critical for a number of reasons: "It protects your child from potentially serious disease and protects other people from disease, because children often do not have symptoms. It prevents children from getting sick when they're older and the disease is more serious. And finally, it keeps your child from missing school or childcare, and parents from missing work."
What are side effects from the hepatitis A vaccine?
Potential side effects are mild. Headache. Tiredness. Fever. Appetite Loss. And a sore arm (from the injection site.) Half of people who receive the Hep A shot report zero side effects, while the other half experiences mild side effects like a sore arm from the shot, according to the CDC.
Where can people get the hepatitis A vaccine?
To vaccinate children, talk to your pediatrician.
For adult vaccinations, click here for a list of local pharmacies.
How is hepatitis A identified and treated?
First, a blood test is given to confirm the virus in an exposed person. To prevent disease after exposure to the virus, doctors might do two things: Give the hepatitis A vaccine or an antibody shot called immune globulin, or IG. One or the other should be given "as soon as possible, within two weeks after exposure," according to the health department's website.
It is best to talk to your family's physician about post-exposure, because each patient's medical history is different.
There is no medical treatment for the hepatitis A virus except plenty of rest, good hydration and a nutritious diet. Oily and fatty foods are not recommended because hepatitis A affects the liver, says Dr. Stephen Yano, a Honolulu pediatrician.
How can hepatitis A be prevented?
Practicing good hygiene and getting vaccinated helps to stop spread of the disease. "People can spread the infection easily to others," says Balajadia, "so it's important to teach your children to thoroughly wash their hands with soap and water, especially after using the bathroom, and before they eat or drink, or prepare food or drink for others."
SOURCES: Hawaii State Department of Health, Centers for Disease Control and Prevention, The Vaccine Book by Robert W. Sears; and local pediatricians Dr. Stephen Yano, Dr. Theresa Wee and Dr. Derek A. Ching.