Help for homebuyers offered Saturday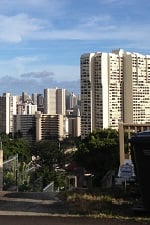 If buying a home seems like an insurmountable challenge, this Saturday's Homebuyer & Homeowner Fair may change your mind.
Housing-related agencies will gather at the Ala Moana Hotel from 8:30 a.m. to 1 p.m. to create a one-stop shop for prospective homebuyers, with the intent of instilling enough confidence to help them move forward with a purchase.
Lenders, realtors and affordable housing lenders will be at the fair to provide information and resources. Attendees will be able to find out low down/no down payment programs from the VA, FHA, USDA and Hula Mae. They may also be able to get pre-qualified for a mortgage. (Anyone interested in pre-approval should bring current paystubs, W-2s, tax returns, bank statements and other financial information to be considered.)
There will also be assistance for homeowners with mortgage challenges, with help on how to work with lenders, as well as how to avoid loan modification scams. Foreclosure prevention counseling will also be available.
The fair also includes four workshops:
9 a.m. to 11 a.m.: Mortgage options
9 a.m. to 11:30 a.m.: Affordable homes for purchase
10 a.m. to noon: Home buying basics
10:45 a.m.: Get the facts
There be a drawing for an iPad mini at the fair, along with the opportunity to win a chance to meet Bruno Mars in Las Vegas.
For more information, visit www.hihomebuyerfair.org or Facebook.com/HomeBuyerFair.