Heidi Peterson Barrett Wine Dinner, Wolfgang's Steakhouse, Aug 8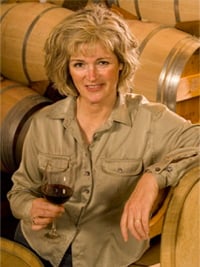 "This is pretty cool," says Bill Nickerson, manager of Wolfgang's Steakhouse Waikiki. "It's great to have a winemaker of this caliber in the restaurant. It's like having a Pro Bowl player, an all-star."
He's talking about Heidi Peterson Barrett, who Robert Parker called the "First Lady of Wine," and Time Magazine called "one of the world's top winemakers."
Daughter of Napa wine pioneer Richard Peterson, Barrett was Beuhler Vineyards' head winemaker at age 25 and, before she was 35, a superstar at Screaming Eagle, where her wines were often rated 100 by Parker. She's created notable, often cult wines wherever she's touched down: Dalla Valle, Paradigm, Grace Family Vineyards, Amuse Bouche, Lamborn Family Vineyards, Showket and Fantesca.
She brings her wines, including from own vineyard La Sirena, to Hawaii this week. (Rumor is that she loves Hawaii because she can dive here; the logo of La Sirena is a mermaid.)
She will be at the industry-style tasting at Roy's Hawaii Kai, Aug. 11, but, if you want to meet her up close and personal, you may wish to join her for a winemaker's dinner at Wolfgang's in the Royal Hawaiian Shopping Center, Aug. 8, limited to only 20 people.
Nobody will go hungry at Wolfgang's. The menu:
Crab cakes with 2010 Amuse Bouche Pret A Boire Rose
Wolfgang Salad with 2010 La Sirena Moscato Azul
Lamb chop with 
2006 La Sirena Napa Valley Syrah
Wolfgang's Porterhouse Steak, mashed potatoes and creamed spinach, with 2009 Vin Perdu, 2009 Amuse Bouche and 
2008 Au Sommet with Mashed Potatoes & Creamed Spinach
The evening will also be a chance to taste the effects of dry-aging on beef, as there will be three different porterhouses, aged 21, 28 and 35 days.
"I'm looking forward to talking with her, seeing how her mind works," says Nickerson. "It's got to be an education."
Monday, Aug. 8, 6:30 p.m.
, Wolfgang's Steakhouse by Wolfgang Zwiener, Royal Hawaiian Center, $250 per person, inclusive
. Reservations: (808) 922-3600