Healthy and Delicious Super Bowl Party Food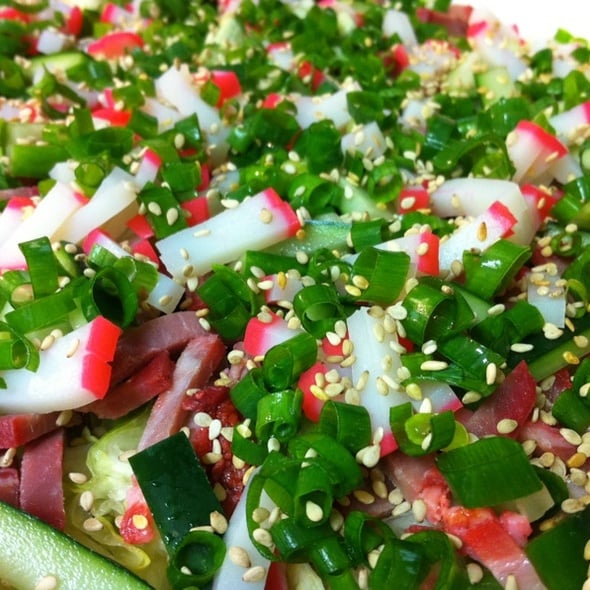 Despite the fact that my beloved New England Patriots won't be playing in this year's Super Bowl, the annual party must go on.
Just like thousands of others across Oahu on Feb. 3, we'll be hosting a party at our house. It's the perfect excuse to bring family and friends together, enjoy delicious food (and drinks), critique those ridiculously expensive commercials, and watch what should be an exciting game between the San Francisco 49ers and Baltimore Ravens. Did I mention the opportunity to enjoy some great food?
I fully expect to see the traditional potluck grub—steak, fried chicken, buffalo wings, roast pork, fried noodles, hot dogs, chili, pork lumpia, potato or macaroni salad, chips and dip, and much. My mouth is salivating as I rattle off these high-calorie dishes and that doesn't even include dessert.
Don't forget to add some healthier options! Homemade or store bought will do. Even though most of your guests won't admit to it, they will appreciate it. Include fresh or roasted veggies, edamame, Chinese chicken salad, somen salad, quinoa, fruit salad and baked salmon. Choose grilling over frying when possible. Making these adjustments will help balance out any menu. These dishes are Ensen and Avery's favorites, so my kids should be quite happy.
The name of the game in any party situation with "choke" food is moderation. Indulge in a few of your favorite dishes, eat until you're satisfied (not full), and be careful about snacking continuously for four hours as you watch the game. This is easy to do when a spread of food is laying out in front of you.
More than anything, enjoy each other's company, the game, and may the 49ers…errr…the best team win on Sunday.
Looking for a simple and easy dish to bring? I've got two that will sure to be a hit with your rowdy crowd:
Kelly's Somen Salad
Ingredients:
Dressing:
1 cup chicken broth
½ cup seasoned rice vinegar
½ cup shoyu
½ cup sugar
1 tablespoon sesame oil
Salad:
Somen noodles
Lettuce
Charsiu
Cucumber
Kamaboko
Green onion
Sesame seed
Instructions:
Mix dressing ingredients in a bowl and set aside.
Boil somen noodles until done and drain water. In a large serving dish, grab a handful of noodles and arrange in balls side-by-side for easy serving.
Chop lettuce and cut charsiu, cucumbers and kamaboko into evenly sliced rectangular pieces. Layer ingredients on top of the noodles.
Finish by adding some chopped green onions and a sprinkling of sesame seeds.
Korean-Style Broiled Salmon
Ingredients:
Salmon (whole side)
Korean barbecue sauce
Instructions:
Cut salmon into individual servings and place in a glass bowl or dish.
Using your favorite bottle of Korean barbecue sauce, pour over salmon evenly and cover with plastic wrap. Marinate for no more than two hours. (Note: the fish texture changes if you marinate too long.)
Set your oven to broil.
Place salmon on a baking sheet lined with foil and place in the oven on second rack from the top.
Cook for 12 to 15 minutes or until desired doneness is achieved. Watch to ensure top does not brown too quickly.
Serve and enjoy.
Nathan Kam is a Honolulu public-relations executive, husband and a proud daddy of two incredible kids, Ensen (5) and Avery (2). He enjoys cooking, gardening, traveling, blogging and golfing. You can reach him via email, Twitter, Facebook, LinkedIn or via his personal Kam Family Blog.