Hawai'i's State Health and Prison Chiefs Both Stepping Down on State's Deadliest Day for the Virus
As the state's once-promising COVID-19 case count blew up, critics called for their ouster as well as increased widespread testing and tracing of those with the coronavirus.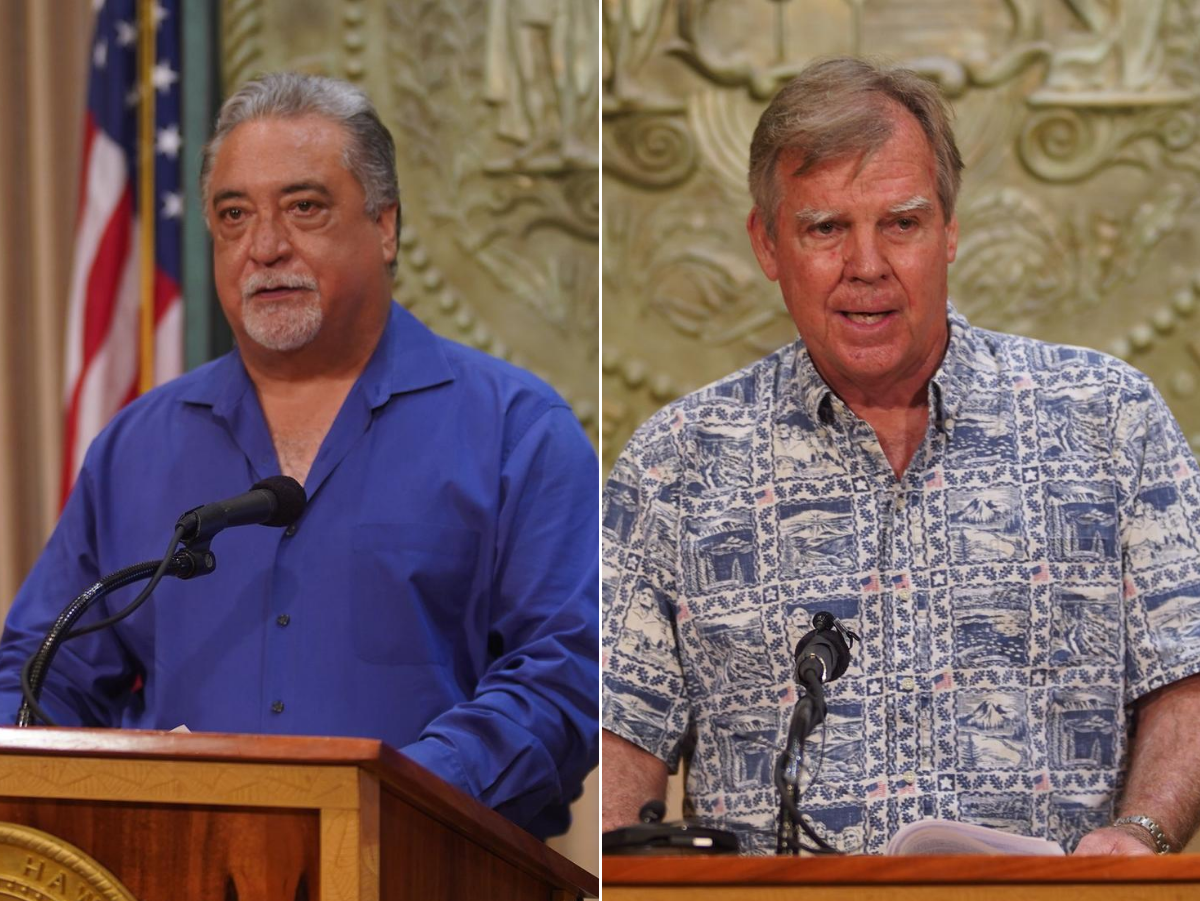 Photos: Courtesy of Governor's Office
Two of Hawai'i's state government officials most embattled during the COVID-19 crisis are on the way out. State health director Bruce Anderson and prisons chief Nolan Espinda are leaving Gov. David Ige's administration in the coming weeks.
Both have faced increased criticism as the state has gone from having the best COVID-19 case count in the nation to a spike and response that—this month alone—has drawn alarm from not just the general public, Lt. Gov. Josh Green and state lawmakers, but Hawai'i Sen. Brian Schatz as well as U.S. Surgeon General Jerome Adams, who showed up last week with tens of thousands of free surge tests to address the growing health crisis.
The retirements of the two longtime public officials were announced by the Ige administration Monday morning on the deadliest day for the virus in Hawai'i: Seven deaths were announced midday. The five-day death toll climbed to 20 so far this week, sending the total deaths in the state to 70. To illustrate how swiftly things have changed, the month began with a death toll of 26, meaning 60% of the state's deaths occurred in the past 30 days.
As late as Aug. 5, the state Department of Public Safety cited no inmate cases, but that also ended dramatically in recent weeks. As of Saturday, public safety officials reported infections among 289 inmates and 58 staff members at the O'ahu Community Correctional Center.
Anderson, an epidemiologist, has been a steady presence in the state's health and environmental community for 35 years, including two stints as state health director. But he and state epidemiologist Dr. Sarah Park have been blasted recently for not moving swiftly and decisively enough on aggressive widespread community testing and large-scale tracing of contacts of those who test positive. Calls for them to step down escalated when a surprise tour of lawmakers to the state Department of Health found far fewer contact tracers than expected and overwhelmed investigators, many responsible for as many as 200 cases each. Less than a week later, the state announced a new hire, Dr. Emily Roberson from Hawaiʻi Pacific University, would take over the contact tracing program from Park. Anderson retires Sept. 15.
Ige's announcement of the most recent officials to leave his cabinet this year included his nomination of Dr. Libby Char, an emergency physician, to take over the high-pressure health job. Char has earned a reputation as a smart, practical, get-the-job-done administrator who began working in emergency medicine in 1997.
---
SEE ALSO: A COVID-19 Timeline: How Honolulu Got To This Point
---
Char is a graduate of the UH John A. Burns School of Medicine. She completed residency training in California, then returned to Hawaiʻi in the clinical practice of emergency medicine at The Queen's Medical Center. She provided administrative oversight for the City and County of Honolulu Emergency Medical Services system from 2005 to 2010. Char is the current chair of the State of Hawaiʻi EMS Advisory Committee.
In announcing her appointment, Ige said: "Dr. Char brings experience in medicine and administration to the department during a time of great stress on the state's health care system. I'm confident that she will step into the role with energy and passion for ensuring the health of Hawaiʻi's people."
In the news release, Char said: "I am honored to fill the position of Director of Health for the State of Hawaiʻi. We are in a difficult position, with a heavy burden of COVID-19 affecting the health, well-being and livelihood of so many of us. We must move forward together, through collaborative efforts, caring for each other with a shared sense of purpose. In doing so, we will regain the health of our communities and our state."
Espinda narrowly won confirmation to the top prisons job last year. While public worker unions and some state lawmakers pushed to oust him, others pointed to a dearth of experienced state officials willing to take on the job, amid epic staff shortages, long-term overcrowding in the short-term jail and aging prison facilities.
State Sen. Clarence Nishihara, Chair of the Senate Committee on Public Safety, Intergovernmental and Military Affairs, said Espinda showed a lack of leadership and inability to guide the department through the pandemic that warrant removal from the job. "From the beginning, director Espinda and the department were slow to implement proper safety protocols, such as testing for inmates and staff," Nishihara said in response to the announcement of Espinda's retirement. "Serious issues such as lack of personal protective equipment and unsafe conditions for uninfected inmates were never appropriately addressed by director Espinda."
Ige, however, praised both men for their years of service to the community. The announcement indicated Espinda is on personal leave through September and will retire Oct. 1. Ige said he will announce an interim director in the coming weeks but named Maria Cook, the deputy director for administration, to temporarily take over.