Hawaii's Newest Store Opens in Kaimuki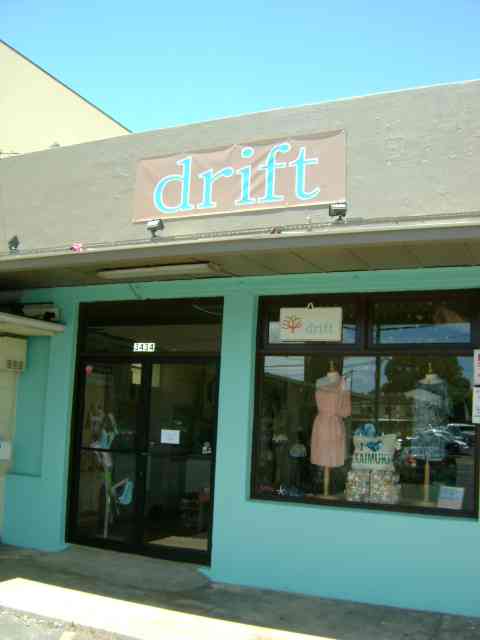 Soul, Town, 12th Ave. Grill… Kaimuki has been ground zero for small, creative Honolulu restaurants. Boutiques, however, are another story. Drift, which just opened a week and a half ago, is a welcome addition to a neighborhood with a surprising dearth of shopping hot-spots.
And Drift is a true Kaimuki creation. Co-owners Alessandra Klein and Laura Ivy both live mere blocks away from their store, as do many of the designers whose work is available at the boutique. (The "I Love Kaimuki" tote bags, made using vintage Tori Richard fabric, are another clue.)
Klein and Ivy have produced a bathing suit line, Urgentina, for 15 years, and had always mulled over the idea of a store. When they saw the perfect space, opposite Town restaurant on Waialae and next to hipster party-favor-store Toast, they jumped at the opportunity.
"We're very open to new, local and ecofriendly designers," says Klein, who jokes that she asks everyone she meets, "Do you make anything?"
She and Ivy decorated using reused materials, such as wood for the dressing room from Reuse Hawaii, and a winged, 1950s couch from Craigslist. They even constructed one display as a working sink so that customers can try out the different kinds of Indigenous Soaps, handmade on Oahu.
Other local artists include Gloria Carlson, who has a line of birdhouses made of driftwood, clothing from Vers (a designer on 10th Avenue) and an affordable, wearable line of jewelry called Stoney Seas, the first business of an 18-year-old designer. At the higher price points, there is jewelry made from sunrise shells (known as "Hawaiian Diamonds").
My favorites? The cute, shell-decorated slippas ($38) made by Klein, and Urgentina dresses ($52). The dresses are flattering, machine washable and can be bunched into a beach bag and still emerge wrinkle free. "And locally made!" adds Ivy.
From Drift, we wouldn't expect anything else.
Drift is open daily from 1 to 7 p.m., 3434 Waialae Ave., Suite 4, 284-1177.