Hawaii's Kai Vodka wins double gold—with its new sochu.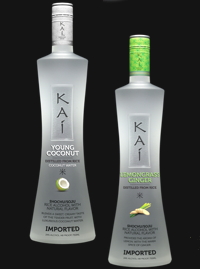 In the Manoa Safeway of all places, Biting Commentary ran into Kai Vodka's Marcus Bender. He was in high spirits.
Kai just won two double golds, a gold medal, a bronze and a Best in Show in the 2011 San Francisco World Spirits Competition.
Kai, introduced in 2007, was the first premium vodka made from rice, specifically Yellow Blossom rice grown in Vietnam's Red River Delta. (That's Bender below left, in the rice fields.)
Kai also offered the first lychee flavored vodka, which tastes like a lychee martini in a bottle.
"The lychee is outselling the plain vodka three-to-one," says Bender. "That's when we realized that our niche should be unique Pan-Asian flavors."
Bender just unveiled four new products. Two are vodkas: lemongrass-ginger and coconut-pandan. (Pandan, in case you're wondering, is often called the Laotian vanilla. It tastes somewhere between green leaf and toasted coconut.)
The others were flavored sochu. Sochu, called soju in Korea, is a distilled spirit made from everything from rice to barley to buckwheat. It's a lot like vodka (both are simply diluted ethanol), but sochu tends to be only half as alcoholic.
Bender flavored his sochu with young coconut (coconut water) and lemongrass-ginger. "We're trying to get ahead of the curve," says Bender. "Sochu is taking off as a category, and there are no other flavored sochus."
Entered in the 2011 San Francisco World Spirits Competition, the Kai offerings scored. Both sochus won a rare double gold medal and the lemongrass-ginger took Best Sochu of Show, topping Korean and Japanese competitors.
The vodkas didn't do badly themselves, the lemongrass-ginger copping a bronze and the coconut-pandan, a gold menu.
Last night Bender was buying omiyage to take with him to the Wine and Spirits Wholesalers of America expo in Orlando, Florida. "Let's hope we can persuade some wholesalers to carry these products nationwide."
To Hawaii's credit, the first wholesaler to sign up was Southern Wine & Spirits, so expect Kai sochu in a restaurant or bar near you soon.