Hawaii's 17th Most Expensive Home on Market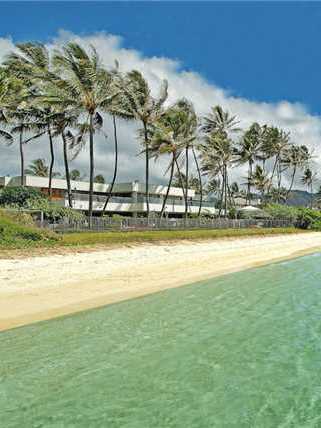 Many of you may recognize this opulent Kahala estate from this magazine's 25 Most Expensive Homes in Hawaii article, which appeared in the September issue. Built by Honolulu attorney David Schutter in the 1980s, the property, which was ranked as the 17th most expensive home in Hawaii with an assessed value of $19.2 million, is currently owned by Kirin Planning.
The estate is large, even by Kahala's bigger-is-better standards. There are three separate dwellings on the nearly one-and-a-half-acre lot, including the nine-bedroom main residence, which saddles up to 125 linear feet of beach frontage, and two guest cottages fronting Kahala Ave. Made for entertaining on a large scale, the main house alone is the size of a small hotel and offers all of the requisite amenities, including two master suites, four guest bedrooms, three staff bedrooms, an office/den, home gym, 3,000-plus-bottle wine cellar and bar, swimming pool, two wading pools and a hot tub.
And should your 15 cousins show up at the last minute for Thanksgiving, you'd still have plenty of room, as the guest cottages each have four bedrooms and three-and-a-half baths with their own two-car garages, plus a private pool and Jacuzzi. All told, the estate includes 18,000-plus-sq.-ft. of livable space.
As with just about every house in this neighborhood, location is key, and this property is in a pretty sweet spot, a few blocks from the Kahala Hotel & Resort and Waialae Country Club Golf Course with direct beach access.
Money talk: $32.5 million
Contact: Patricia Choi, Choi International. 734-7711, pat@choi-realty.com