Hawaiian Fern Fetish
Kay Lynch devotes her life to native Hawaiian ferns.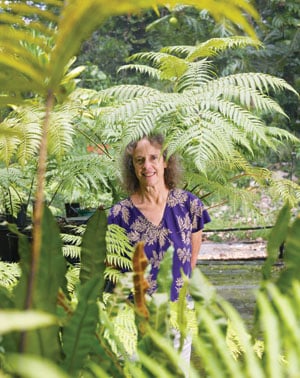 Towering canopy trees partially shade a mottled greenhouse on Oahu's Windward Side. Inside, Kay Lynch walks among the feathery fronds and emerging fiddleheads of more than 30 species of endemic and indigenous Hawaiian ferns. She trims decaying fronds from small palapalai ferns, surveys a row of slow-growing hapuu ferns (Hawaii's tree fern) and then notes the day's conditions in her nursery log.
In the early '80s, Lynch explored Oahu's high-elevation hikes and became interested in Hawaiian plants and simultaneously concerned about their conservation. To learn more about the fauna she encountered, she attended UH Manoa to obtain a degree in horticulture. By the final year of her academic program, she had honed her focus to native Hawaiian ferns. With newfound purpose, Lynch, who had been working for the United Press
International's Honolulu Bureau and later the Honolulu-Advertiser, ended her 23-year career in journalism and, in 1999, founded Laau Hawaii, The Hawaiian Fern Project. This fern propagation research nursery is devoted to making native Hawaiian fern species available for restoration efforts and public appreciation, and Lynch is the sole horticulturist of the project.
"Hawaii has 170 species of native ferns, and yet you can't find them in garden shops," explains Lynch. "If you go hiking you see all these beautiful ferns up in the mountains and it's just a shame that so many people can't get up there to see them. When you don't know about native ferns, it's hard to care about conserving the areas where they naturally grow."
Lynch single-handedly propagates native Hawaiian ferns using several methods: division, spores and cloning. While division is the simplest method for propagating ferns, cloning through micropropagation in a sterile lab produces the highest yield of new ferns. One tiny rhizome tip can produce hundreds of new ferns. Lynch learned the technique from her past academic adviser, a renowned horticulturist at UH Mānoa named Dr. Yoneo Sagawa. Once the fragile keiki ferns are established and thriving in the lab, Lynch transports trays of them in one-inch pots to the nursery, where they must acclimate to life outside the lab.
Unfortunately, the beauty and utility of Hawaii's exquisite native ferns are relatively unknown and untapped by the public, but Lynch is working to change that. With her research and propagation efforts, a vast array of Hawaiian ferns may become common landscape features once again, not just trailside anomalies.
By The Numbers
Hawaii is home to 170 native ferns. Of those, 77 percent are endemic, naturally occurring nowhere else in the world.
What It Means To Be Native
Native Hawaiian ferns are ferns that arrived in Hawaii without human help, via wind or wing. An indigenous native fern is native to Hawaii, but also grows naturally elsewhere. An endemic native Hawaiian fern grows naturally only in Hawai'i.
Native Ferns For Your Garden
You can find Kay Lynch's native palapalai ferns at Hui Ku Maoli Ola, Hawaiian Plant Specialists. She also sells an array of native ferns at the Honolulu Botanical Gardens, Lyon Arboretum and Waimea Valley's plant sale on Nov. 6.