Hawaiʻi Siblings Get Fishy On Their Family's OC16 Show
"Keiki Fishing Adventures"—starring the O'Day family—teaches kids about fishing, sustainability, water safety and more.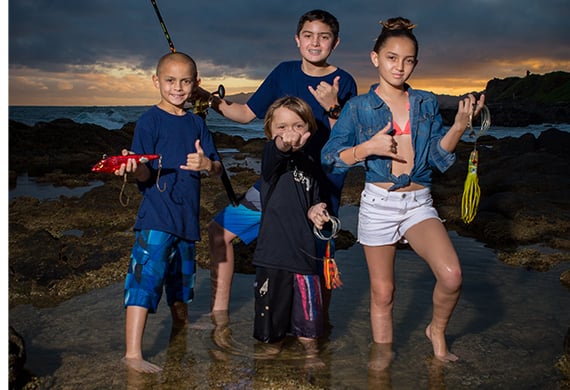 Photo: by Todd Fuerte
From left: Jaidon-Patrick, Ozias, Elijah and Sarai in Keiki Fishing Adventures.
The O'Day siblings—Ozias, Jaidon-Patrick, Sarai and Elijah—show us that there (literally) are plenty of fish in the sea. Their TV show Keiki Fishing Adventures and YouTube videos, hosted by kids for kids, are not only fun and energetic but also informative.
Parents Patrick and Rochelle O'Day have been documenting their family's fishing expedition in the Islands and on the Mainland for several years.
Spectrum OC16 (Channel 16) recently picked up the show, and the first episode premiered in January 2018. You can catch their shows throughout the week with new episodes airing at 6 p.m., Tuesdays. Visit their YouTube channel and follow them on Instagram (@keikifishingadventures) for more information.
The family lives in East O'ahu, where all four kids attend public school. They talk about their inspiration, how they got started and why they keep doing what they do.
Honolulu Family: When did you start fishing together as a family?
Patrick: Rochelle and I have fished with each other long before the kids were born. After and in between the kids being born, we fished. We mostly fished to get food to eat. If you catch it yourself and eat it with poi, rice and vegetables from your farmers' market or garden, you know where the food on your dish came from.
HF: How did you start the show?
Patrick: It all started one day when I asked the older kids if they wanted to do a TV or YouTube show. There was nothing out there for kids. We thought it would be good if we showed kids who know how to fish. We also wanted to try to get kids excited about going outdoors and off video games and computers. Seeing a kid's face when he or she catches a fish big enough to feed the whole family is priceless. They're going to remember that for the rest of their life and not the high score they had on a game.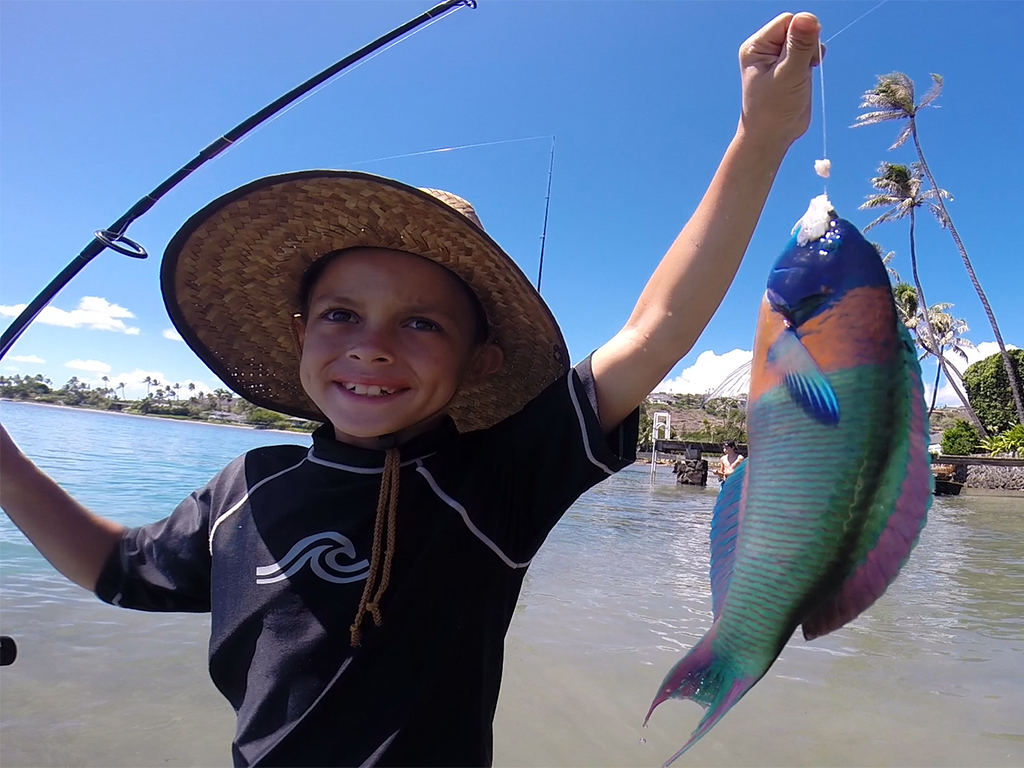 Photo: Courtesy of Keiki Fishing Adventures
HF: What are your favorite things about fishing?
Sarai (12): Spending time with my family and how happy I am when I land the fish.
Elijah (14): I enjoy the feeling of pride and excitement when I finally catch the fish after all of the hard work that I put into it.
HF: What are the most challenging things about fishing?
Jaidon-Patrick (10): Fishing in a new spot is challenging because you don't know if there are fish to catch. Trying to find a good area is challenging, too, and when you do catch a BIG fish, trying to bring it in without losing it is hard.
Ozias (8): Reeling it in when it's a BIG one.
HF: Where are your favorite fishing spots in Hawai'i?
Ozias: The little tiny rocky spot by Sandy Beach.
Sarai: Alan Davis—you can catch a bunch of fish. There's starfish there, too.
HF: What are your thoughts on sustainability and conservation?
Elijah: This is important. If we don't do this, we won't have fish for future generations. If you catch a baby fish, it should be released so it can grow and reproduce. It's also important to pick up your 'opala (trash) before leaving. Do mini beach cleanups.
Jaidon-Patrick: If you ever catch an invasive fish, take them, no matter how small because they hurt native fish and the environment. If you catch a fish you like to eat, remember to eat it and don't waste it.
HF: Any fishing tips for local keiki and their families?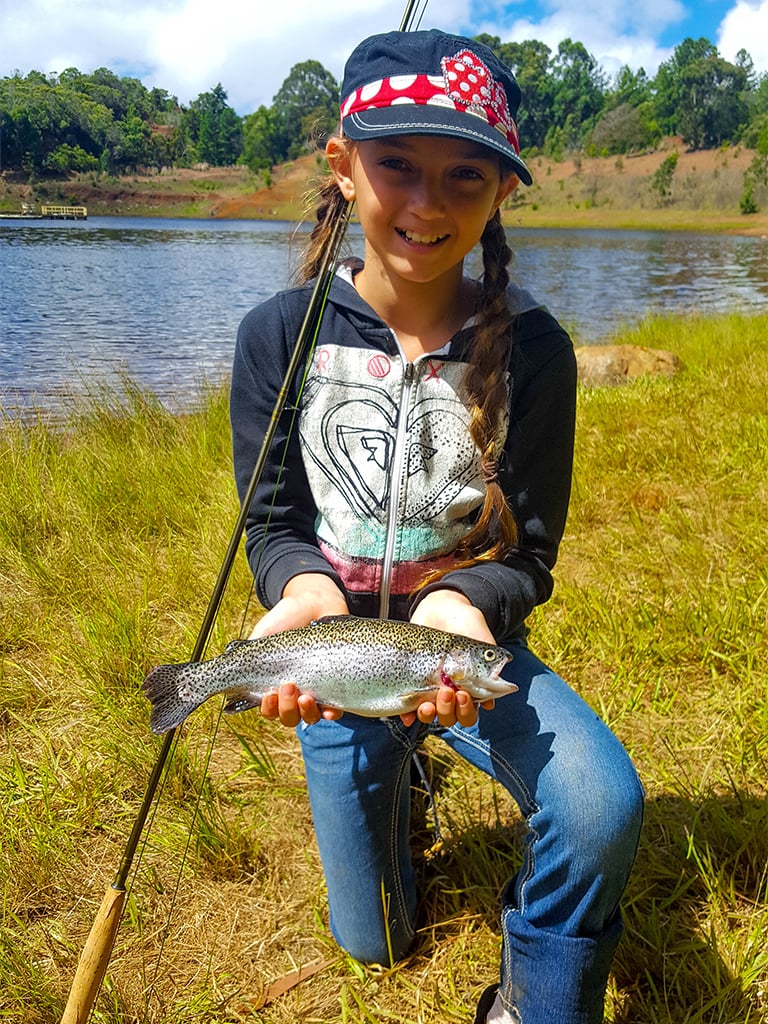 Photo: Courtesy of Keiki Fishing Adventures
Ozias: Small keiki shouldn't go on the high rocky areas to go fishing. We should always go fishing with someone, never alone.
Jaidon-Patrick: Practice casting before really fishing with a hook. If you go on a boat, have a life vest. Never ever turn your back to the ocean. If you have to, make sure someone near you is watching the ocean.
Sarai: We have lots of tips! We have videos on YouTube that can help show you how to fish, how to cast, and there's even a video on how to cook fish.
Elijah: The biggest thing is to have fun!
HF: What are your other hobbies?
Elijah: Sports like wrestling, bowling, football, baseball and croquet. Robotics and coding, too.
Sarai: I like to participate in sports: track, cross country, softball, volleyball. I also like to dance, sing, robotics, make leis, play 'ukulele, bake and cook. I also like to participate in pageants. Hopefully, one day I can run for Miss Hawai'i.
Jaidon-Patrick: I like to play baseball, football, go hunting, tako diving, swimming, surfing, climbing or hiking trails and mountains.
Ozias: I like to play baseball, football, soccer and croquet.