Hawaii Men's Shoe Store Expands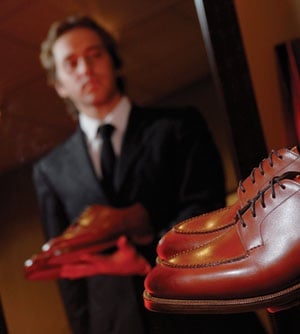 A multiple Best of HONOLULU winner, men's shoe store Leather Soul is expanding. Owned by footwear aficionado Tom Park, Leather Soul carries high-end leather shoes from brands such as Edward Green (beloved by English royalty) and John Lobb, considered the top ready-to-wear shoe line for men.
Park has just moved his shoe store into a bigger space at the Royal Hawaiian Center. You'll now find it on the third floor, directly above Ferragamo.
Tomorrow, to celebrate the new location, Park is hosting a bespoke trunk show with George Glasgow Jr., from the luxury brand George Cleverley. Leather Soul is the only U.S. store carrying Cleverley, shoes handmade in England and known for their impeccable materials. With prices of $1,200 and up, they are definitely for the connoisseur.
During the bespoke event, customers have their feet measured, and then the Cleverley factory will create a wooden "last," or form, that looks exactly like the client's feet. From this mold, the craftsman create the custom shoes. Customers also choose which style they want, the kind of leather and other details, including color. They can even opt for 200-year-old leather recovered from a shipwreck that Cleverley has the exclusive rights to. It's been buried under mud and saltwater, giving it a beautiful texture and an intriguing scent, almost like that of an aged scotch.
Also tomorrow, a representative from upscale brand Alden will be in the store, doing a trunk show. Park says his best seller is Alden's Chukka boot; he sells 400 pairs a year. Prices run from $400 to $700 for Alden, which includes the special editions created specifically for Leather Soul.
Park also tells me that he's on track to open a second location of Leather Soul. In posh Beverly Hills, the store is slated to open May 10.