Hawaii Loa Ridge Haven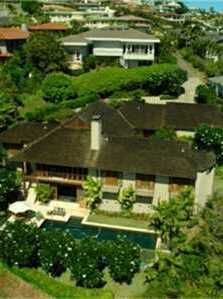 We've covered this Hawaii Loa Ridge home, which Sydney Snyder of Ossipoff, Snyder and Rowland designed, before: See senior writer Mike Keany's 2007 article, "Zen on the Ridge." The house, which sits on an oddly shaped, 19,500-plus-sq.-ft. rim lot, was built 12 years ago for a Chicago couple as their retirement getaway. Unfortunately, the husband has since passed away and the wife listed the house about two years ago, with the ultimate goal of downsizing to a smaller townhouse.
According to listing agent Margaret Murchie, the listing has generated a lot of interest, though the right buyer simply hasn't materialized. "It has never been open to the public, and I screen buyers and agents daily," she says. "More often than not they are looking for big, white and shiny." Which is too bad, given the character and attention to detail this house affords, with custom wood built-ins, "smashing ocean views," privacy and a "lovely" large pool and patio area. "This is a very timeless, tasteful custom home on a smaller scale with a lot of fine wood and built-ins," says Murchie. "There are very few homes built today with this much attention to detail."
Money talk: The home is listed for $3.1 million.
Contact: Margaret Murchie, Coldwell Banker Pacific Properties. 732-1414, margaret@margaretm.com.