Why Are Hawaii Kids Too Big For Their Britches?
Tackling the challenges of childhood obesity in Paradise.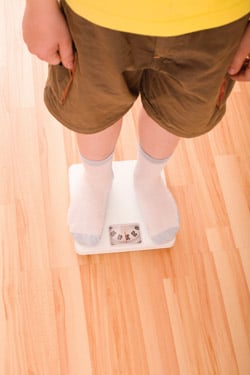 We live in Honolulu: the happiest city, the city with the third-lowest crime rate and cleanest air in America. Mix in blue skies, balmy air, trade winds and some of the world's best beaches and you have a recipe for paradise. Hawaii schoolchildren will never know the term "snow day," because virtually every day is a perfect day for biking, hiking, surfing, swimming or playing outside.
So, why is it that childhood obesity and other diseases threaten our children's well being? Why are so many of Hawaii's children unhealthy?
Surprisingly, one in three children entering kindergarten in Hawaii are overweight or obese, according to The Hawaii Initiative for Childhood Obesity Research and Education (HICORE). In 2009, obesity-related medical costs in Hawaii were $329 million.
Sure, we've got good weather on our side, but other factors create challenges, including Hawaii's unique culture, local diet and socioeconomic struggles. These obstacles also provide opportunities for parents and educators to develop solutions and programs that will foster good health at school and at home.
Where Do We Begin?
Childhood obesity is a disease, and a significant precursor to a multitude of chronic illnesses including diabetes, cardiovascular disease, cancer and depression, which in Hawaii, disproportionately affect Native Hawaiians, immigrants and low-income people.
Obesity is caused by many micro- and macro-level factors, including genetics, the individual, the family, the community and the society as a whole, says HICORE. Where do we begin to deal with obesity? It's a good question, says Daniel Leung, program coordinator at Kapiolani Community College. Degrees in culinary arts and social work serve him well in "Hawaii's obesity prevention campaign," he says.
A good place to begin, Leung says, is the Hawaii 5210 program. The
numbers 5-2-1-0 refer to a healthy-living message:
5 or more fruits and vegetables per day
2 hours or less of screen time
1 hour or more of physical activity
0 sugary drinks (those with added, refined sugar)
The overall program, Hawaii 5210 'Let's Go!' promotes healthy eating and active living and prevents childhood obesity in Hawaii through a coordinated, collaborative, locally relevant health-education campaign. The program is based at the University of Hawaii John A. Burns School of Medicine Department of Pediatrics and is led by HICORE.
Building Good Health at Schools
The State of Hawaii Department of Education (DOE) began implementing positive 'wellness' initiatives in all 258 statewide public schools two years ago. DOE learned that change needs to be done incrementally and in tandem with education in the classroom in order to yield the best results. For example, teachers are encouraged to eat fruits in class to model good habits, and incorporate lessons on fruits and vegetables and healthy eating in their curriculum. At the same time, healthier meal options, such as 1 percent and fat-free milk, hapa rice (part white, part brown), legumes, whole-grain pasta and breads are among new menus options that have been introduced for school lunches.
"The new national meal pattern portion requirements are being altered with an increase in fruits and vegetables, less protein and more whole grains," says DOE school food-service director, Glenna Owens.
Another DOE initiative yielding great results is the "Fresh Fruit and Vegetable" program that provides special funding to schools with a 50 percent or higher student population on free or reduced lunch plans. It pays for additional fresh fruit and vegetables to be served outside of the standard breakfast and lunch programs, which equates to $50 to $75 per student each month.
"Many schools are now able to offer prime, seasonal fresh produce to students who may not have exposure to these items at home," says Sue Uyehara, director of Hawaii's Child Nutrition Programs. Their hope is to "plant seeds" at a young age so when these children become adults, they are more apt to make wise, nutritional food choices.
Private schools are also making changes. At Sacred Hearts Academy, parent and school board member Sara Platt, planted the idea for the school to launch its own 5210 wellness program to coincide with the opening this fall of The Clarence T.C. Ching Student Center, which replaces a traditional cafeteria.
Sacred Hearts' Natalie Lineback coordinates the school's wellness program using four teams: Get Fresh, to develop a wellness policy and plan menus; Get Moving, which invites local athletes and professionals to address topics such as body awareness; Get Smart, to learn about health and nutrition, and provide "chef" activities for parents; and Get Together, for the grand-opening ceremony of the student center in August.
Rethink the Drink
Sugary drinks are the main source of sugar in children's diets. The primary ingredient in these drinks is high-fructose corn syrup, a man-made sweetener used in a lot of processed foods and drinks.
Fruit drinks include POG, guava drinks, orangeades and fruit punch. Some might have a bit of real juice, but most have lots of added sugars and chemicals. Buy, serve and drink water and low-fat milk instead. Low-fat milk helps kids build strong teeth and bones.
A healthy diet, including milk, helped single dad and Meadow Gold employee Layne Kaita set a good example for his children and put the family on the path to good health.
See the current issue of Meadow Gold and Me accompanying HONOLULU Family for more great tips on living healthy in Hawaii.
Making Healthy Choices at Home
Hawaii's culture celebrates food from around the world. Not all are nutritious. Often, even the healthiest among us can't pass up Spam musubi or malasadas.
"That's OK," says KCC's Leung. "We don't ban any food. My kids do occasionally grab a Spam musubi," he says. "But it's not every day, every meal."
The website for Hawaii Foods, hawaiifoods.hawaii.edu, can promote healthier food choices. Developed by the University of Hawaii College for Tropical Agriculture and Human Resources in collaboration with the UH John Burns School of Medicine Cancer Center, provides access to nutritional information for local foods.
Getting Kids Moving
The "1" in 5210 stands for at least one hour of physical activity per day. Why is this important?
L. Kae Graniel, fitness director for The Oahu Club, explains, "Physical activity is important for children because it helps them develop important skills such as hand-eye coordination, spatial awareness and agility." He adds, "Active children tend to be healthier and are less likely to become obese … our bodies are designed for movement."
It isn't complicated to get kids moving, experts say. Have kids show you exercises or stretches they have learned in P.E. class at school. My first-grader, Mei, demonstrated some moves, including push-ups, sit-ups and yoga. Mei and her class at Manoa Elementary School are lucky to be learning physical education from John Uehara once a week. It's a great start. Getting kids moving takes more than activity in a class or participation in a sport. "What are your kids doing when they aren't in school or group activities?" asks Uehara. Kids need to be active at home in their normal environment.
Free Play Is Easy
Dominic Ahuna, strength and conditioning coach at Iolani School, says physical activity that is free and unstructured prepares children better for organized sports, he says.
Youth who "specialize" in a specific sport are more prone to injury due to repetitive-movement patterns, Ahuna says. In general, playing simple games like chase or tag creates better coordination, he adds.
Home Is Where The (Healthy) Heart Is
Our children need to see us making healthy food and exercise choices. Instead of watching TV on a Saturday, go on a family hike or bike ride around the neighborhood. The effort you make to create a healthier life now will pay off with happy, healthy adult children later.
Portion Control
The following represents three typical, local meal options for breakfast, lunch and dinner. The nutritional breakdown is compared to the recommended daily allowances of calories, fat and sodium difference between what we eat and the recommendation is shocking.