Hawaii Food & Wine Festival: The Slambang Finish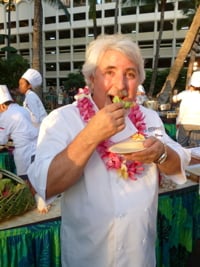 The final event of the Hawaii Food & Wine Festival was held on the Great Lawn of the Hilton Hawaiian Village. The lawn, great or not, was barely big enough.
A thousand guests showed up for the walkaround food fest under the stars. There were star chefs from New York, Los Angeles, Las Vegas, Dallas and New Orleans, all recruited by Alan Wong and Roy Yamaguchi. Plus the home team was well-represented: Chef Mavro, Peter Merriman, Ed Kenney of Town, Jeffrey Vigilla of the Hilton, plus Wong and Yamaguchi themselves, making their first culinary appearance at the festival they created.
The crowd was happy, and even the chefs seemed in high spirits. Marcel Vigneron, the enfant terrible of culinary TV, posed for pictures with his fans, thumbs up (left).
Dean Fearing, one of the prime movers in the Southwest Cuisine movement, stood in front of his booth, encouraging guests to try his chicken-fried Big Island quail with cornbread pudding. He personally gave each plate a squirt of his elegant, yet powerful Texas barbecue sauce.
Celestino Drago, who made pasta with Hawaii wild boar sausage, ran over to sample Michael Ginor's Thai larb with foie gras. "Roll it up in a lettuce leaf," said Ginor. "It's finger food."
There was more food than even Biting Commentary could eat all of. Ed Kenney served his housemade chorizo with artisanal Madre chocolate. Alan Wong stood behind his station, instructing his crew on how to sauce his Moloka'i shrimp with Hamakua mushrooms and baby abalone (below right). Peter Merriman enlisted Camille Komine (of the lunch truck, Camille's on Wheels) to help serve his Maui Cattle Co. beef cheeks.
Even the visiting chefs were local. The theme was "Mauka to Makai" and the emphasis was on Hawaii products.
Talked to Michel Nischan (below left), chef/owner of The Dressing Room in Westport, Conn., where the late Paul Newman was his original partner. Nischan was whipping up 1,500 salt-and-pepper barbecue ribs on a chopped salad of all Hawaii ingredients.
"Usually when you do these things you have to bring all your own food, because you can't trust the ingredients," said Nischan. "This festival was amazing. Roy Yamagushi really has his act together. We got everything we asked for, even the ribs, which Roy's Jackie Lau prepped perfectly for us."
Nischan gets farm-fresh produce in Connecticut. "But the stuff we got here for our salad, some of it we can't get there. Those purple Molokai sweet potatoes. I'm not sure you people appreciate how great they are, the sweetness in your mouth just keeps coming."
"It's great to see all these West Coast and East Coast guys using fish like kampachi and nairagi," said Ed Kenney.
The exchange went two ways. "Having all these chefs in house really lit up my crew," said Jeffrey Vigilla, who as exec chef of the Hilton Hawaiian Village was the host chef. "They all wanted to work this event." In addition, Vigilla orchestrated 125 volunteer culinary students who worked the stations. "Those kids were so excited, they couldn't wait to get out to their booths."
And Biting Commentary can't wait till next year's festival.