Hawai'i Farmers Market Adventures: Spicy Grilled Pineapple
Spice up pineapple and toss it on the grill for a flavor adventure.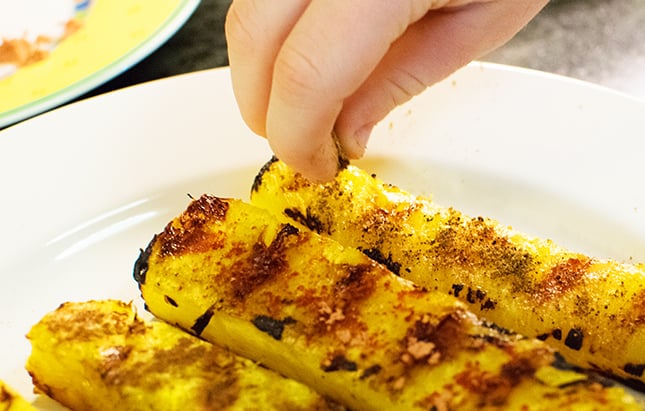 Photo: michele Aucello
Editor's Note: This blog is the part of a series of mom-and-child pieces from Michele Aucello and her kids, Isabella, 12, and Luca, 10, as they try new ways to cook with produce found in their weekly farmers market trips.
Luca: We usually go to the Kaka'ako market because we sell our plants there. One Saturday, tennis was cancelled. But, since we had our sunscreen on already, we went to the nearby Kapi'olani Community College (KCC) Farmers Market. Both markets have booths but there are different booths. KCC has an ice-cream booth and a popcorn booth and Kaka'ako doesn't. Kaka'ako has Baker Dudes and it's less crowded. Our plan was to get a pineapple to flavor our kombucha. (Editor's Note: That blog is coming up next week.)
We met a man who sold pineapples. He taught us how to pick a pineapple. If you pull the center leaves and they come out easily, that doesn't mean it is ready. Pineapples are ready when they look yellowish-orange and smell *awesome.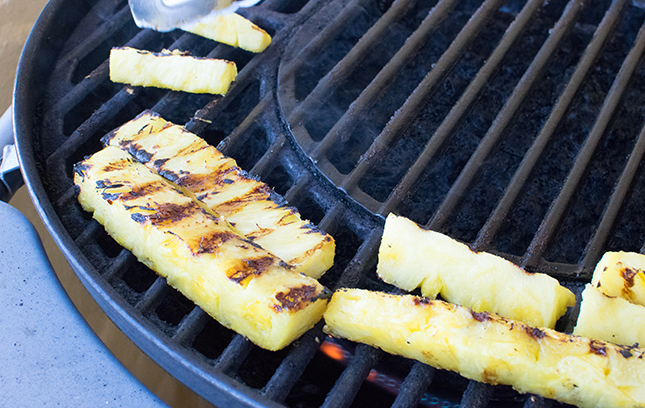 PHOTO: Luca AUCELLO
We cut some of the pineapple to flavor our kombucha and had some spears left over. We decided to try grilling it because it sounded good and we had never tried it. First, we tried the panini grill. It didn't taste too good. Then we grilled some on the outdoor grill while Dad was grilling burgers. This time we put honey on the slices and it was better.
Mom: When I went to a Street Food of Mumbai party last year, I tried pineapple dusted with chaat masala. I had purchased the ingredient for another dish I brought that night and was told chaat masala was good on pineapple. I wondered if the kids would like it. We had some li hing powder for comparison, and tried cinnamon because it's a spice I know they would like.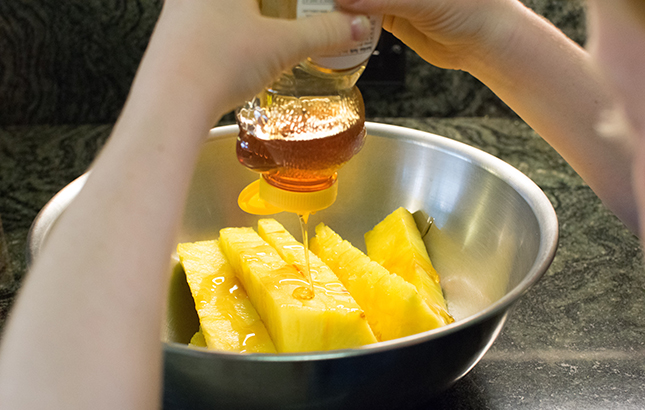 PHOTO: MICHELE AUCELLO
Luca: We used the four best slices of grilled pineapple and sprinkled each flavor on. We added chaat masala, li hing powder, and cinnamon to the pineapples. We left one bare. It just had honey on it. I tried the one with chaat masala I and didn't like it as much as the others. Dad liked the li hing. Mom liked chaat masala. Isabella liked the plain honey. Not everyone liked the spices so we would let people add their own next time.
Mom: Shopping with kids in tow is quite different when you are at an outdoor market! Kids are encouraged to move and talk and taste and converse. We tend to grab a bite to eat so it becomes a morning spent together as opposed to grocery shopping.
It can present many teachable moments. We allow the children to carry their own money and make their own choices. The vendors are usually patient while they fish out their money or calculate their change.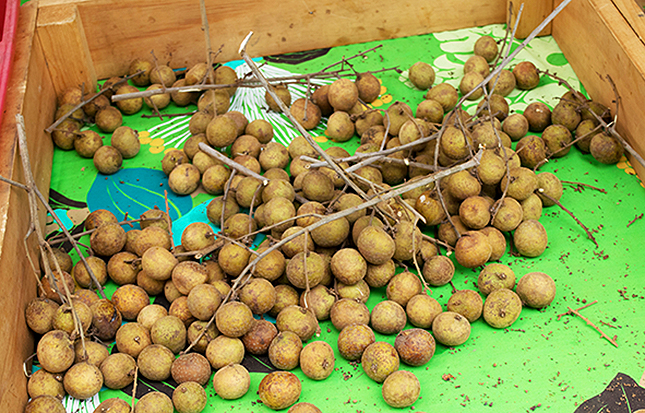 PHOTO: LUCA AUCELLO
When the kids were little, we'd let them get a favorite food at the farmer's market but also ask them to pick out something new. At the KCC Farmers Market that day, Luca spotted some Longan (a fruit similar to lychee) and wanted to try them. We loved it and now buy it whenever we see them. The kids were with me when I popped into the India Market (on Isenberg Street) for the chaat masala and enjoyed looking at all of the new foods. We've also stopped in the Mercado De La Raza in search of an ingredient. Chinatown is also a great spot to find new foods. Isabella and Luca know it's okay to experiment and decide you don't like something. That is how cooks learn.
Farmers Market Visit Tips:
Bring cash. Small bills are especially useful.
Take reusable totes or a backpack for your purchases.
Wear sunscreen and bring water, it can get hot!
Go early to shop before vendors run out. Or, wait until the end when you may be able to get deals on produce or goods before vendors pack up.
The Kapi'olani Farmers Market is held Saturday, 7:30 to 11 a.m. and Tuesday, 4 to 7 p.m. at Kapi'olani Community College, 4303 Diamond Head Road in Parking Lot C.