Hawai'i Farmers Market Adventures: Bruschetta
If your child won't touch tomatoes, try this family recipe that's converted at least two in the Aucello family into tomato eaters.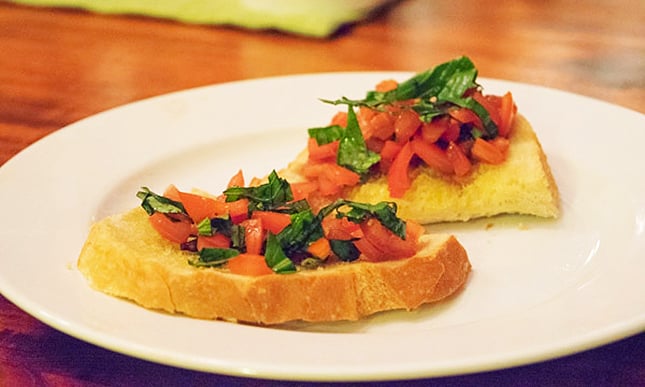 Photo: LUCA Aucello
Editor's Note: This blog is the part of a series of mom-and-child pieces from Michele Aucello and her kids, Isabella, 12, and Luca, 10, as they try new ways to cook with produce found in their weekly farmers market trips.
Mom: We often go to the Kaka'ako Farmer's Market on Saturdays. Sometimes the kids sell plants from our garden and eggs from our chickens at the Littlest Co-op booth. While we are there, we stock up on fruits and veggies we don't grow, such as tomatoes and bananas. The children are also noticing that you can't get certain foods like mangos every week – that even in Hawai'i there is a seasonality to the foods that are grown. Luca likes tomatoes and had not seen some in a while, so when he spotted some and found a good-looking loaf of bread from The Baker Dudes, he decided to try a favorite family recipe.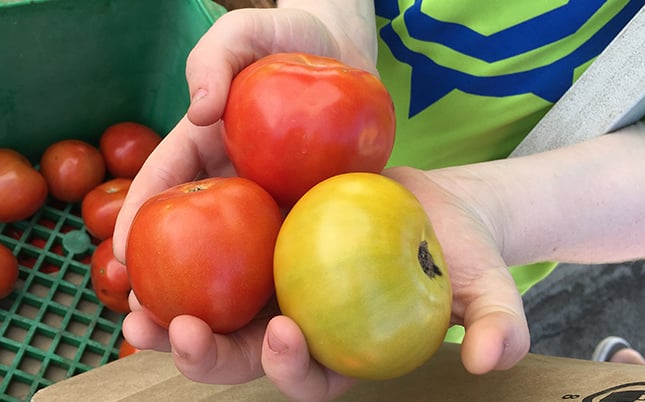 PHOTO: Michele Aucello
Luca: I chose a bag of tomatoes at the market because they looked good and I like tomatoes. I also found a big loaf of bread at The Baker Dude's booth. I wanted to try to make bruschetta like my grandma. I like my grandma's bruschetta that she makes for us when she comes to visit us at the cottage in Michigan. We bought some basil in case we didn't have enough in the garden.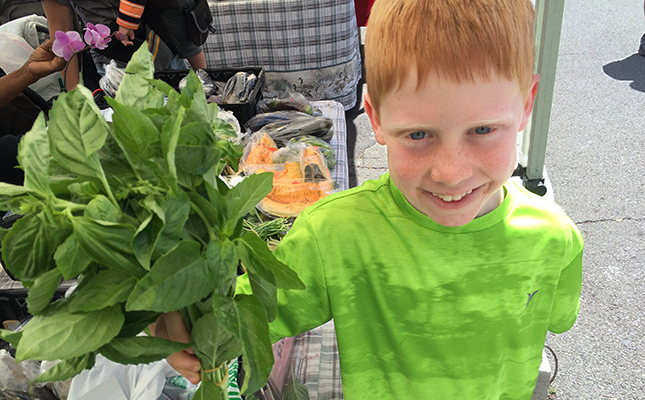 PHOTO: Michele Aucello
I like to eat cherry tomatoes because they are healthy. They don't really taste like anything. I eat them just plain. I like the tomato juice in my mouth. I also like them in Mom's panzanella salad and on my green salads.
Mom: This is the recipe that converted me into a tomato eater, and it worked for both of my kids. When Luca declared he was making bruschetta for dinner, Isabella initially balked. She ended up eating three servings and deciding she does like SOME tomatoes. We usually use Roma tomatoes but have tried it with all kinds. We usually make this in two-bite portions using a baguette but this time since Luca found a big loaf of sourdough that looked good, we sliced it and cut each slice in half.
Farmer's Market Bruschetta
adapted from Grammy B's recipe.
Ingredients
8 tomatoes, diced
several sprigs of basil, sliced
2 tablespoons of Balsamic vinegar
1 tablespoon brown sugar
A loaf of sourdough bread or a baguette, sliced
Olive oil
Garlic
Directions
Put the diced tomatoes in a bowl.
Add enough sliced basil so that the mixture is about 2/3 tomatoes, 1/3 basil.
Let cool slightly and rub each piece with a clove of garlic (slice the top off of the garlic and rub it on the toast, cut side down). Top each slice with the tomato mixture. Enjoy!
Luca: Slicing the tomatoes was a little hard because we had to get them to little tiny pieces. Slicing the basil was pretty easy – just line the leaves up and chop. We put the tomatoes and basil in a bowl, added some brown sugar and balsamic vinegar and let it sit. Mom cut the bread but I got to brush it with olive oil. We toasted the bread and then I rubbed each piece with garlic. Then Mom spooned the tomato mixture on. It was good. Everyone liked it. I can't wait to tell my grandma that I made bruschetta!
The Kaka'ako Farmers Market is held Saturday, 8 a.m. to noon at Ward Warehouse. wardvillageshops.com.