Hawaii Chef Inspired, Kid-Approved Recipes
Delicious recipes created by local chefs are simple to prepare at home.
Imagine the benefits of having friends who cook gourmet fare for a living and everyday meals for their families? We asked three local chefs who are also daddies to each share a family-favorite dish.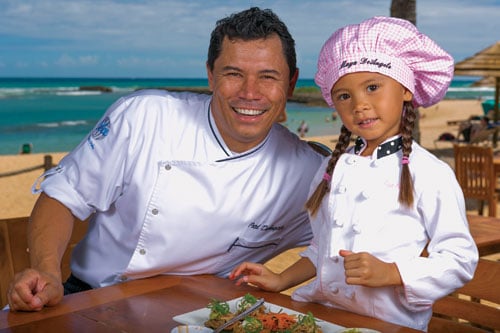 Fred DeAngelo, chef/owner, Ola Restaurant, Turtle Bay Resort, and The Grove, Kailua. Dad to Maya, 5 years old.
For chef Fred DeAngelo, it's all in the family. DeAngelo's wife, Cheryl, and daughter, Maya, are the true inspirations in his kitchens. They regularly entertain family and friends at home and at the restaurants. One of his most requested dishes is the Misoyaki Butterfish, a favorite of his daughter's. Don't be intimidated by this easy to prepare gourmet dish. Another fave among friends and family are the simple, yet impressive Kālua Pork Nachos.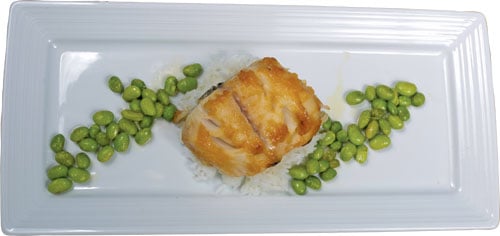 MISOYAKI BUTTERFISHIngredients:Six, 5-ounce black-cod fillets (with skin)1/3 cup sake (optional)1/3 cup mirin1/2 cup granulated sugar (or to taste)1 cup white miso1 tablespoon soy sauce1 teaspoon ginger (finely grated)

 

Instructions:
In a heavy saucepan over medium heat, add sake and mirin. Bring to a boil for seven to 10 minutes to cook out the alcohol. Add sugar, then miso, and heat to dissolve sugar, approximately four minutes. Add soy sauce and remove from heat. Allow mixture to cool to room temperature.Place portioned fish fillets in a Ziploc bag, pour miso marinade over fish and marinate for 24 to 48 hours. Preheat oven to 400 degrees. Convection cooking is preferred, but not necessary. Line a sheet pan with aluminum foil; place the marinated fish skin side down on the foil. Bake for 8 to 10 minutes, until fish cooks golden brown.
TIP: When removing the fish from the sheet pan after cooking, slide spatula between the skin and the fillet. The skin will stick to the pan and you will be left with the fillet to serve.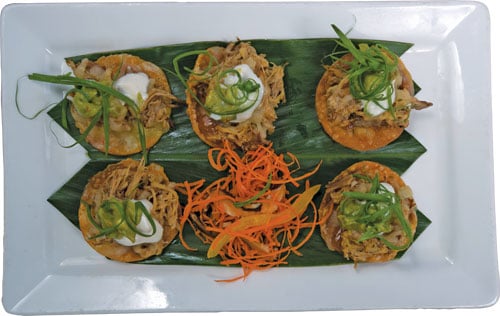 KALUA PORK NACHOS
Ingredients:
1 package prepared kālua pork (Ola prepares theirs fresh, which is a 12-hour process)
1 package won ton wrappers (20 individual pieces)
2 cups salad oil
1 cup jalapeno jack cheese, shredded (substitute with regular Monterey Jack for kids)
1 avocado, sliced
1 small jar of plum sauce
1 bunch cilantro
Instructions:
Heat kālua pork, shred and set aside. Place oil into a deep frying pan, heat at 350 degrees and fry won ton wrappers, carefully turning with metal tongs until both sides are golden brown. Place cooked won tons onto paper towels to drain. On a cookie sheet, place a teaspoon of plum sauce onto each fried won ton skin. Place shredded pork on the sauce and top with cheese. Bake at 350 degrees until the cheese is melted. Place on a platter and top with sliced, fresh avocado and garnish with cilantro sprigs.
OLA, 57-091 Kamehameha Highway, Kahuku, 293-0801THE GROVE, 33 Aulike St., Kāilua, 262-2898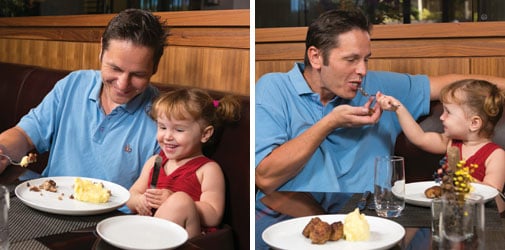 Johan Svensson, executive chef, BLT SteakWaikīkī. Dad to Freja, 2 years old.
Raising a toddler with Swedish-American roots is a fun challenge for Swedish-born chef Johan Svensson of BLT Steak Waikīkī. Svensson says his daughter, Freja, will try everything. "She may not like it, but she will try it," he says. How does Svensson keep his Swedish heritage alive in his Hawai'i home? His strategy is to slowly introduce her to the foods that he grew up with so she grows to love them as much as he does.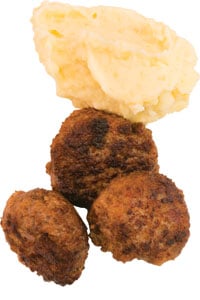 One of Feja's favorite dishes is Swedish meatballs. You can even "hide" veggies in the meatball mixture if you have children who aren't too fond of vegetables. The dish is easy to prepare and perfect for large parties, since large batches can be prepared ahead of time. Swedish meatballs are traditionally served with lingon berries, pickled cucumber, brown gravy and mashed potatoes.
SWEDISH MEATBALLS
Ingredients:
2 pounds ground beef
1 pound ground pork
1 teaspoon ground allspice
½ cup breadcrumbs
2 eggs
¾ cup milk
1 diced red onion
Instructions:
Mix the breadcrumbs with eggs, milk, allspice, onion, salt and pepper. Let the mixture sit for 10 minutes. Combine the meat and breadcrumb mix. Form small balls by hand, approximately ¾ ounce each. Sauté meatballs in a hot pan with oil and butter.
BLT Steak Waikiki, 223 Saratoga Road, Honolulu, 683-7440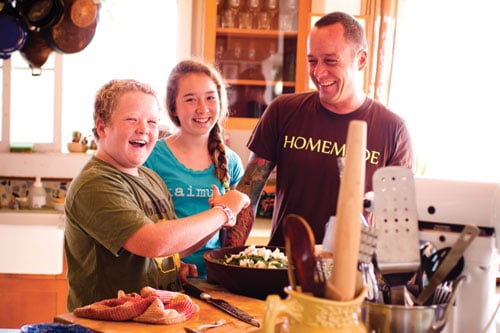 Ed Kenney, chef/owner, TOWN, and the former Downtown at the HiSAM. Dad to Duke, 11, and Celia, 14.
According to chef Kenney and his wife, Kristen, aka "Spanky," their children have always been adventurous eaters with sophisticated palates. The family not only cooks together, but also grows together. They tend a home garden that produces fresh basil, arugula, kale, tomatoes and sweet potato.
Fresh, organic fruits and vegetables are staples in Kenney's cooking at work and at home. Daughter Celia says, "Dad is good at making something out of nothing." Three items always stocked at the Kenney home? Rice, olive oil and preserves (gifts from friends).
The Kenney potluck dish of choice? His wife's panzanella salad. It's a family favorite, because the kids love the fresh mozzarella cheese, savory, garlicky croutons and sweet, juicy tomatoes. The dish lends itself well to potluck gatherings because it can be prepared ahead at home and gets better as the flavors meld.
According to Kenney, there are no rules to creating a great panzanella salad. Use the freshest ingredients and let your creativity guide you. For example, instead of tomatoes and mozzarella, use roasted mushrooms, kabocha pumpkin and sage or asparagus, peas, chevre and mint.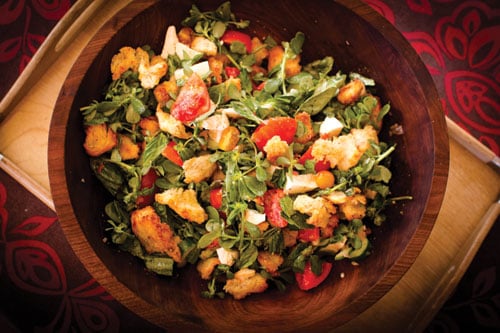 SPANKY'S PANZELLA
(Bread Salad)
Ingredients:
2 pounds tomatoes (cut into varying size chunks)
1 clove garlic, minced
1 pound fresh mozzarella (cut into random chunks)
1 pound cucumber, seeded and sliced
2 cups greens (wild arugula, purslane, watercress or young kale)
½ cup torn sweet basil
Torn bread croutons (recipe below)
White balsamic vinaigrette (recipe below)
Salt and pepper to taste
Instructions:
Drain excess liquid out of the tomatoes while you prep the rest of the ingredients. Combine all of the ingredients in a large bowl and toss to combine. Season with salt and pepper.
TORN BREAD CROUTONS
Ingredients:
¼ cup extra virgin olive oil
¼ cup butter
6 cups crustless country bread (torn into uneven chunks)
6 Tablespoons grated Parmigiano-Reggiano
Salt and pepper to taste
Instructions:
Melt the butter in a pan with the olive oil.
Pour butter/oil over the bread, sprinkle with cheese, season with salt and pepper, and toss to coat the bread. Spread bread on a baking sheet and bake at 350 degrees. Stir occasionally until golden, crisp and chewy, about 15 to 20 minutes. Reserve to be used in the bread salad recipe.
WHITE BALSAMIC VINAIGRETTE
Ingredients:
2 Tablespoons white balsamic vinegar
4 Tablespoons neutral oil
2 Tablespoons extra virgin olive oil
1 teaspoon shallot, minced
½ teaspoon dijon mustard
Salt and pepper to taste
Instructions:
Macerate the minced shallots in the vinegar for 10 minutes. Add the mustard, stir to combine. Combine the oils and whisk into the vinegar. Season with salt and pepper.
Town, 3435 Waialae Ave., Honolulu, 735-5900