Hawaii Avocado Festival, Big Island, Feb. 18-19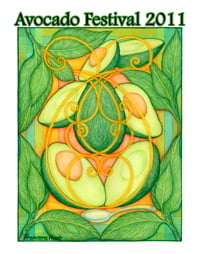 Love avocados? Then the Kona Coast of the Big Island is the place to be next weekend for the 5th Annual Hawaii Avocado Festival. The Big Island is prime avocado-growing country. Some 200 varieties flourish there.
The festival itself is free, Saturday, Feb. 19, 10 a.m.-4 p.m., at the Amy B.H. Greenwell Ethnobotanical Garden, Hwy. 11., Captain Cook. It features guacamole tastings, avocado recipe contests, an eco-fashion show, farmer's market, arts and crafts, a variety of healing arts and a full lineup of performing arts.
Perhaps the centerpiece of the festival will be a chance to taste the seven-tier savory avocado-sweet potato pie created by Honolulu pastry chef Hector Wong.
With the help of instructors from the local culinary schools, Wong will construct all seven layers out of primarily local ingredients. He's including just a hint of heat from Peruvian-style pepper sauce. You can find the entire multi-step recipe on his Facebook page.
Here left is his photo of one of the test layers he created in his Honolulu kitchen. "It's a lot of work," says Wong, "but I always want to support events that feature local farmers."
If just the thought of Wong's savory creation makes you hungry, you should also know that this year the festival has scheduled a "Deliciously Local Dinner," Friday, Feb. 18, at the Keauhou Beach Resort.
Unable to find county funding this year, festival founder Randyl Rupar organized the dinner as a fundraiser, to keep the main festival free to all families.
The buffet, created by Keauhou Resort chef Cy Yamamoto, has, you guessed it, an avocado-themed menu, including winning recipes from previous festivals, once again featuring primarily local ingredients.
Gazpacho with avocado relish
Seared ahi and avocado parfait with lilikoi vinaigrette
Avocado and cherry couscous
Avocado and corn succotash
Avocado Spanish rice
Cajun mahimahi with avocado cream
Crab and avocado macaroni and cheese
Avocado cheese cake
Avocado cream pie
The evening will have live music, a silent auction and all the trappings of a gala fundraiser, $55. For tickets, (808) 334-3340 or click here.
The festival has a serious edge, including a seminar in reintegrating farming into the culture. "We import 2.5 million pounds of avocados a year, from Chile, Mexico and other places. At the same time, we can't export our avocados to the Mainland, and half the local crop goes unsold," says Rupar, who has his own 15-acre organic farm. "It's almost criminal. We grow the best avocados in world here."
For more information, here's the Hawaii Avocado Festival website. For the Keauhou Beach Resort, 78-6740 Alii Dr., Kailua-Kona, Big Island, (808) 322-3441 or click here. For the Amy B.H. Greenwell Ethnobotanical Garden, here.