Hawai'i 2020 Primary Election Offers Voters Choices for Mayor, Prosecutor and More
Here is our guide to races to watch and how last-minute voters can still participate in the state's first all-vote-by-mail election on Saturday, Aug. 8.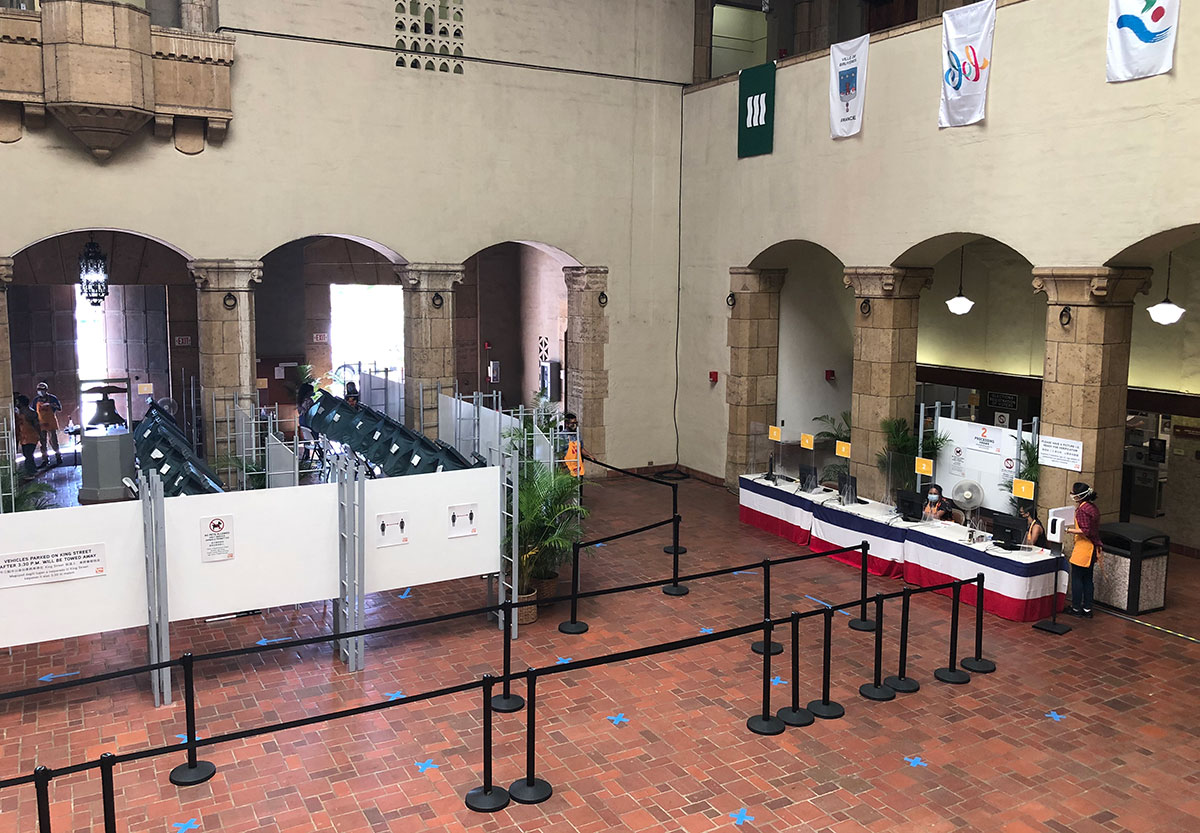 Photo: Robbie Dingeman
Hawai'i's 2020 elections offer Honolulu voters a chance to choose new representation in five City Council seats as well as new blood for mayor and city prosecutor, all by mail for the first time in the state's history.
When the dust settled after the deadline to file to run for state office this year, more than 420 names made it onto the ballots. By now you've likely received mailers, heard or seen commercials and read news about some of the races. After years of dismal voter turnout, candidates and officials are hoping the combination of convenient mail-in ballots, increased civic engagement driven by racially charged killings and the introspection brought on by the pandemic will push more residents to vote.
In the mayor's race there's a crowded field but the top candidates have emerged in two groups. The first group is made up of politicians. In alphabetical order, they are Colleen Hanabusa, former state Senate president and U.S. congresswoman; Mufi Hannemann, former mayor; and Kym Pine, current City Council member. The second consists of those who have never held office: Keith Amemiya, businessman and former head of the Hawaiʻi High School Athletic Association; and Rick Blangiardi, who retired as general manager of Hawai'i News Now and has won support from many in the business community who previously supported Republican Gov. Linda Lingle. The race is nonpartisan so candidates don't have to say which party they lean toward.
Blangiardi has raised a lot of money and some polls show him pulling to an early lead, ahead of Hanabusa. Much of the debate rhetoric has focused on whether it's better to have a candidate who worked at Honolulu Hale or someone who knows people who work in the building but offers a different perspective.
Some of those dynamics—who you know versus someone you might never have heard of—show up in the competition for Honolulu prosecutor. The shadow of corruption hangs over the entire race with current officeholder Keith Kaneshiro out on paid leave (still earning $176,688 a year) after becoming the target of a federal investigation that's already put his former deputy, Katherine Kealoha, in prison. Her husband, former Honolulu Police Chief Louis Kealoha, also found guilty of federal corruption charges, remains free while both await sentencing, delayed by the pandemic. After all that, Kaneshiro opted to sit out this election.
Top fundraisers and attention-getters in the race for prosecutor include former judge and deputy prosecuting attorney Steve Alm, deputy prosecutor Megan Kau and criminal justice reform-minded defense attorney Jacquie Esser. Also running are Kaneshiro's deputy, Dwight Nadamoto, who took over when Kaneshiro went on his paid leave, and former deputy prosecuting attorneys RJ Brown and Tae Kim and attorney Anosh Yaqoob.
---
SEE ALSO: Hawai'i's First All-Vote-by-Mail Election Has Begun
---
On Tuesday, Aug. 4, Honolulu City Clerk Glen Takahashi expressed hope that the turnout would be good, based on the more than 183,000 completed ballots that his office had already received. In recent Honolulu primary elections, between 150,000 and 200,000 ballots were tallied for each one, Takahashi says. So, the steady pace of ballots coming in makes him think this year's turnout could break recent records. While the official number of voters registered on O'ahu exceeds 525,000, that number includes thousands of people who have moved and will likely be purged from the voter list, he explained.
If you're like us, you've already heard from—and maybe even met—some of those who are running for the state House or the City Council, since they handle the issues closest to home and may have knocked on your door. With the 51-member House and about half the state Senate running, we encourage you to research the issues and vote for those who align best with you. If we preview all of those races, you'll still be reading by the Nov. 3 general election!
Looking to weigh-in on who represents Hawai'i in Washington?
Both House members must run in every election. When the always-eclectic U.S. Rep. Tulsi Gabbard decided to run for president, she opted out of running again for her House seat. And while that move attracted a slew of candidates, the early advantage went to state Rep. Kai Kahele, who entered the race even before Gabbard dropped out, citing her overarching interest in national politics over her district. Joe Akana has been recently active around the island, campaigning from a big red bus emblazoned with his photo and name.
Our other congressional incumbent, Rep. Ed Case, has a little-known Democratic challenger in Andrew Stewart. In the general election, he'll face the winner of the Republican primary, Libertarian Feena Bonoan, as well as nonpartisan candidate, Calvin Griffin.
Honolulu City Council
Other races that have drawn crowds are for the five nonpartisan City Council seats up for grabs this week, the result of a number of longtime politicians having reached the end of their terms. Former Republican gubernatorial candidate Andria Tupola is running in District 1, which covers 'Ewa Beach to the Wai'anae Coast, as is Anthony Makana Paris, a research analyst for the Hawaiʻi Ironworkers Stabilization Fund. In District 5—the Kaimukī to Makiki area—state Rep. Calvin Say is vying to cross the street from the state Capitol to Honolulu Hale after 44 years in the House. He's facing off against retired engineer Dave Watase, who has led community opposition to the Ala Wai flood mitigation project.
In the District 3 race on the Windward Side, Alan Kekoa Texeira, the deputy chief of staff for Ikaika Anderson, is hoping to succeed his boss. Though his campaign fundraising gave him the third largest-budget in the council races, he's facing others with some community following: Esther Kia'āina, executive director of the Pacific Basin Development Council, and Greg Thielen, a construction company owner whose mother, state Rep. Cynthia Thielen, and sister, state Sen. Laura Thielen, have strong positive reputations in the district. District 7, Kalihi to Foster Village, has three first-time candidates. And District 9 offers wide choices: former state Sen. Will Espero, who quit the Senate to run a losing campaign for lieutenant governor; first-time candidate and Army National Guard Maj. Earl Tsuneyoshi, who is the brother-in-law of Councilmember Heidi Tsuneyoshi; and comedian/business owner Augie Tulba, also running for the first time.
House Speaker
House Speaker Scott Saiki has a livelier race than he's been accustomed to in recent years. He's being challenged by former state school board member Kim Coco Iwamoto, a popular progressive Democrat who is offering a change from the status quo of current legislative leadership.
Just One Vote
Some incumbent lawmakers face no opposition: All they need to do to win is get one vote. In the state Senate, they are: president, Ron Kouchi, and Brian Taniguchi and Donna Mercado Kim. In the state House, the almost-winners before the election even starts are: Nicole Lowen and David Tarnas on the Big Island; and on O'ahu, Finance Chair Sylvia Luke and Scott Nishimoto, Dale Kobayashi, Takashi Ohno, John Mizuno, Aaron Ling Johanson, Linda Ichiyama and Henry Aquino.
COVID-Quarantine breaker?
In House District 49, incumbent Scot Matayoshi will face Republican Kilomana Danner in the general election. While the old saw is that any publicity is good, Danner was arrested for breaking quarantine after a trip to the Mainland to attend a funeral. He maintained that he was exempt as an essential worker but state officials said they had no record of his exemption.
Last-minute voting tips:
Takahashi, the city clerk, says Honolulu voters can mail ballots up until Wednesday, Aug. 5, and still make the deadline for them to be received by 7 p.m. on Saturday, Aug. 8. As of Tuesday, Aug. 4, 183,000 ballots had been received, so he's hoping this election will exceed 207,000, which would make it the most ballots cast on O'ahu in 20 years.
Worried the mail won't make it? Take your ballot to a special bright yellow collection box. Takahashi says 5% of the ballots that have been turned in on O'ahu were dropped at eight collection boxes across the island, with higher counts in the more populated Mililani and Hawai'i Kai areas and lower ones at the Wai'anae and Kahuku drops.
Didn't register but now you really want to vote? Go to one of two service centers at Honolulu Hale and Kapolei Hale with a driver's license or state ID and you can same-day register and vote on electronic voting machines set up at both locations through election day on Saturday.