Hana Kitchens Incubates New Culinary Community
A first-of-its-kind commissary kitchen in Honolulu offering space for retail, pop-up restaurants and cooking classes.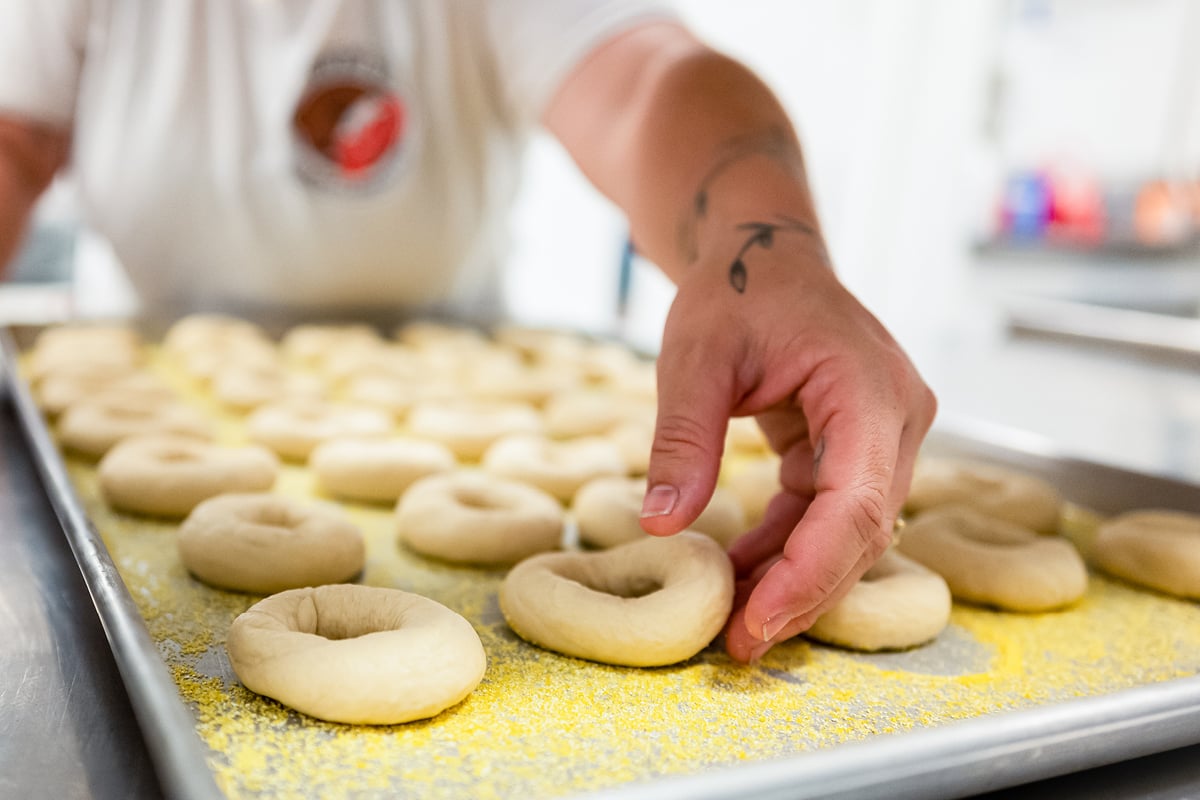 It's just after 8 a.m. on a Thursday in Downtown Honolulu, and Kelly Bongolan, already three hours into her shift, is warming 28 gallons of milk in a tilt skillet—basically, a giant pan. A pot of ultraviolet ube yams bubbles away on the six-burner range next to her. She adds white vinegar to the milk, and it begins to curdle into the cream cheese she is after. It will make a week's worth of schmear.
Her partner, Talia Schwartz, is on dish duty across the kitchen, scrubbing a speed rack of sheet pans and cedar planks used to bake more than 300 miniature bagels. Bongolan and Schwartz are the duo behind Tali's Bagels, a popular new vendor at the weekend FarmLovers farmers markets in Kaka'ako and Kailua.
"When we first started, this was all at home on our stovetop," Schwartz says. "Boiling the bagels, making the cream cheese, preparing the flavors for schmears. At one point, we even contemplated not going to market because we couldn't make enough cream cheese."
Pass the towering columns that front Harbor Court to find the local outpost of Hana Kitchens Hawai'i, a commissary kitchen and culinary incubator. Among the tidy stations and glistening high-end equipment, there's a tight-knit community of budding food entrepreneurs in need of commercial kitchen facilities. There are less than a dozen permitted food preparation facilities on O'ahu, according to estimates from the Hawai'i Department of Health. Hana Kitchens sets itself apart with its broad vision to not just help small-business owners prepare food, but to market and showcase that food to the public through pop-up events, tastings and cooking classes. With that, it's incubating the city's next generation of restaurateurs and chefs, providing a support system to make the island's culinary options all the more diverse and delicious.
Hana Kitchens opened in July 2021, with Banán and The Local General Store among its first tenants. Since then, the facility has become a base for 20 local food businesses. The monthly calendar reads like a "best of" list, ranging from the established Banán to rising stars Milk Market Hawai'i and Tali's Bagels. If you frequent local farmers markets, chances are you'll recognize the people working here, many of whom remain late into the night. Despite grueling hours, the energy and dreams vibrating throughout this unique space are more akin to a coworking hub than your average industrial commercial kitchen.
Makers have the unique ability to scale their operating and storage spaces to their business needs. Rates are approximately $200 for an eight-hour shift, and if makers book additional eight-hour shifts during the week, they receive more cold and dry storage. They also have round-the-clock access and can reserve "baker's hours" time slots to prepare their goods in the wee hours ahead of the morning farmers markets.
Down the corridor from the central kitchen, The Local General Store has a dedicated cold prep kitchen with a walk-in refrigerator large enough to store whole animals and with space for butchering and preparing pastries. "We've looked at different communal kitchens, but they were tight on storage space for what we needed," says Harley Tunac Chow, a co-owner of the business, which sells artisanal pastries and locally raised meats. "One of the kitchens couldn't even offer us cold storage because it was all booked up."
In her designated area, Tunac Chow laminates blocks of cold butter with sheets of dough that will become airy croissants and pastries for the weekend markets. Her husband and partner, Jason Chow, breaks down a side of beef from Griffith Livestock in Wai'anae in another corner. They'll be here for a few more hours, only to return on Friday night to bake into the morning before packing up for their stall at the KCC Farmers Market.
Enabling Dreams
Joe Di Condina, a Realtor from New York who grew up in the hospitality business, helms Hana Kitchens. His father ran his family's Italian restaurants in New York and New Jersey along with a hotel in Italy that had been passed down for generations. "I figured out very early that if I wanted to see my dad, I had to go to work with him," Di Condina says. "So, at 12 years old I started out as a water boy and worked my way through almost every position in a restaurant—both in front and back of the house. The truth is I love restaurants and dining services; I feel like I'm really in my element and [in] a state of flow."
While he understands the lure and rewards of owning and running a restaurant, the stressful life of a restaurateur wasn't for him. "I knew opening a restaurant wasn't the right thing to do if I wanted a family," says Di Condina, who relocated to Honolulu with his wife in 2017. "After seeing what the restaurant industry did to my dad, and his quality of life …"
Instead, he and his business partner, Honolulu-born chef Michael Hu, enable other people's dreams of starting up or expanding their businesses.
In 2006, after Hu's pastry making career at New York's Waldorf-Astoria ended, he stayed on in the city and founded Hana Pastries. He began wholesaling desserts to The Grand Hyatt in Manhattan and All Nippon Airways and eventually expanded to California. And he contracted with Whole Foods to produce a line of gluten-free desserts. Business was steady until 2008 when the Great Recession cast its shadow on the economy.
"After doing a couple of events that weren't so good, I recognized it was time to let go of the pastry business," Hu says. He shifted from baking to subleasing his space to caterers and food startups and quickly found success. That spurred him to convert Hana's Brooklyn and Huntington Beach locations into commissary kitchens, and then expand to Austin, Texas.
Around this time, Hu and Di Condina connected through a mutual attorney in New York after discovering their shared passion for food and ties to Hawai'i (Di Condina's wife, Naomi, is from Honolulu). They partnered to bring Hana Kitchens to the Islands, launching a commercial kitchen that was more than just a space with equipment.
For three and a half years, Hu and Di Condina searched for the ideal facility, touring numerous sites in Kaka'ako and Iwilei. In late 2020, their broker suggested a third-floor space at Harbor Court. The 14,000-square-foot banquet restaurant vacated by Japan-based Watabe Wedding Corp. had just what they were looking for: high-powered ventilation hoods, a grease trap, flexible dining rooms ripe for renovation, and a central location for commercial and retail operations.
"I always wanted to build a show kitchen in this facility," says Di Condina, who is now the sole owner of Hana Kitchens Hawai'i . "But I also saw that producers and local food entrepreneurs need space to work and start their businesses. What sets us apart is that we screen every maker and company that wishes to work here. We want to be as excited about the products they're making as they are."
When evaluating potential producers, Di Condina considers the quality of the products, amount of local sourcing and the passion of the makers. He says he wants to find "a good attitude and a drive for their brand to succeed. I am all about the culture in the kitchen and we are a shared kitchen, so people need to get along and work alongside each other and be willing to collaborate and cross promote."
For some tenants, Hana Kitchens satisfies their needs completely. For others, like the Chows of The Local General Store, it's just one more step before they leap back into the unknown. "We didn't think it would be this hard finding a brick-and-mortar," Jason Chow says. "Because of the pandemic, a lot of larger restaurants are also downsizing. They're taking all of the restaurant spaces in the size that we need. Landlords are obviously going to go with established restaurants and not a new business like us."
With the lack of turnkey restaurants available to lease in Honolulu, the Chows are rewriting their business plan to include the build-out of a complete kitchen, from the ground up. "It's a lot of money—a lot of money we don't have," Chow says. "In the meantime, Hana Kitchens is perfect for us because we don't have to invest that money right away or apply for a loan. They have the necessary equipment like walk-ins and grease traps, basically everything we need in a fully functioning kitchen."
Construction on the second phase of Hana Kitchens began shortly after a 40-foot container filled with kitchen equipment and building materials arrived from New York in late February. By fall of this year, Hana Kitchens will have added two self-sufficient kitchens with their own separate hoods, grease traps and sinks; an additional walk-in refrigerator; a dry storage room; and a second multistation shared kitchen. The final phase of Hana Kitchens' plan outlines a wet bar or café space on the Diamond Head side of the facility that could support baristas in the morning and mixologists at night.
The centerpiece show kitchen, defined by a commanding 20-foot chef's table, was designed and fabricated in Brooklyn. Di Condina says it can be used for cooking classes and can be set up for photo and video studio shoots. In February, Hana Kitchens hosted its first retail pop-ups with Weirdoughs Focaccia. In April, Andrea Onetti of Onda Pasta, though not a tenant of Hana Kitchens, held two four-hour pasta-making classes that finished with dinner and wine tastings.
On Wednesdays, Schwartz and Bongolan set up their mini bagel flights and tubs of schmears in the lobby overlooking Honolulu Harbor. In the two weeks since they started this pop-up, their sales volume has begun to rival the demand at each weekend market—400 to 500 mini bagels.
"Hana Kitchens helped us make Tali's Bagels a reality," Schwartz says. "The space and equipment give us the ability to scale quickly, but having Joe as a mentor to guide us really changed the course of our future, and many others, for the better."
55 Merchant St., Suite 20, (917) 854-5069, hanakitchens.com, @hanakitchens_hawaii