Hale Pua's Paint-by-Number Lei Kits Offer an Artful Way to Relive Happy Memories
Paint of heart.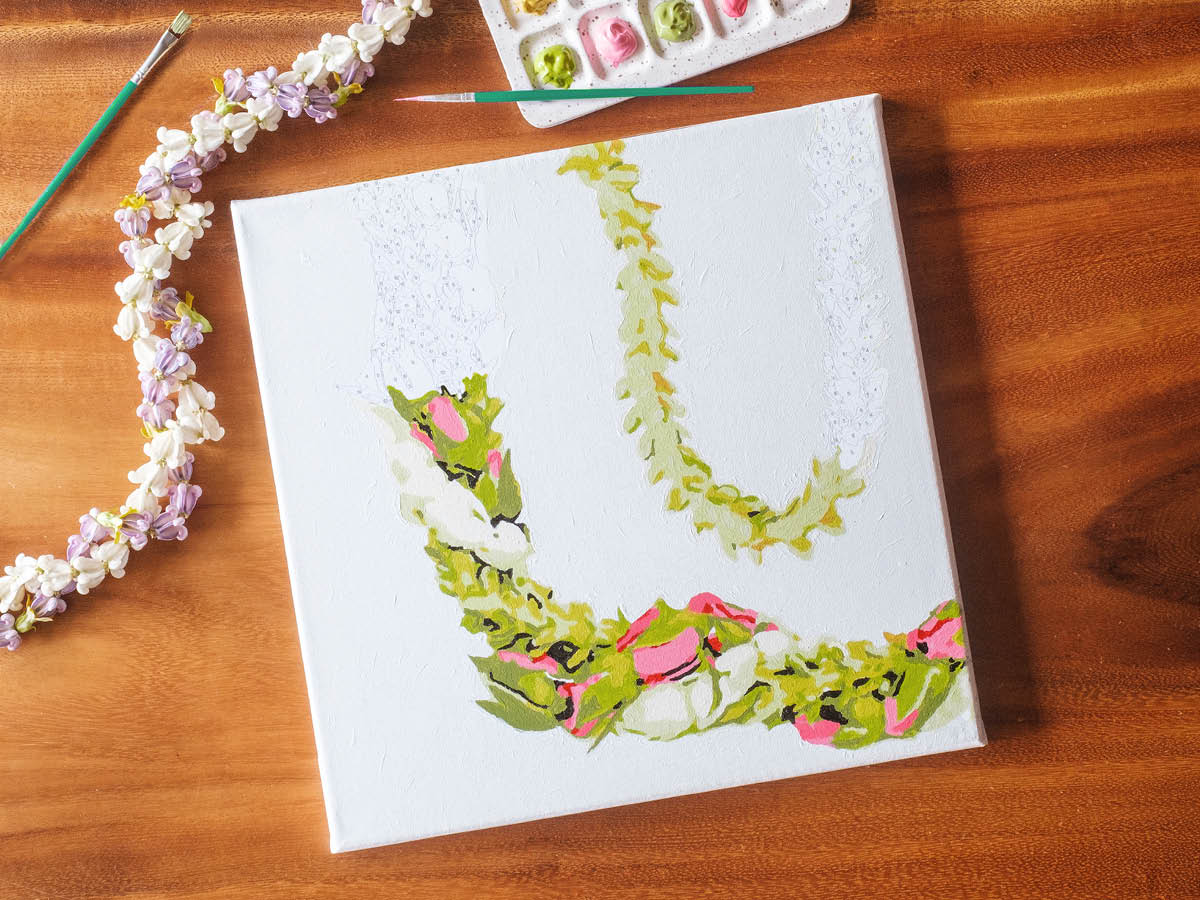 When Covid-19 hit the Islands and courthouses shut down, real estate lawyer Shauna Kahiapo lost all of her income in one fell swoop. To escape the anxiety and stress that came with that, she turned to simple pleasures that called back to her childhood in Kāne'ohe—foraging in the forest, picking flowers, weaving lau hala, sewing lei and painting.
Inspired by the new joy that ensued, Kahiapo scraped together the last of her savings and launched a new business, Hale Pua, from her parents' garage in Waimānalo. "My undergrad degrees were digital art and pre-law, and I had chosen law as the 'safe' route," she says. "I realized that nothing in life is safe, so I might as well have fun and do more of what I love."
The label offers a variety of accessories, including lovely pāpale woven from lafite straw, faux flowers for dressing brims, and jewelry strung with pīkake-shaped beads. Most recently, Kahiapo added paint-by-number kits to the mix, featuring lei and tropical blooms.
SEE ALSO: Celebrate Lei Day Year-Round with a New Kind of Flower from Arlie Glass
That idea came about when she attempted to put brush to canvas herself. "Sadly, my art degree doesn't translate to paint media," she admits. "And my paint-by-number search on Etsy just turned up cats and foreign landscapes, so I decided to make my own." She commissioned her favorite lei, styled and photographed them, and digitally created the outlines.
At a time when we often feel isolated, the kits are meant to recall treasured moments with friends and 'ohana. "In Hawai'i, lei are a part of our weddings, birthdays, graduations and funerals. … The last couple of years, we had very few of those occasions together," Kahiapo says. "My hope is that these kits will delight others with the simple, calming joy of painting and perhaps remind them too of a beloved memory permeated with the fragrance of lei."
Pua Paint by Number Kit, $28. hale-pua.com, @halepuahawaii