Haircuts for Less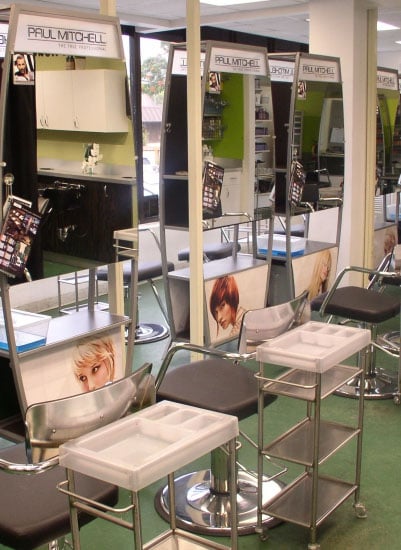 Honolulu has a great hair-salon scene, but like many things in Hawaii, the experience of getting your hair done can be wallet draining. Ninety for a cut? $200 and up for color? Yikes.
If you want to score a deal on haircuts, hair coloring, even facials and pedicures, have I got a lead for you: the Paul Mitchell School of Honolulu.
Located off 11th Avenue in Kaimuki, the school has 75 future salon professionals studying at any given time, and they are always looking for clients, which means you can score a great deal on everything from a lip wax to a perm. Haircuts, for example, start at $10. Color? $35. Manicures are $10 and facials, $25. "Our guests are all looking for value," says the school's dean, Joannie Rossiter. "The most popular request is for haircuts and hair color."
Anyone touching a client has had at least seven weeks of instruction in the service; the students spend a total of 1,800 hours over the course of a year studying cosmetology subjects—things like skincare, haircutting theory, salon management and sanitation—in preparation for a state board examination. The products used on clients are top-end: Paul Mitchell hair care, Dermalogica for skin care and OPI for nails.
So what's the catch? You have to be patient. These are stylists-in-training after all, and services can take up to two hours.
Rossiter says that all sessions start off with a consultation, and are overseen by an instructor, who also assesses the student's work and ensures there's a happy client. I asked Rossiter if there are ever moments when the instructor is like, Holy #$%! and grabs the scissors, but she assures me that it's very rare they'd have to take over.
Both appointments and walk-ins are welcome, but with the holidays coming up, you might want to book in advance, Rossiter suggests. Kids' cuts are available, too, but anyone age 18 or younger needs a parent present and a parental signature on a waiver.
My advice? Treat yourself and spend $5 extra for a Phase 2-level of service, which will take place in a swankier salon upstairs and be done by a more advanced student.
You can find full menus of services here. For an appointment, call the service desk at 734-7007, ext. 3. Parking is 75 cents an hour in the public lot right in front of the school. 1123 11th Avenue, #102.
And if you want to see more Steals and Deals, check out this story, in our October issue.