All Hail the Kale (Chips)!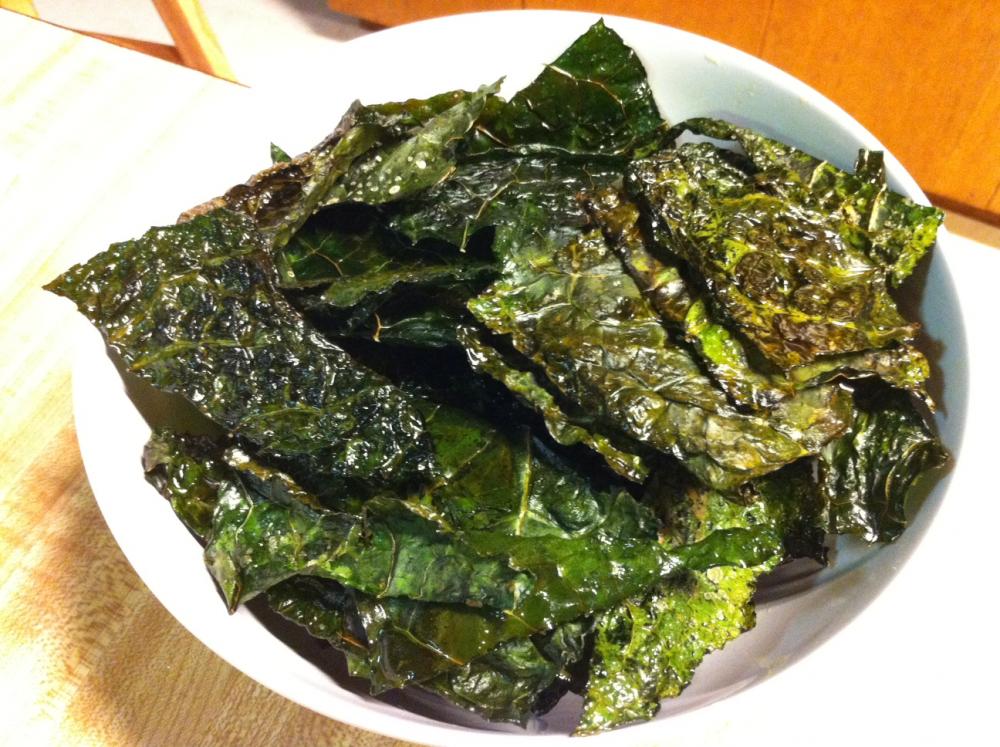 Admittedly a little cheesy, but I couldn't resist using that headline for this week's blog post as it's become somewhat of a mantra in our household over the past year. After reading this piece, I hope your family becomes kale fans too!
Readers who have been following this space know that I'm an avid home gardener. When we first moved into our home 13 months ago, lacinato kale (a.k.a. dino kale) was one of the first things we planted in our garden after enjoying it in many restaurants around Oahu. I don't have the greenest of thumbs, so I was excited to see the kale thriving with little care and after a month or so, it was ready for the first harvest. With roughly 25 beautiful kale leaves in hand, the big question was "Now what do we do with it?"
I took to Twitter and Facebook and asked that very question. Some suggested simply sautéing with olive oil, garlic, salt and pepper, but the overwhelming recommended was to make chips. Honestly, I'd never heard of kale chips but trusted my online community. Through the magic of Google, I found countless recipes online and all very easy to execute in the home kitchen. Just wash the leaves, take the stem out, cut into three inch pieces, toss in olive oil and a little sea salt, place on a baking sheet, and into the oven at 300 degrees Fahrenheit for 20-25 minutes.
The results were magical. Kelly and I loved them. Ensen and Avery loved them! Yes, you read that correctly…our kids devoured them and still enjoy freshly made kale chips at home till this day. During the baking process, the kale dries out into a crispy leaf (like Korean style nori) with a delicate taste of fruity olive oil and a hint of salt. My mouth is salivating just writing that sentence. You know you're eating something healthy with all the satisfaction a bag of potato chips would bring you. No joke!
During my initial research for recipes online, I came across a number of articles that explained the benefits of eating kale. Generally, I think most of us know vegetables are good for us, but I was surprised to learn just how nutritious this cruciferous veggie really is for our bodies. Great source of fiber, high in antioxidants, helps fight against excessive anti-inflammatory problems like arthritis, can help prevent cancer and much more.
As the saying goes, knowledge is power and now that you know more about kale and how to prepare it, I hope your family will find a way to enjoy it too. All hail the kale!
HOMEMADE KALE CHIPS
Ingredients
— 10-15 leaves of lacinato (dino) kale
— Sea Salt
— Olive Oil
Preparation
— Preheat oven to 300 degrees Fahrenheit.
— Wash kale thoroughly and dry well.
— Cut the stem from the green leafy part and cut into 3" pieces.
— On a baking sheet, lay the kale out evenly and drizzle lightly with olive oil. Using your hands, toss the leaves to coat as evenly as possible.
— Place kale in a single layer on the baking sheet and lightly sprinkle with sea salt.
— Bake in the oven for 20-25 minutes until crispy.
It's that simple! Enjoy with family and friends.
Nathan Kam is a Honolulu public-relations executive, husband and a proud daddy of two incredible kids, Ensen (5) and Avery (2), who enjoys cooking, gardening, traveling, blogging and golfing. You can reach him via email, Twitter, Facebook, LinkedIn or via his personal Kam Family Blog.